22 December 2020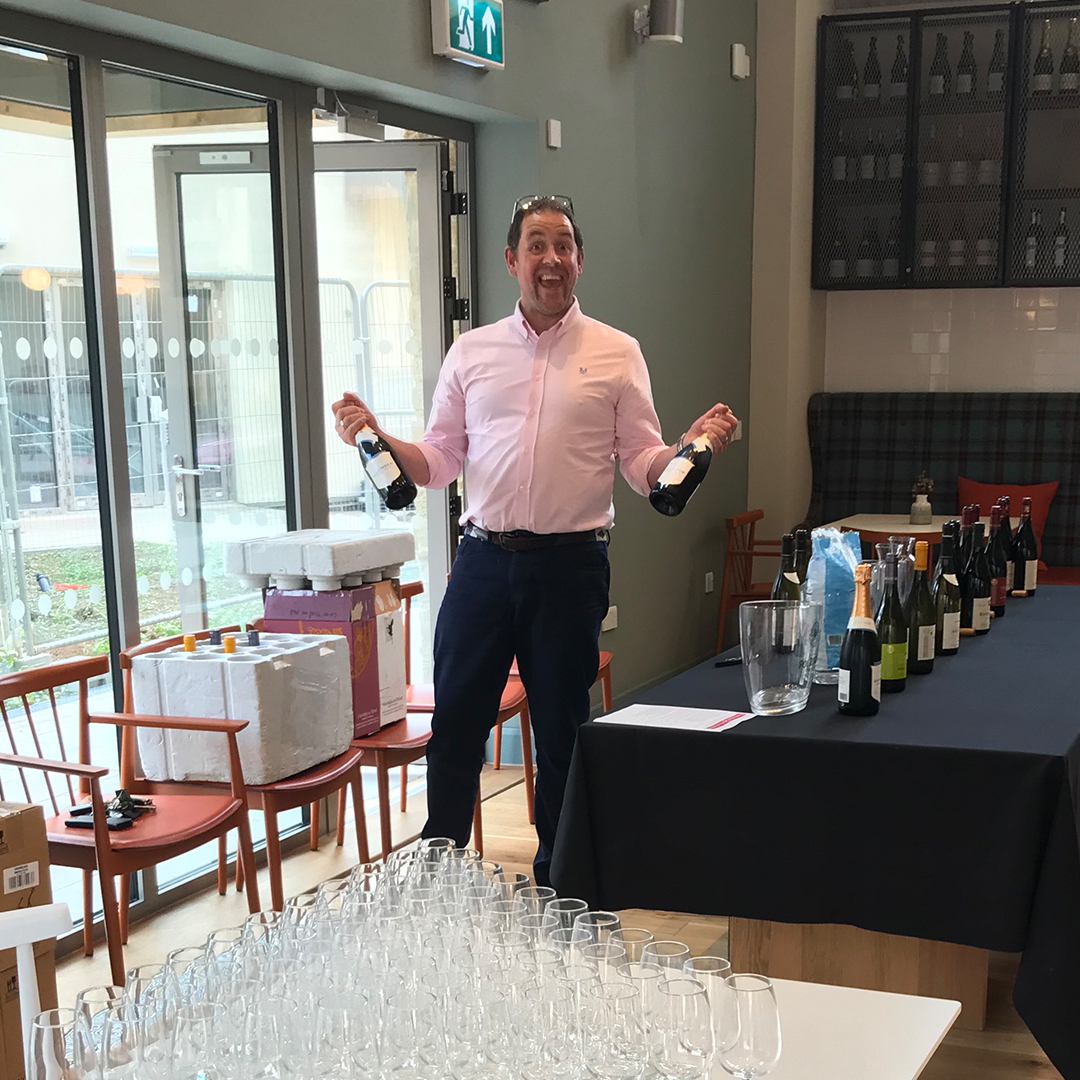 One Bayshill Road and Steepleton have teamed up with Vinotopia Wine in Tetbury to make some of their events go with a pop! We caught up with the Managing Director, Andy Cole to find out about all things wine and get some top tips for the festive season, like what to drink and great gift ideas. And we got a taster of some of the upcoming events at each community to look out for in the New Year.
Can you tell us a bit more about Vinotopia, who is behind it, when the company was set up, the ethos?
We are an independent wine merchant specialising in big wines from small growers, importing directly from the vineyards where we can and using UK based agencies that supply wines with a story behind them that shouts quality for an affordable price.
We are based in Tetbury but operate online, deliver across the country, and have a well-stocked shop that is full of wines, spirits, sparkling wines, beers and cigars from Cuba. Our staff are well versed in all the products we sell and have good food and wine matching knowledge to help you take away the best wine to suit you!
In normal times we offer regular wines tastings and organise events where our customers can discover new wines we are offering and meet our producers who can tell people about the wines and give them a try. We are happy to source wines for customers if they are looking for something specific.
Jeremy and myself run the company and bring together a knowledge of wine and my skill of planning and running events. The big thing we do is try everything before we offer it on sale, if we do not think it is good enough for our customers then we will not sell it!
Vinotopia is much more than a wine merchant. What other wine related services do you offer?
It is important for us to speak to people and share our knowledge, there is no point having a wealth of knowledge if you do not share it. We normally put on 3 large tastings a year, offering 40 to 50 wines for customers to try and these are poured by our suppliers so that our customers can chat to people who produce and make the wines.
We also organise special more detailed tastings whether it is selected wines for small groups or gin tastings for up to 30 people. We try to make them relaxed events with food. We do our wine quiz 'Call My Bluff', which is fun and people have to work out which description is correct whilst being confused and puzzled by Jeremy and myself.
Christmas is fast approaching. Any top tips for wine and other celebratory drinks to enjoy over the festive season? What will you be drinking with your turkey on Christmas Day?
My top tip is do not run out! I would also recommend things like having some affordable quaffing wines available. Always have a bottle of bubbles in the fridge and some Sloe Gin or Cassis for an easy cocktail to make very quickly such as a Kir Royale. We start with a Bloody Mary, have a bottle of Champagne with breakfast, I love white Burgundy with seafood and we normally have roast beef so a good Claret with the main course. We always have a couple of sweetie liqueurs around to enjoy whilst watching the afternoon film.
What is the perfect Christmas gift for a wine connoisseur?
Naturally, a membership to the Vinotopia Wine Club, which is the best way to buy better wine for less and makes a great gift. Monthly subscription of £25 which allows you to buy anything from us at better than trade prices! We can create Bespoke Wine Labels which make a fun and memorable gift and we have our suggested Christmas Gift List or get in touch for more ideas. Generally, wine or spirits can make versatile presents for most people, especially if you are not sure what to get. A bottle of something fizzy is always appreciated.
--
To make the most of life and the fun activities available on the doorstep at either of these communities please telephone One Bayshill Road on 01242 292 930 and Steepleton 01666 848 219. Sales prices at One Bayshill Road start at £399,000 and rental prices at £2395 pcm. Sales prices Steepleton start at £299,000 and rental prices at £1,500 pcm. For further information please visit https://lifestory.group/pegasus/our-developments/.