01 September 2021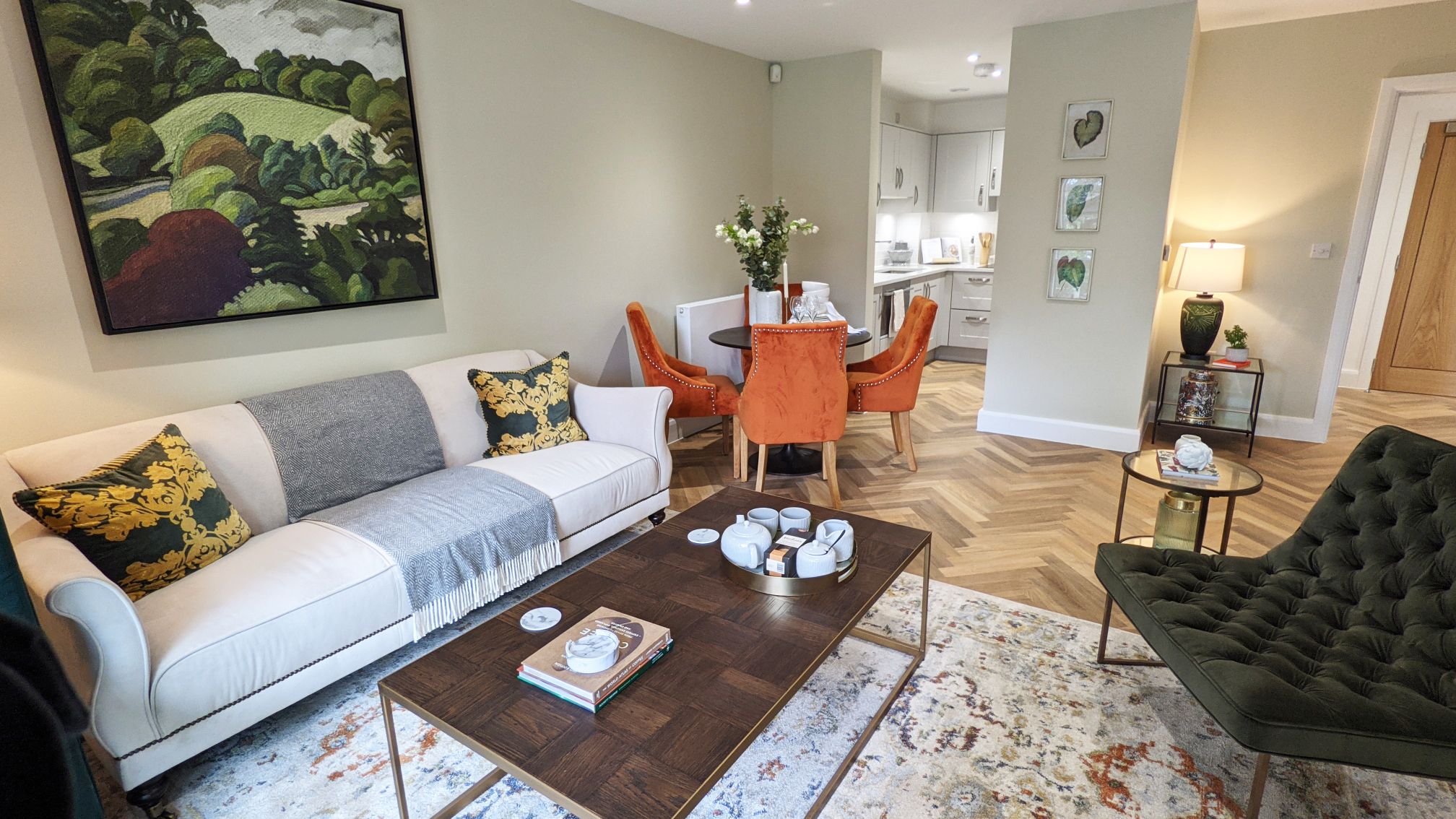 Located minutes away from the cathedral city of Winchester, our latest Winchester Holts community is a stylish collection of two- and three-bedroom homes which has just launched off-plan.
We caught up with Georgina Chamberlain, lead designer at Park Grove who curated the interiors at Winchester Holts for Pegasus to learn more about her design inspiration for the community…
What was your inspiration behind the design for Winchester Holts?
Pegasus was inspired by the iconic location of Winchester for the design of the Winchester Holts community, and we wanted to carry this through our interior design interpretation for the community. We created a contemporary palette to highlight the natural light and sense of wellbeing with an exclusive feel from the mature green landscapes which surrounds the community. We also chose classic designs for the furniture with carefully selected fabrics and accessories complemented by statement lighting in communal areas.
What elements from the local area are you bringing into the design?
We worked very hard to ensure that Winchester Holts felt more like an extension to the local area and sympathetically blended with the local community through each and every element of the design. Artwork features stain glass windows, architecture, and tapestry to connect with the history of the city and its magnificent cathedral.
We create welcoming and inviting communal areas in our communities, what elements are you incorporating into the social kitchen and shared lounge to enhance these social areas?
The layout of the communal spaces was designed to offer plenty of space for kitchen facilities to cook a meal or prepare a drink. The generous communal dining table and comfortable seating will welcome future homeowners to enjoy a meal or some relaxation time.
Luxurious armchairs and large sofas in the lounge are upholstered in faux leathers and rich fabrics in mustard, grey and rust tones, offering an inviting space to chat, enjoy a drink, relax, read or play games. Wood, wicker and marble feature in accessories with lots of faux planting helping to give an indoor-outdoor feel.
The gorgeous club room which is my personal favourite space at Winchester Holts has a more exclusive, intimate feel with contemporary highbacked armchairs and dark blue and grey wood panelling to walls. The honesty bar is complemented by statement artwork, brass finishes to lighting and tables and unique antique accessories to joinery to add to the intimate yet luxury feel. The perfect vibe for enjoying an evening cocktail or two!
The colour scheme used of tones of green, blue, grey and neutral colours are famous for bringing a sense of nature and calm to add to the existing sense of well- being that the building conveys.
Can you talk us through the show home design?
The well-equipped kitchen and dining area were designed to offer a bright, modern space for cooking and dining with neutral tones to kitchen cupboards, tiling and wall coverings. We dressed the kitchen with homely accessories mixing glass and wood elements to create a lived-in feel.
The living area incorporates parquet and brass coffee and side tables with statement occasional seating in rich rust and green velvet with comfortable vintage style sofa and velvet curtains and embroidered cushions the lux styling.
A colour palette of soft greys, pinks and deep burgundy feature in the master bedroom with a contemporary mix of patterns to curtains and bed linen creating a light, airy, relaxing space. Whilst accessories in the bathroom give it a high-end hotel spa feel with a personal touch. We included soft white towels, candles, luxurious bath products and faux planting to give a truly zen sensation!
The terrace is a green oasis with plenty of potted plants and topiary trees, large glass lanterns and contemporary bistro set against a black framed mirror to enhance the natural light, providing the perfect space for outdoor relaxing.
What have you enjoyed most about working on this project?
We love adding our own personal touch to the finished look and feel that Winchester Holts will bring, offering a homely yet lux environment for homeowners to enjoy for many years to come. We believe the building adds a unique benefit to the local area and sympathetically blends into the community.
---
For those looking to start the next chapter of their lives, Pegasus Winchester Holts will offer 33 beautiful apartments, a welcoming shared lounge and carefully maintained gardens in close proximity to the city.
Call the team on 01962 418 059 or email [email protected] to book your exclusive viewing.