04 May 2020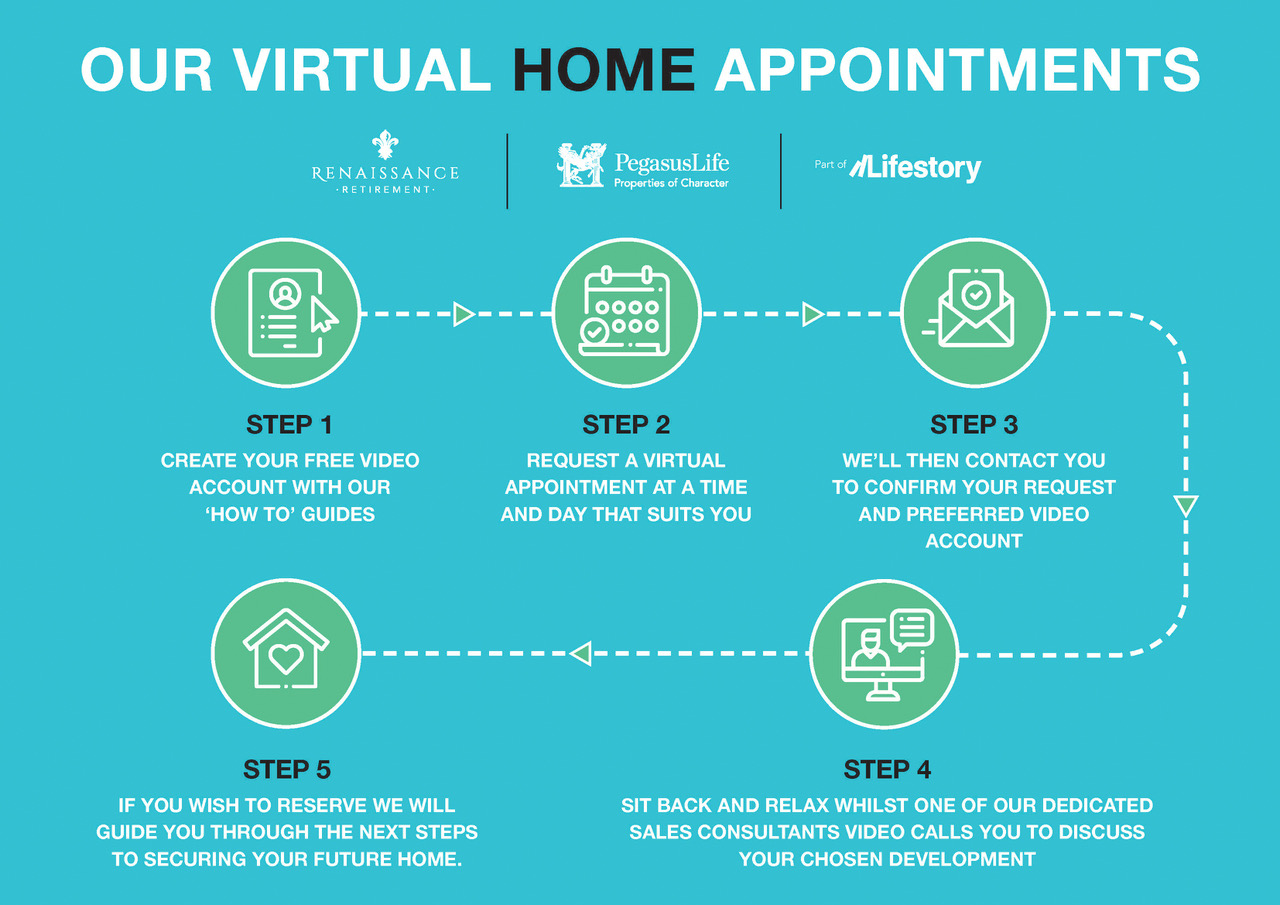 As the UK adapts to digital and virtual solutions to continue to interact with each other, retirement developers, PegasusLife and Renaissance Retirement part of the Lifestory Group have announced a transformative approach to its home sales by taking them online to meet the evolving needs of Britain in isolation.
Virtual home appointments will be delivered via video calls directly with interested buyers, allowing them to 'meet' and build a rapport with their knowledgeable, sales consultant and understand the full range of homes on offer from the comfort of their own homes.
Mark Dickinson, CEO of Lifestory said: "During these unprecedented times, the whole country has taken itself online to keep chatting to loved ones, it's been a steep learning curve for some, but many thousands of people have upskilled themselves on their digital talents.
"We can never underestimate how important human interaction with our customers is, after all, we pride on ourselves on the fact that we do it differently with a focus on keeping our customers a close part of our community long after they have bought. This is about adapting to ensure that we continue to meet the needs of our customers, it is a service we know people will come to expect, so are keen to lead the way in our industry, and hope others will follow."
Some national banks have been offering this level of video customer service for pockets of customers for some time, and retailer, John Lewis, recently launched a virtual appointment service offering style, nursery and interior advice with great success. For PegasusLife and Renaissance Retirement prospective buyers it is important that they feel comfortable in asking all their questions and where better to feel comfortable than in their own home, with someone they can see and trust.
Interested buyers will be able to book the one-to-one virtual home appointments all from the cosiness of their own sofa at a date and time that suits them. The sales consultant will share via email and directly on the video call, relevant floor plans, CGIs and brochures, so they can talk them through the home and ensure all questions are answered.
Mark added: "The ethos at the heart of retirement living is community and this is a core driver to purchasing a home with us. We have witnessed steady and growing levels of interest in our new homes as more and more over 55's consider their next move to be in a retirement living community. The benefits of tight knit communities with like-minded neighbours has never been a stronger pull for people than it is now as we navigate the coronavirus isolations. Our owners truly value the safe and supported communities that we provide, and the personal, human touch delivered through our hosts and concierges across all our developments.
"Buying a new home, even in a pre-Covid-19 world, can sometimes be a daunting prospect, especially off-plan as you don't have the ability to see the home you're purchasing, however we know that our home owners appreciate the opportunity to do so, and share the excitement with us as we build their new home. This new virtual home appointment, will ensure we can continue to provide homes for people that are ready for their next chapter."
PegasusLife and Renaissance Retirement specialise in creating homes for independent retirement living and during the current Covid-19 pandemic is continuing to provide safe support for its owners through its #StrongerTogether campaign. As well as being a mantra adopted by all staff across developments, #Strongertogether is calling on communities around developments to continue to pull together as one and share joy through letters, drawings and stories.
For those interested in booking a one-to-one virtual appointment, please call 0800 975 0170 or email [email protected] to arrange a date and time that suits you.