Go back to all news
Beverly and Roger love living at well connected Belle Vue, with pets Syd and Teddy
09 August 2022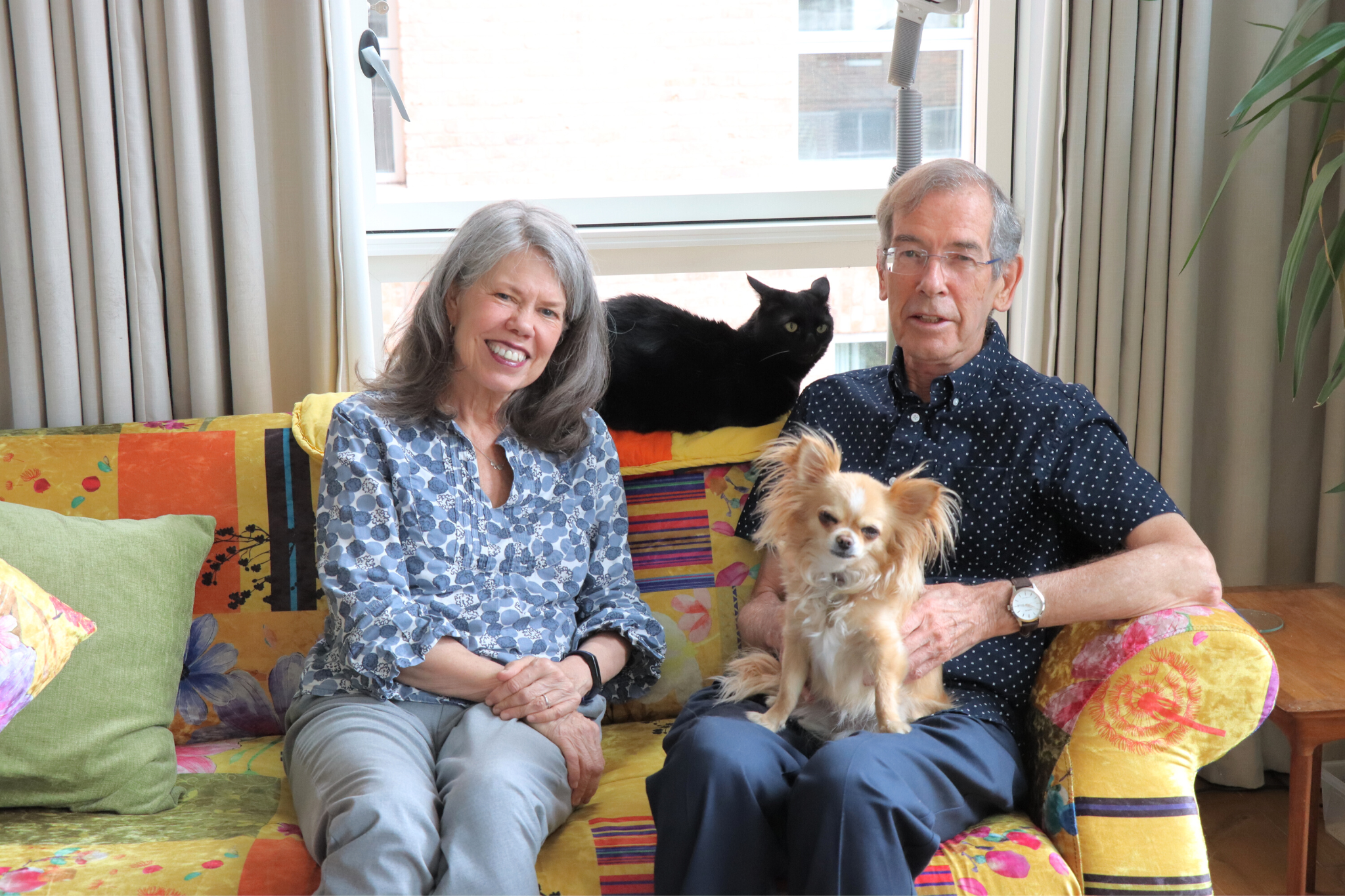 Beverly, originally from New York, and Roger, from Skipton in Yorkshire, had been living in their 6 storey townhouse in Sydenham for the past 45 years. They decided that it was time to relocate to a more manageable home as Beverly was suffering from problems with her knees and they felt that the location of their house was not well-connected for travelling, as the couple make regular visits to Harrogate to look after their grandchildren during school holidays.
After looking at flats further north in London they suddenly came across Belle Vue, which was not yet completed. Having bought off-plan before, they decided to reserve a home so as not to miss out. Beverly shared, "I had always wanted to live in North London. When we first got married we were in the South and when we moved they didn't have an underground - but this is so handy. The buses are quick to get into town and with the freedom pass it's free for us to travel."
The couple had their heart set on a south facing flat and initially were looking at two bedroom homes. When they were made aware of the fantastic guest suites available at Belle Vue for family visits, at only £75 a night, they realised that they didn't need to pay for the extra space. Roger explained, "Our son in law was very impressed. When he stayed here he was saying that the guest suite is more like a £250 a night hotel!"
"The pool and the gym were also big sales points for me." added Beverly "I use them every day. In fact, my knees are much better now! Swimming and the resistance machines in the gym, rather than weight machines, have helped as they don't put strain on your muscles."
Beverly and Roger, who also own a retirement home in Harrogate, love the community feeling of their homes and that there are always people to bump into for a chat. With a residents' committee at Belle Vue, neighbours' birthday parties, a Thursday evening singing group and film nights on a Monday, there are always activities and events taking place.
The couple go for daily walks around nearby Hampstead Heath, Primrose Hill and Regent's Park, with occasional outings all over London as part of the London Strollers Walking Group.
Additionally, they both volunteer their time at the Royal Free Hospital, which neighbours Belle Vue. Roger used to work for Cancer Research as an accountant and currently helps with admin at Maggie's Cancer Charity. Beverly, who was a teacher and headteacher, began volunteering in the hospital on the wards, making teas, coffees, serving lunches and talking with people. After covid, she now volunteers in the bereavement office and they both enjoy the additional structure this gives to their week.
One important factor for choosing Belle Vue as their next home, was the inclusiveness towards pets, as the couple own a cat, Syd, and a Chihuahua called Teddy. "Belle Vue don't just allow pets, they're very enthusiastic about them!" explained Beverly. "Teddy charges into the office when we come in, because Mel the Assistant General Manager also has a Chihuahua. The residents meet for tea on Wednesday afternoons and Teddy often comes and sits on their laps."
The charming streets of Hampstead offer stylish boutiques, delectable delis and an abundance of beautiful green spaces. Beverly shared "We like a tapas bar called Jamon Jamon in Belsize Park and there are several other good restaurants nearby to choose from. There is also a cafe at Belle Vue itself open from Tuesdays to Sundays. For food shopping Budgens and Marks and Spencer are close by or we'll get things delivered."
Regarding life in the apartments, Beverly commented,"The gardens are lovely and the building is very spacious. I also really like the view, the greenery and seeing the children play in the school opposite. One of the things about living here is how approachable the staff are. There's a friendly face on the door and I chat with the night staff every morning when I go to the gym. We didn't choose this place because of the staffing and security but it turned out to be quite nice, the 24 hour staff." Roger added, "When I come back at night from evening events there's always someone to say hello to on the door."
"It's secure, people aren't allowed to just walk in and we have alarms if you're on your own and need help. When you press it there's staff on site who will come. It makes our children feel confident that their parents are in a safe environment." explained Beverly "You can safely leave your flat for weeks at a time, which works for us because we're away for the whole school summer holidays and they come in and water our plants." noted Roger. "There's even a hairdresser that comes round the homes!"
Beverly, Roger, Syd and Teddy are all very pleased they made the decision to move to Belle Vue over three years ago.
–
If you're looking for a new home in the heart of Hampstead with like minded neighbours, where wellness and exercise options are available on your doorstep, then get in touch with the team to find out more about the lifestyle on offer at Belle Vue. Call the team on 020 7980 8721 or email [email protected].