22 July 2021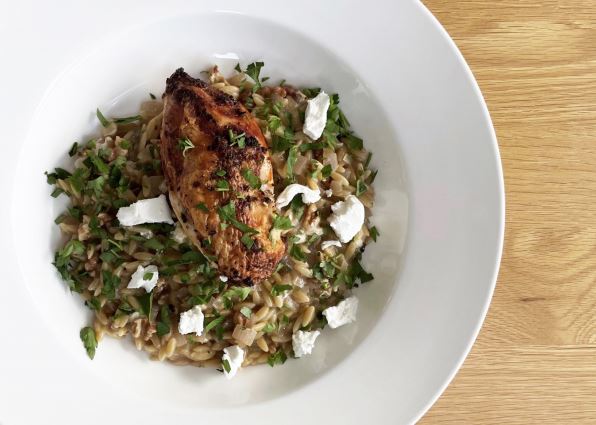 Our Chapelwood community welcomed the Olive Catering team last year when they launched their brand-new restaurant exclusively for the homeowners to enjoy.
Fortunately, the restaurant which had to temporarily close for the past 6 months due to the lockdown restrictions has now reopened their doors to welcome homeowners and tenants to the restaurant once again.
We caught up with Paul Manning from the Olive Catering team to find out more about the exciting changes which they have made to their menu and what our homeowners have been enjoying…
Hi Paul, how has the Olive team been keeping busy during the lockdown?
Our homeowners are extremely important to us, and more than ever during the heights of the pandemic, it has been our aim to keep things as normal as possible for them.
Unfortunately, we had to shut the physical restaurant, but we maintained a full menu which we served directly to the homeowners' apartments. Every Friday we ran takeaway nights where the most popular was traditional fish and chips, followed closely by our Italian pizzas, curries and Korean nights.
Is the restaurant busy again now that you have reopened?
It's been great to welcome homeowners back into the restaurant.
It's a fantastic social hub for everyone so it's important that our homeowners are able to relax and enjoy great food. They've embraced the re-opening and are now enjoying having a place to chat and socialise, all whilst adhering to current COVID-19 social distancing measures.
Have you had any changes to the menu?
The menu is refreshed weekly to give homeowners variety. In addition to the weekly menu, we now have our regular themed events including ladies' lunches and gentlemens' evenings. We're also now running BBQs in the gardens when the sun is shining! Our homeowners particularly love fish so we've added a traditional fish Friday as a regular menu offering.
We always welcome bespoke requests for events for homeowners and their friends and family too, requests can be anything from a set dinner to a lunchtime picnic.
Would you be able to share a summer recipe for our readers that aren't able to enjoy your tasty meals for themselves?
Of course, here's a recipe from our recent promotion encouraging people to cook at home, enjoy!
Olive at Home | Pan fried chicken with goat's cheese and walnut orzotto
Ingredients:
150 g chicken supreme
45g walnut halves
25g vegetable stock
15g butter
Medium onion
1 clove of garlic
150g orzo
60g goats cheese
Sprigs of parsley
Preparation
Soak the walnuts in 800ml of hot water
Peel and finely dice the onion
Finely chop the garlic
Finely chop the parsley
Method
Soak walnuts in 800ml of hot water for as long as possible (we'll be using the water after draining so remember to save it)
Drizzle a little oil in a non-stick frying pan on a high heat, season the chicken with salt and black pepper, place skin side down into the pan, and sear for 2-3 minutes. Reduce the heat to medium and cook for a further 10 minutes or until lightly brown. (Important: always wash your hands after handling raw chicken)
Dissolve your vegetable stock pot using 800ml of the water from your soaked walnuts (remember to remove the walnuts first)
Heat a little oil and butter in a pan, add the diced onions, garlic and walnuts. Lightly cook and stir on a medium heat until the onions are soft
Add the orzo and stir together until all of the ingredients have a nice buttery coating
Now add all of the stock and bring the pan to a boil, then simmer on a low heat, stirring occasionally until the orzo is soft and the stock liquid is reduced.
Meanwhile turn the chicken over and cook for further 10-12 minutes until thoroughly cooked. (Important: the chicken is cooked when no longer pink in the middle)
Take off the heat and dice ¾ of the goat's cheese into the orzo, stir through gently and adjust seasoning.
Serve the orzotto in a pasta dish, topped with the pan-fried chicken, remaining diced goat's cheese and chopped parsley
Enjoy!
---
If you're looking for a new home in a flourishing community with a fantastic on-site restaurant then get in touch with the team to find out more about the homes and facilities at Chapelwood, email[email protected] or call 01625 569492.