11 February 2021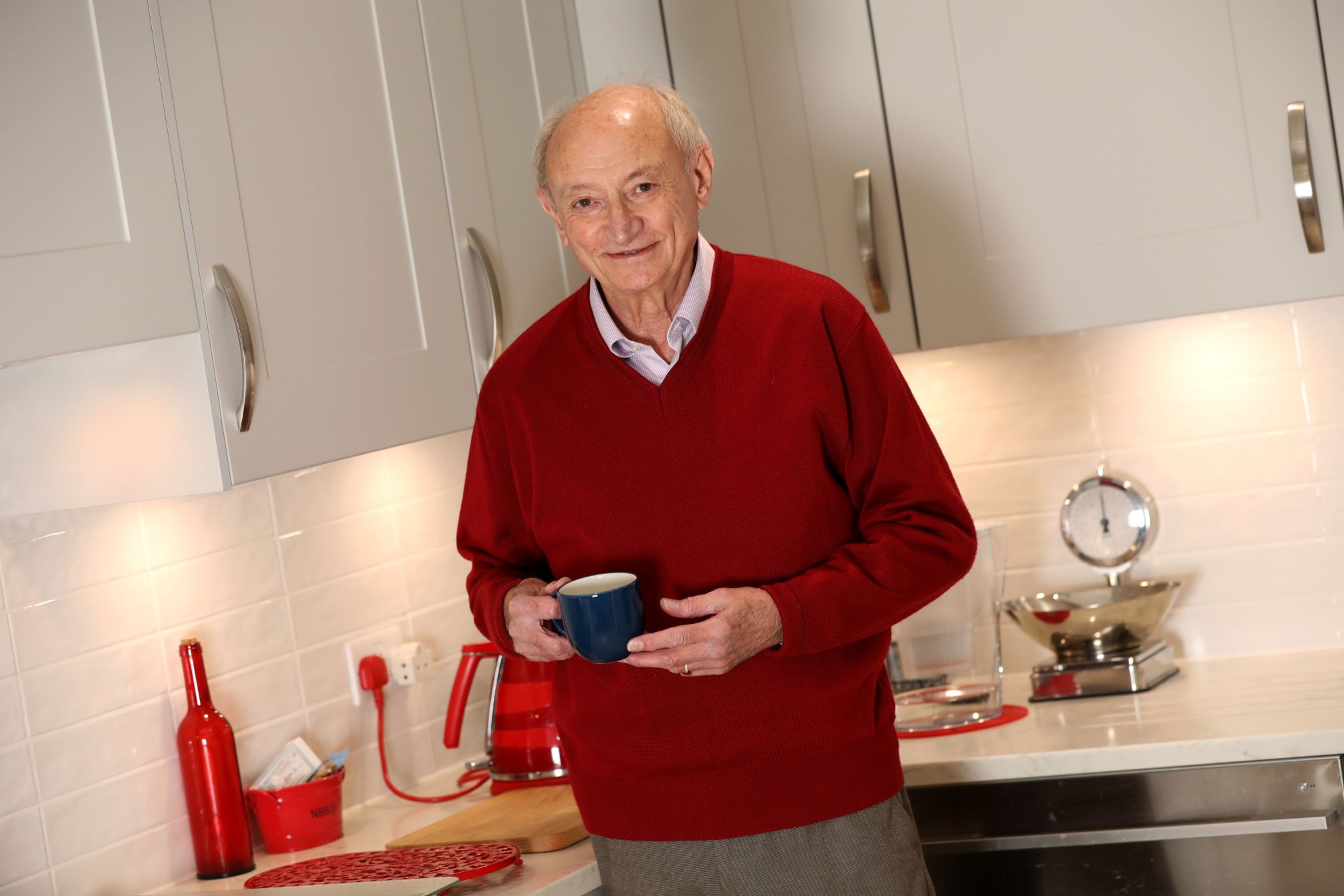 Having taken early retirement, Geoff Hillier, 77, and his wife, Frances, had already chosen the New Forest as the place they wanted to enjoy their retirement years when they moved from Dunstable to Sway. Since being sadly widowed, Geoff knew he wanted to stay in the beautiful part of the country he had now made his home but simply wanted to be able to downsize to somewhere more manageable, convenient and less remote as he explains:
"Frances had Alzheimer's disease. When we first moved to Sway I volunteered as a debt advisor at the CAB and a caseworker for forces charity SSAFA, having worked at the Prudential all my life. We both enjoyed keeping busy, I play bowls too, but eventually I had to give up my CAB work to care for her. When she passed away, I felt it was time to downsize to somewhere less isolated. Brockenhurst was the obvious location.
Knowing that he wanted to be in Brockenhurst, Geoff looked at a couple of flats in other developments and then came across Holmwood: "There was plenty of choice, so it was a question of finding the right place for me. We had a three-bedroom chalet bungalow with a big garden, we even looked after a New Forest pony for a few years, it was a lovely place. Whilst I didn't want the responsibility of looking after a house and big garden and to be isolated and living on my own, I still wanted the space and a garden, all of which Holmwood offered."
For Geoff, Holmwood had everything. The décor was modern, the finish very high quality and he liked how modern and fresh the development looked, plus the fact that Holmwood came with a social life. "We have a wonderful host here who looks after us and organises activities, outings and the like which, even if like me, you keep busy, it takes all the pressure off pursuing a social life. We can sit back and just enjoy things knowing there's plenty of other activities to dip into. I'm a member of Brockenhurst Bowling Club, which Pegasus sponsors, so play regularly when the season begins in April and the sociability of Holmwood adds to that. The development is very close to the club which is great and was a big draw, and a few of the other residents are also members. Whilst I already knew some of my neighbours, not everyone does so having the extra social activities adds to the sociable and community feel of living here which I find a great bonus."
As well as the bowling club where Geoff plays, Brockenhurst has an array of local shops, restaurants, cafés and pubs, plus a mainline station with fast trains to London. Geoff has been delighted with the fact that he can now step out of his front door and walk everywhere: "Our bungalow was located on an unmade road out in the countryside, so getting anywhere was becoming a nuisance. Here everything I might want to do is in walking distance. The fish and chips and Chinese takeaway are both good so that's a particular treat."
Recently, Geoff rediscovered his passion for oil painting, crediting a neighbour at Holmwood for encouraging him to dig out his brushes. Geoff has painted beautiful mountain landscapes, taking inspiration from American painter Bob Ross, as well as dramatic depictions of black and white beaches. His work is even currently on display in Brockenhurst Village Hall's virtual art exhibition.
Geoff was also delighted by the fact that with all new appliances and the 10 year NHBC warranty, he had even less to worry about at Holmwood, and can simply take advantage of the great location and the fantastic shared facilities the development offers like the social kitchen, owners' lounge and beautiful shared garden.
Even before Geoff moved into Holmwood, Pegasus had started to make life easier with its SmoothMove service, which Geoff used: "It was an excellent service and made moving so much simpler, helping me declutter from three bedrooms into the two storey cottage I bought at Holmwood. Even now if I find something I shouldn't have brought with me, they'll help me get rid of it.
"Holmwood really has ticked all the boxes. I own my wonderful cottage where I can retreat and take full advantage of all the social areas where activities take place, or where I can catch up with my neighbours without any of the responsibilities I once had like looking after a large garden or dealing with broken boilers. Plus, I'm still a homeowner. With the extra bedroom and the beautiful double Guest Suite, which is like a luxury hotel room, it's easy for my four children to come and stay. There were a few snagging problems, of course, but Pegasus sorted them all out very quickly. Really, the advantages of living here far outweigh a few snags."
Pegasus' Holmwood development sits in the centre of Brockenhurst, offering a stunning collection of one- and two-bedroom homes, owners' lounge, landscaped gardens, social kitchen and luxurious guest suite. For more details about Holmwood or to book a tour please call our sales team on 01590 615288 or email [email protected].