23 April 2021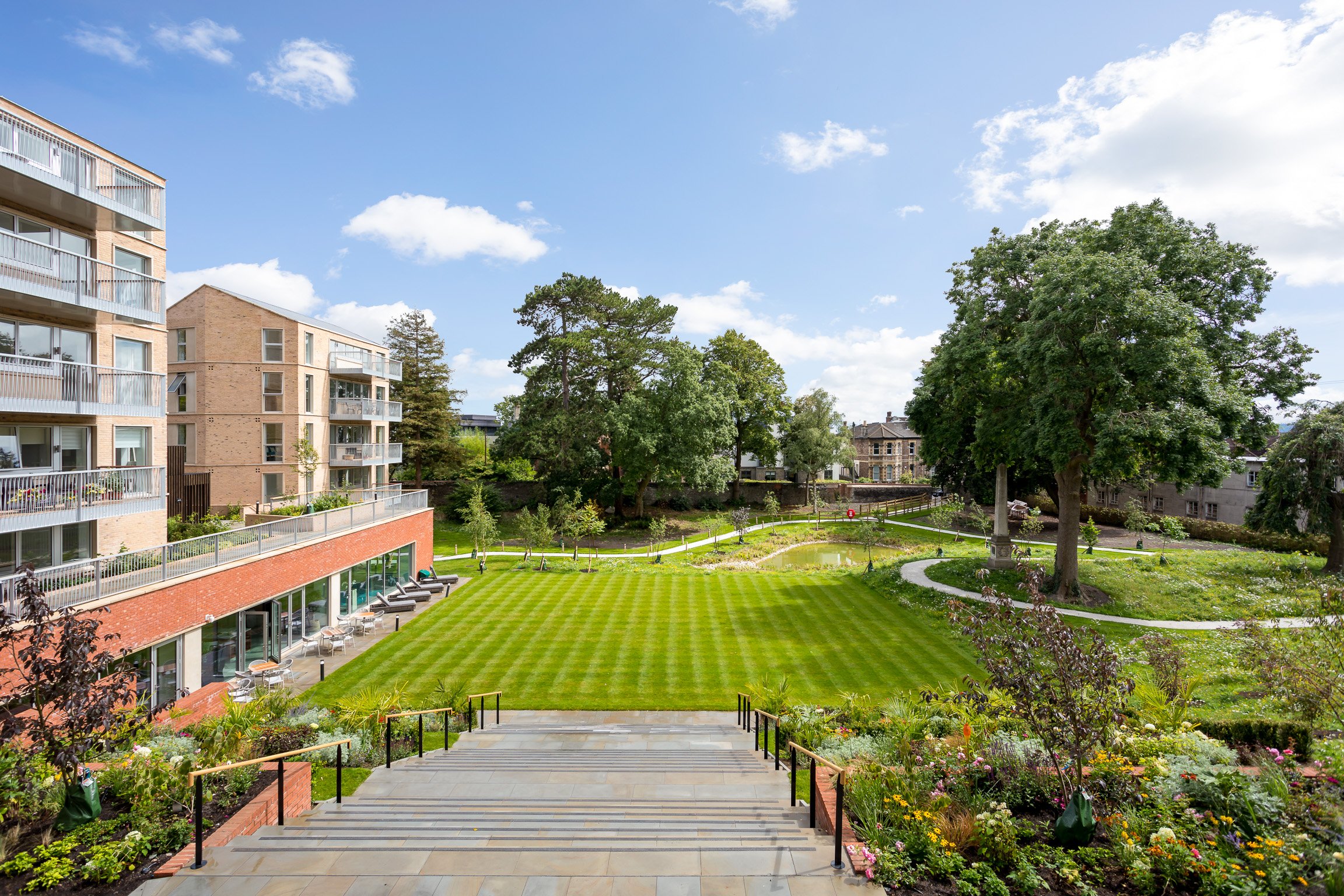 Comprising 64 one-, two- and three-bedroom apartments, The Vincent is our collection of beautiful later living apartments in Bristol's Redland district. A stand-out feature of The Vincent is the spectacular landscaped gardens, brought to life by the talented team at Acre Landscapes. We recently spoke to Shane Moore, Operations Director at Acre Landscapes, to find out about the inspiration behind the design and his top tips for gardening this spring.
Hi Shane, can you tell us about the inspiration behind the landscaping at The Vincent?
We were thrilled to be working with Pegasus; it is always a pleasure working with a client who believes in the importance of outdoor space and investing in landscaping that embraces the historical integrity of the buildings they restore and transform! The design concept was created by Camlins and draws on the history of The Vincent building itself, combined with the traditions set by Victorian plant collectors.
The overarching aim of the design was to replace the 'public realm' appearance with grounds befitting that of a private Victorian villa, with something for everyone whilst offering a sense of exclusivity. There are eight character areas – north court & entrance court, exotic south terrace, acer garden, memorial garden, blossom pool, woodland garden, the green and owners gardens – which each have their own theme, with a clear progression as you move through the grounds.
Consideration to the alignment of the Victorian architecture is apparent in the layout of the hard surfaces, complimented by the rich diversity of each area that skirts the central green. The protection of existing trees and well thought out additions have merged to create an arboretum within the grounds.
How beneficial is having outdoor space to physical and mental wellbeing?
Outdoor space and the benefits to physical and mental wellbeing has never seemed more obvious than during the pandemic. The link between nature and feeling good is something accessible to all of us and there is nothing more humbling, calming or uplifting than being surrounded by flora and fauna.
It is well-documented that exposure to nature not only makes you feel better emotionally, but it also contributes to your physical wellbeing, reducing blood pressure, heart rate, muscle tension, and the production of stress hormones. Scientific research into the benefits is ongoing and there is a wealth of academic information online – but for those of us without a degree in science – head to your nearest green space, sit and listen to the birds or even better, get your hands dirty and see for yourself!
What should keen gardeners be planting this spring, ahead of summer?
Now is the time of year to be planting the likes of Dahlias, Gladiolas and Lilies. It's a great time to be checking your beds, noticing as new growth appears and how it might all fit together again as we head towards summer. Are there any gaps, will it be too crowded? For us at Acre it's the most exciting time of year after the hard slog of the winter months; giving a teasing glimpse of the beauty as it unfurls.
What are your top gardening tips?
You'll reap the benefits from the beginning if you take time to stand back and look at the whole picture; to visualise how you see your space as it moves through the seasons. There are many factors to consider so it's great to have an idea of colour, height, span and form. Plan-ahead as much as you can – the more you do now the less you will have to do later. Never forget to fertilise; good nutrition is as important to soil as it is to us, whilst aerating your lawn is as important as mowing it.
Most importantly enjoy the fruits of your labour, take time to sit and watch how nature embraces your efforts. If you can take a moment to wonder at the extraordinary sight of a bumblebee collecting pollen from that Lupin you planted in the spring, well you've cracked it!
To find out more about Acre Landscapes, visit www.acrelandscapes.com.
---
If The Vincent and its magical gardens sound like your dream home, find out more by calling the sales team on 01179 814 352 or emailing [email protected].