14 January 2021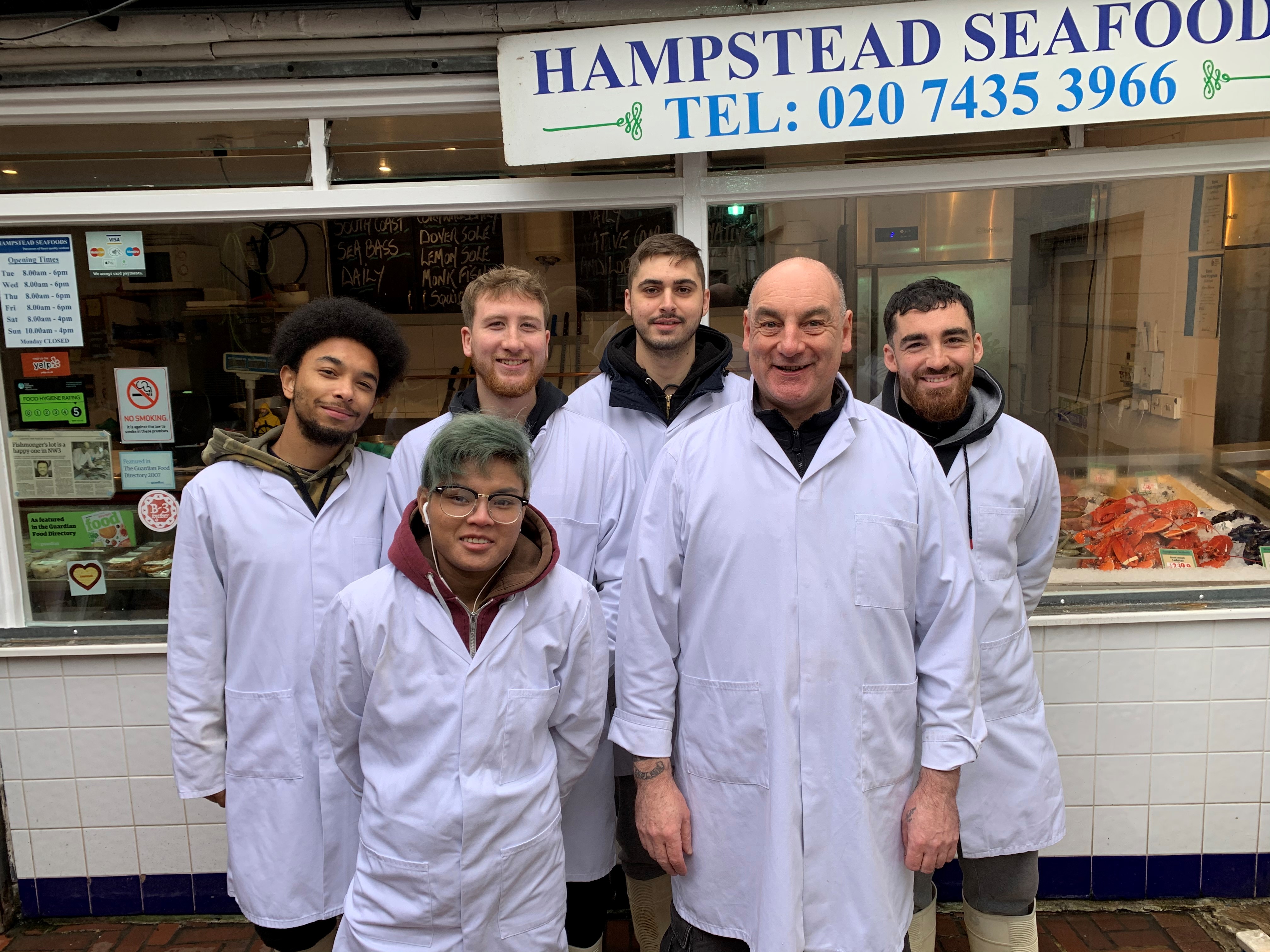 In the heart of Hampstead village is the Hampstead Community Market, home to a selection of fine purveyors of delicious produce and for over twenty years one of London's best fishmongers, Hampstead Seafoods. Andreas (Andy) and Emilios Theodorou established their fishmongers in 1989.
We caught up with Andy and the team to talk about providing the residents of Hampstead with its wide range of fish and seafood.
Hi Andy, can you tell us a bit about Hampstead Seafoods?
Emi and I established Hampstead Seafoods Ltd in 1989. Our father Melas migrated to the UK in 1947 from Cyprus and eventually established his own fishmongers in Wembley and that is how the family got involved in the trade.
Sadly, Emi passed away earlier this year, in June, so the family and business have lost a valuable part of the team, but the shop will carry on and the team will grow it in his memory. It is now in the hands of myself, and both Emi's sons Ryan and Daniel. Other members of the team include Nan, who is Andy's stepdaughter, Darien who is Ryan and Daniels cousin, and Danny who grew up with them and is a lifelong friend. So, we are what you would call a proper family business.
You stock quite an array of fresh produce. Where do you source your fish and shellfish?
We stock a huge variety of fish and we try and get our hands on anything that a customer would ask for as we like to go the extra mile. All our fish is sourced from Billingsgate and most of it is from UK waters, some coming overseas like tuna swordfish or Red Snapper.
What is a typical day at Hampstead Seafoods?
A typical day at Hampstead Seafoods starts at 1:30am when I get up to go to Billingsgate to collect the fish. The reason I get up so early is to ensure that we always have the finest fish and seafood available. I'll normally arrive back at the shop at 5am and start prepping, getting orders done or putting the fish out on display. Ryan normally arrives at 7am to help me set up, unless it is a Saturday when he might arrive earlier as it is a busy day. The rest of the team either arrive at 7am or 9am depending on what shift they are on.
It normally takes a couple hours to get the fish on display depending on how many orders we have, if we have plenty it could take a bit longer. I'll then leave once we are straight and take all the deliveries out between 10 and 11 o'clock. Once the deliveries are done, I'll head home as from then on, it is in the rest of the team's hands until close of shop at 6pm during the week and 4pm on Saturdays and Sundays.
Have you got any favourite fish recipes you can share?
We love sea bass in our shop and one of the best ways to cook it would be as follows:
- Keep it whole as the flavour is better on the bone
- Put it in the oven covered in foil with light soy sauce, sliced ginger and chilli with spring onion for about 20 minutes on 180-degree heat
- We would recommend pre heating the oven, and we cover it, so it is effectively like steaming it
What do you love most about working/living in Hampstead?
The best thing about working in Hampstead is first and foremost the people, it is a pleasure and a delight to serve such a wonderful community. And secondly the area as it is a nice little village in the heart of London.
---
To enjoy all that Hampstead has to offer, Pegasus has two later-living communities nearby the village with stylish one, two and three bedroom apartments available. Please contact No.79 Fitzjohn's Avenue on 020 7980 8741/ [email protected] or contact Belle Vue on 020 7980 8721/ [email protected].