03 March 2021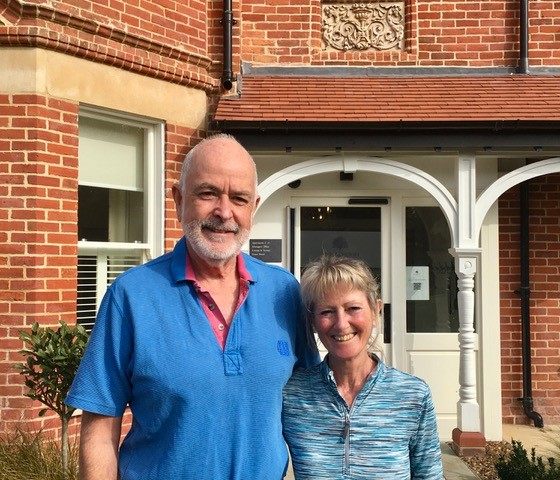 Jon Rigby-Fielder(71) and his wife Jane (63) had been living in Marlow, Buckinghamshire over the past 15 years, latterly in a 4 bedroom house, whilst also spending half of the year in their second home in South Africa. They had been looking for about a year to downsize to a countryside location, which would also provide them with great transport links into London and the south coast, also not too distant from their friends and family but were unsuccessful until they came across Pegasus Holmwood.
Jon who is retired but still works as a consultant for the water treatment business they previously owned, explains: "We looked at a fair number of properties in various countryside locations including Devon, West Country and Winchester but were struggling to find the right home in the perfect setting which would allow us to continue our very active lifestyle and also provide us with enough storage space for all our sports gear. We were familiar with Brockenhurst and our search guided us toward Holmwood which we were told would be a great option for us. As soon as we came to view the apartment, it ticked all the boxes for us, so we decided to reserve it straight away and put our home on the market.''
The couple decided on a two-bedroom apartment at Holmwood as they felt it was enough space for them both considering they were only really using two bedrooms in their previous home except for when guests were visiting and the guest suite available at Holmwood would fit that purpose. The location of their new home would allow them to be able to live in the countryside setting which they longed for with walking access to local amenities, restaurants etc: ''Holmwood fits our needs perfectly! We enjoy the modern and high-end specification of the home and the spare bedroom provides us with an office space/study, and we have so much outdoor space on our doorstep for our walks and rides.''
The couple were keen to move into their new home as soon as possible but unfortunately the sale of their new home was delayed for a month, so they moved into Holmwood in December 2020 using Lifestory Rent to Buy option. The initiative allowed them to stay at Holmwood as renters and continue with their property sale with peace of mind.
Whilst downsizing in lockdown was a slightly difficult experience, the Rigby-Fielders also used the complimentary Lifestory Homemoves service which took a weight off their mind and made the move into their new home, a stress- free experience.
Since moving to the community, Jon and Jane have been making the most of their new location: "Despite the unfortunate situation with the numerous lockdowns, Jane and I have been enjoying so many refreshing walks on our doorsteps. Jane, who is a keen runner, is able to go for different runs in the woods safely and I cannot wait to be able to enjoy the outstanding golf courses near our new home. The community feel of Holmwood and friendliness of the other residents has been a great benefit to help us find our feet here."
Apart from the walks and runs, the Rigby-Fielders have also been enjoying the convenience which Holmwood offers. The central location allows them to walk to all the necessary places like the doctors, dentist, shops restaurants etc to make daily life easier.
Whilst they are not able to enjoy the social aspects of the community at the moment, they hope to be able to partake in the communal activities and get to know their neighbours better as lockdown restrictions ease.
Holmwood has only three apartments remaining in the heart of New Forest with a host of fantastic facilities. Prices start from £575,000 for a one- bedroom apartment with rental options available from £3,056 pcm. For more information, call 01590 615288 or email [email protected]