Go back to all news
Independent living and family connections made easier at Pegasus Latheram House
05 August 2021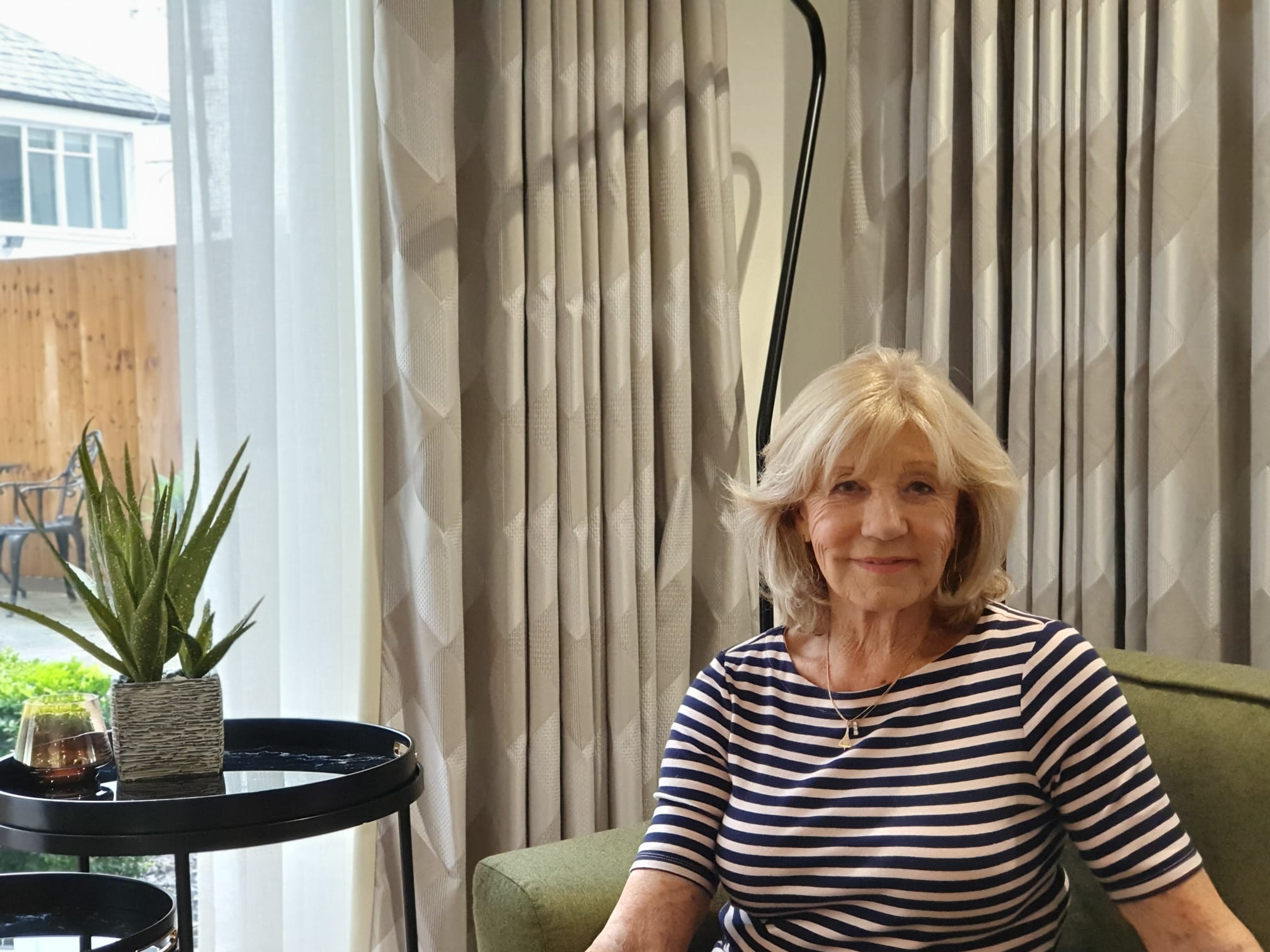 Stella Lupson, a former sales director had been enjoying a tranquil lifestyle in Hertfordshire for the past 35 years. However, after living alone in her five-bedroom marital home since her husband sadly passed away and with the pandemic hitting last year, she decided it was finally time to downsize to be closer to where her family lives in Cheltenham.
She explains: "Downsizing had been at the back of my mind for many years, but I had always been hesitant to leave my home in Hertfordshire, a place which I knew and loved. However, as I was getting older, the upkeep of a five-bedroom home had grown a bit challenging. That coupled with the pandemic putting a stop to seeing my children who lived further away, made me realise that it was time to start looking at my options.
"The most important factor for my move was to be closer to my family which is the reason my home moving journey brought me to Cheltenham, where my daughter and grandchildren live. I initially came across Pegasus One Bayshill Road in the heart of the town which I really liked, however I decided that apartment living would not be to my taste as I personally prefer my living and sleeping areas to be separate. When I visited the cottages at Pegasus Latheram House just down the road, I found that this type of home would suit me better especially as the lovely cottage came with some outdoor space to enjoy."
Stella initially viewed her now two-bedroom cottage at Latheram House in September 2020, and quickly sold her previous home to start the process of buying her new home which she moved into in January 2021.
Since moving into her new home, Stella has been reaping the benefits of her new-build home which suits her lifestyle perfectly. Her cottage comes with her own private garden and boasts high specification throughout from the integrated kitchen appliances to the underfloor heating under the modern design flooring. Whilst most older people like to avoid stairs, Stella still very much appreciates the fact that her bedroom remains a private retreat, separate from the other rooms of the home.
Beyond the comfort of her new home, Stella is very welcoming of the time that she is able to spend with her daughter and grandchildren. She has also been able to create some new friendships with her other neighbours over coffee mornings which have now been made possible following easing of lockdown restrictions.
Stella continues: "Having my Independence and social connections is very important to me so I can't wait to be able to get more involved in the communal activities which will open up more when restrictions are fully eased. "Moving to Latheram House has been the perfect decision at this stage in my life, and I couldn't be happier to have moved to a community where I can still maintain my independence, be close to my family while still having the choice to make new social connections."
---
Set in the heart of Cheltenham, Latheram House is a contemporary collection of 67 apartments and 2 cottages with a host of fantastic, shared amenities. All the carefully designed homes benefit from a high standard finish along with green spaces, ready to enjoy life to the fullest.
Prices start from £299,000 for a one-bedroom apartment which are also available to rent from £1,488 pcm. For more information, call on 01242 312198 or visit [email protected].