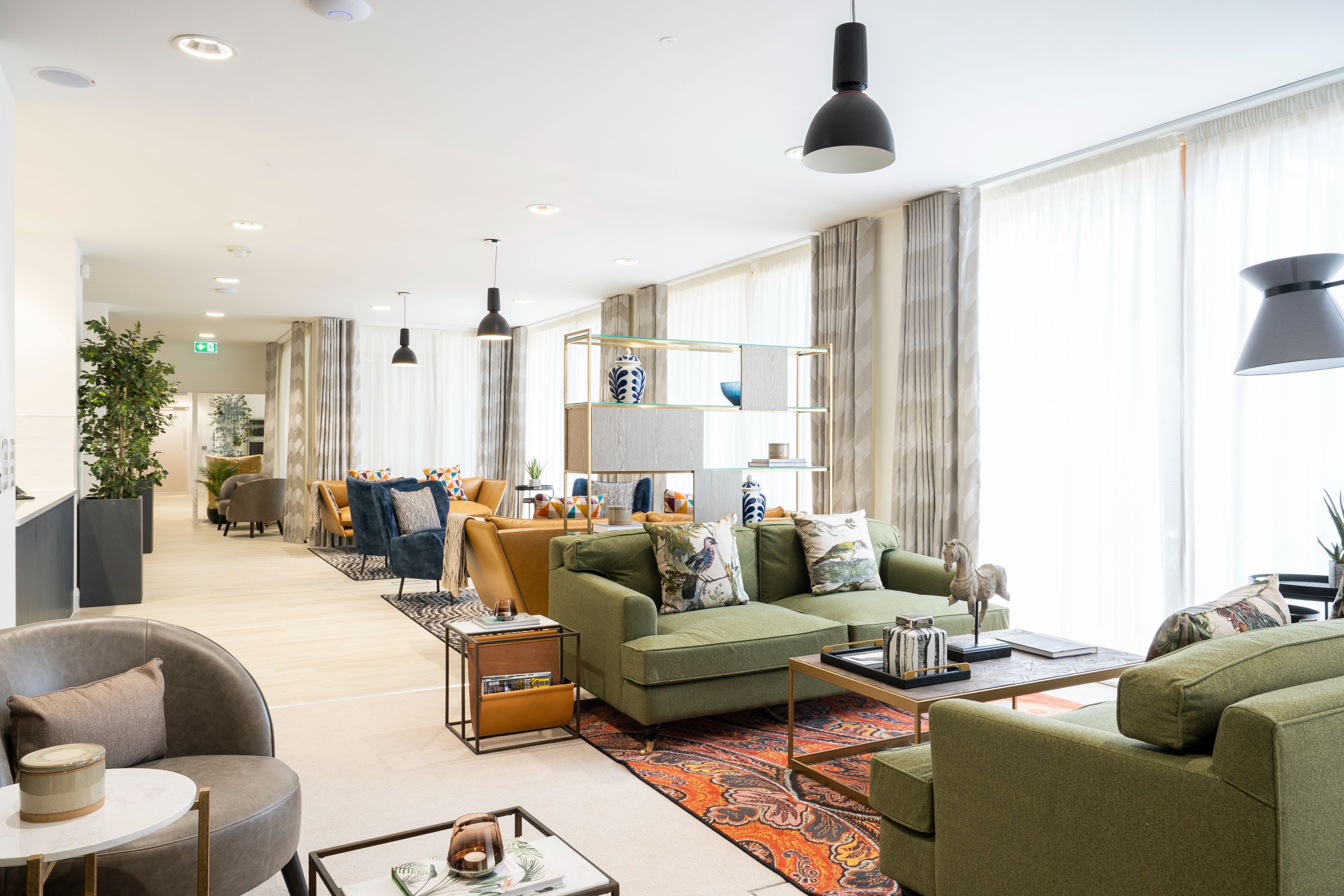 Latheram House, PegasusLife's development close to Cheltenham's Royal Crescent, challenges the way that later living is perceived not only with the contemporary design of the building but with its stunning, stylish and modern interiors.
To find out about the inspiration for the sensational interiors at Latheram House we spoke to Carly Gordon, part of the award winning design team at Park Grove, who created the memorable and unique style found throughout the inviting communal areas.
What was the inspiration behind the beautiful interiors at Latheram House?
At Park Grove we believe great interior design has the ability to enhance the quality of people's lives. The surrounding area has a creative feel with lots of independent shops, bars and cafés all with their own quirky style so we wanted to offer the owners their own sense of community within this vibrant part of Cheltenham, with this artistic inspired scheme.
Did the contemporary design of Latheram House influence your ideas?
Absolutely, the building has a really strong modern aesthetic and we have tried to capture this with the use of graphic prints and strong furniture styles and shapes. The Communal Lounge has large amounts of glazing so we were keen to bring the outside in with the introduction of plants and contemporary curtain treatments.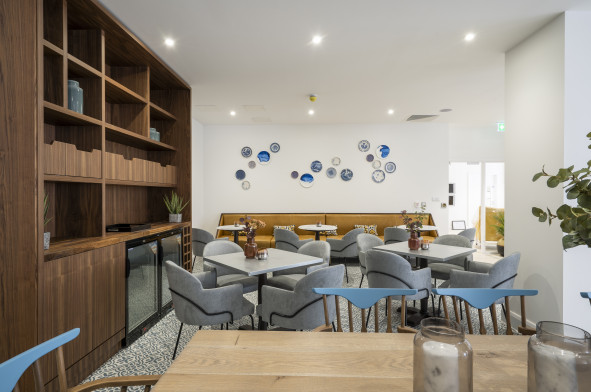 How do you bring all of the elements together to create the look?
Again, we were inspired by the location and context of this development, in particular there are many art and pottery galleries with a strong contemporary aesthetic. This is reflected in the carefully curated accessories including the mix and match wall plate collection and the object styled display pieces.
As this communal space is large, it was important to create a series of spaces that created different moods. The Main Lounge is a light-filled space with an informal feel where owners can relax during the day with a cup of coffee, whereas the Quiet Lounge offers a darker cosier feel for an evening drink or game of cards with friends.
The Larder, a restaurant that is part of the development, is much like a café/ deli which reflects the café culture in the surrounding area, a unique space for owners creating a sense of belonging and community.
In the corridor spaces, the artwork was specifically sourced to suit the location and style of this development. Bold painted wall colours at the lift lobbies assist owners with wayfinding, making each floor unique and instantly identifiable when the lift doors open.
What have you enjoyed most about working on this project?
I think as all of the Lifestory projects are so different it's always nice to challenge ourselves to create something completely unique to the development's architecture and location, and this project was no exception.
Have you got any simple hints or tips for refreshing homes during lockdown?
As we spend more time in our homes, now is the perfect time for a Spring clean and de-clutter exercise. Use this as an opportunity to re-style your bookcase or console table, review the items you have and only put back the ones you love and cherish. Make use of the time by getting round to those little jobs you've been putting off, an organised home can really instil a sense of calm, something I think we can all appreciate in these uncertain times.
What interior design trends can we expect to see in the coming year?
We are seeing the use of more and more pastel colours, although not so practical in a commercial environment they are perfect for your home – combine a mix of dusty pinks and corals with contrasting mint green for a fresh and contemporary scheme.
--
We welcome interested buyers to call 01242 312 198 or email [email protected]. Prices for the one, two and three bedroom homes start from £299,000 and rental from £1,000 pcm.