13 December 2021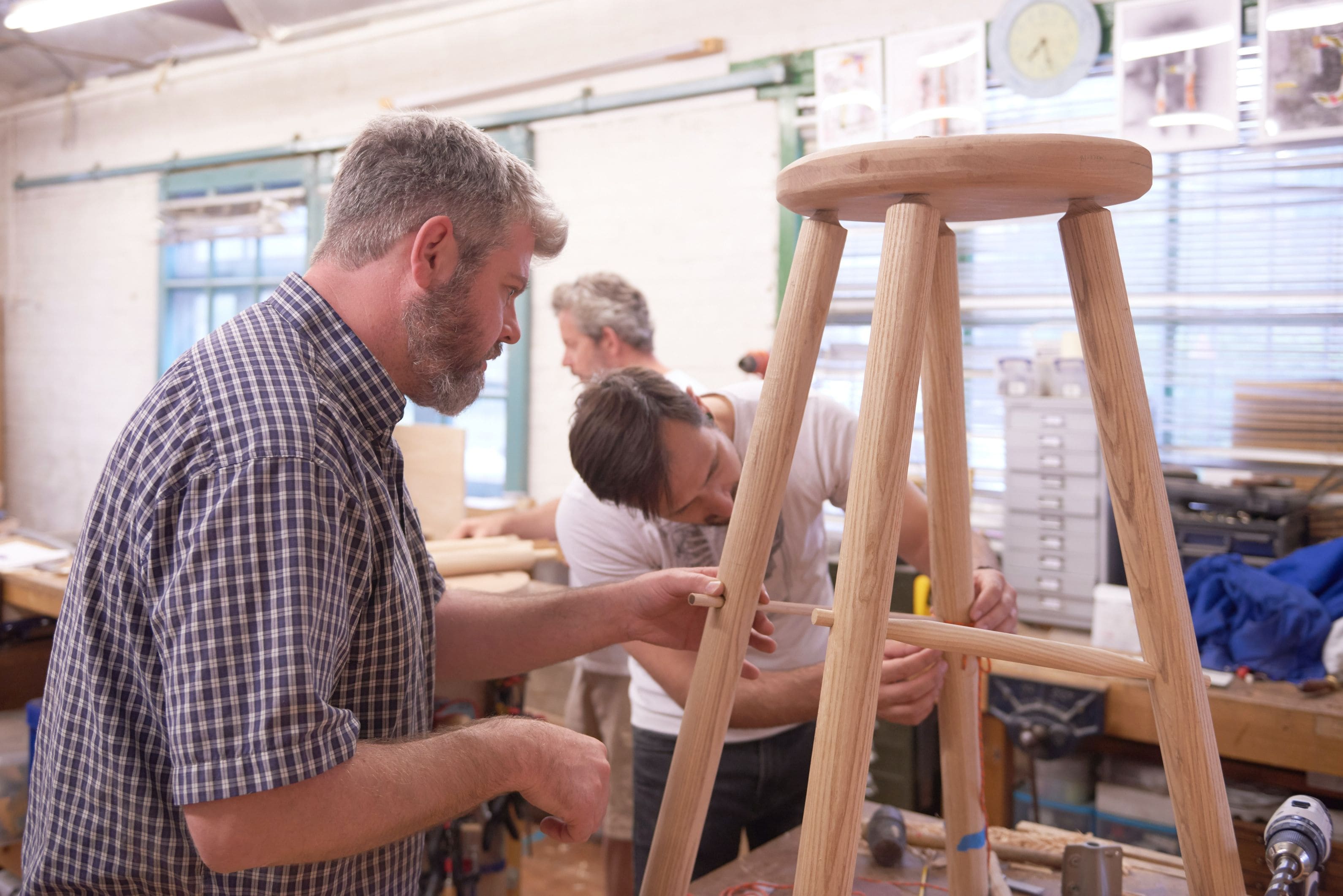 The Wooburn Craft School is just a stone's throw away from our new Pegasus Wooburn Bales community, launching in 2022. We sat down with Ernest Riall, Director of the school to discover more about what they offer and how local people can get involved with their classes and learn a new traditional skill.
Could you tell us a bit about the Wooburn craft school?
The idea is to teach people traditional craft skills, so we teach woodworking but how to use planes and chisels as opposed to using machines and things of that nature. We do show the machines but we focus on the hand tools for the classes. We also teach traditional upholstery which means sewing, using springs, webbing and things of that nature. We do have modern machines in the school and people tend to use them if you're working on a large project. For example we had one lady who carved a totem pole and she couldn't do that all by hand.
When did the craft school open?
We opened about 5 years ago and it was a result of a group of us coming together that were teaching at Buckinghamshire New University. They shut down their furniture department and so the four of us got together under my leadership, I guess you could say, to start teaching these craft skills on their own. It's not a degree programme, and it's not something that you could then go and be employed in even though it might supplement your work. For example, we have people in the movie industry that make sets and they'll come and take a basic woodcarving course so that they can learn how to carve the materials for movies. But, it's primarily a hobby, a serious hobbyist is what I would call it.
What is your role?
I teach restoration and woodcarving and I'm the director of the craft school. There were four of us who initially started it up but since then two have retired completely, so now from the original group of us it is just myself and Candice who teaches a Saturday jewellery making course.
Do you cater for beginners?
We do. For woodcarving, for instance we teach a beginners course. We have two exercises which I will walk students through which teaches you the basics of woodcarving. People who have been with me for a long time choose their own projects and I will find the wood for them and help them through the process, help them with the design and carving. So I basically facilitate and guide. We have about 48 students at the moment, who are part of different classes. I would say the majority of our students are retired people who enjoy spending their time learning a serious hobby.
Is there a community feel to the school?
The work itself is usually separate; however in the classes, once you've got a group who knows each other, they help each other out. Some of the people who have been with me for a number of years will show newer students how to do certain things, how to operate the machinery and different approaches to carving. It becomes a little bit of a community. It's very much a social thing. Woodworking and upholstery are two of the classes which are particularly social for some reason and because of that I formed a woodworking club. On Tuesday mornings this group comes in, they pay for their time here and it's more sociable. We're planning a trip to an exhibit of Gremlin Gibbons, who's probably England's most famous woodcarver. He's carved things for Buckingham Palace and some of the other Royal houses. So, we're planning to take a trip there. We've also visited houses before and gone to shows together, so it does become a social thing. It's more than just coming to a class.
What do you like most about the Wooburn Green area?
This particular area of Wooburn town is like a small English village which is lovely. We have a pub, some small shops, a church and a huge park. It feels very traditional.
Pegasus Wooburn Bales, launching in 2022 in the village of Wooburn Green, will become a spacious collection of one, two and three bedroom later living homes just a short walk from the village green and close to the local shops, making it easy to enjoy all that village life has to offer. To register your interest, get in touch with the team at 01628 918 050 or email [email protected]