14 December 2020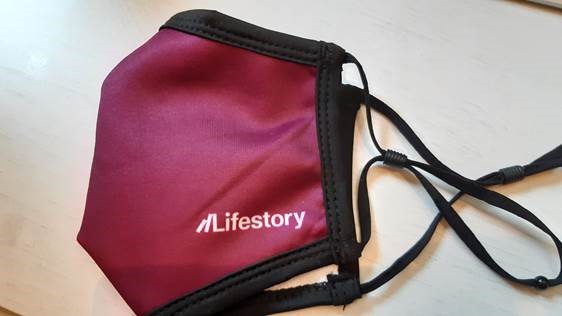 With creating and enhancing communities being the core focus to Lifestory, the Winchester-based housing developer has shown its support to local community groups in Babbacombe, Marlborough, Wimborne, Winchester, Poole and the New Forest, where it has later living homes, by donating 1,000 face coverings.
The Lifestory-branded face coverings have been donated to a range of local businesses including Wimborne Food Bank, New Forest Basics Bank in Lymington and Poole Food Bank, which all provide food parcels for vulnerable, local families; Babbacombe Bay Bloomers, a volunteer group which maintains green spaces in the area; Naomi House, a hospice in Winchester for seriously ill children and young adults, and Café @ the Allendale in Wimborne, a community centre café which provides free meals to those who need it most.
They have been worn by staff and volunteers to enable them to operate safely and help the wider community during this time. The masks are also available for members of the public to purchase from each charity, with 100% of all profits going back to the organisations. Lifestory has also provided face masks to Marlborough Food Bank, available to purchase at The Giving Tree, and Hammersley Homes, a charity dedicated to providing a permanent home for adults suffering from lifelong mental illness, to help generate donations through the sale of the face coverings which are available to purchase on their website.
Marc Evans, Managing Director at Lifestory South and South West, said: "Helping the local community is an important part of the Lifestory ethos and we're delighted to contribute by providing high-quality face coverings. The proceeds from the face coverings will make a huge difference to each community group and the vulnerable people which they support."
Louise Hallett, Founder and Chair at Hammersley Homes, added: "We're enormously grateful to Lifestory for their generous support. It's wonderful to work with a company who, like us, understand the importance of enriching the lives of vulnerable people through the provision of safe and comfortable housing."
Lifestory's later living developments include Renaissance Babbacombe in Torquay, Renaissance Marlborough, Renaissance Wimborne, Pegasus Winchester Holts, Pegasus Holmwood in the New Forest and newly launched Sandbanks Road in Poole.
Located a stone's throw from the beach, Renaissance Babbacombe boasts stunning views of the English Riviera. Each of the nine two-bedroom apartments are light and airy, with some having private balcony access.
Renaissance Marlborough, set in the heart of the historic town, features 28 spacious apartments and a cosy communal lounge, offering a great space for homeowners and members to catch up with neighbours or relax with a good book.
Renaissance Wimborne is a collection of 25 spacious and light-filled apartments. Homes feature contemporary and stylish fittings and are within walking distance of a variety of pubs, restaurants and shops.
Comprising 33 homes, Pegasus Winchester Holts has been expertly designed to ensure comfort and wellness are at its core. Its prime location is close to the bustling city centre, offering shops, restaurants, pubs and iconic historical sights.
Situated in Brockenhurst, Pegasus Holmwood comprises 22 apartments and two cottages, each with rustic, countryside charm. Homeowners and members alike benefit from a spacious home with a warm and welcoming kitchen along with a large outdoor terrace overlooking the landscaped garden to enjoy the great outdoors.
The newly launched Sandbanks Road overlooks picturesque Poole Park. Each of the 32 apartments feature plush carpeting, built-in wardrobes to the master bedroom and bathrooms with mirrored vanity cabinets.