26 March 2020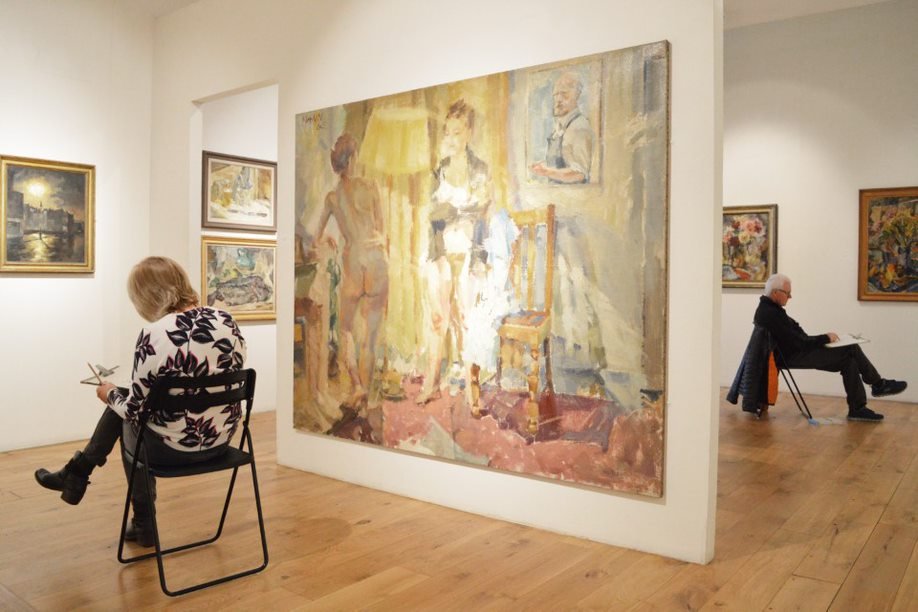 Inbuilt into the PegasusLife philosophy is our passion for celebrating the wonderful groups, places and people within our communities. Our developments are located close to excellent facilities that enrich the lives and wellbeing of our owners and other local residents, including The Lightbox in Woking, close to our Moors Nook development.
We sat down with Sarah Evans from The Lightbox in Woking, to find out more about this amazing organisation.
Can you tell us a little more about The Lightbox?
The Lightbox is an award-winning charitable arts and heritage organisation with a social purpose to improve the wellbeing and quality of life of its community. We strongly believe that art has the power to make you feel good and we strive to ensure that this philosophy is at the heart of everything we do.
Our diverse cultural programme includes exhibitions featuring world-renowned artists, local heritage, talks and tours, social events and arts and crafts workshops for all ages. Our philosophy embodies the notion that art has the power to make you feel good - which is why we are passionate about providing art for everyone.
How did The Lightbox come to life?
The Lightbox was designed in 2007 by Marks Barfield Architects who also built the London Eye, the treetop walkway at Kew Gardens, and recently completed a new ground-breaking attraction, the Brighton i360 observation tower. The building was purpose-built to be a physically accessible space – reflecting our philosophy – and it has level access, two accessible toilets and a lift that goes to all floors of the building. The Lightbox also has three disabled parking bays*, Induction Loops, magnifying glasses and two wheelchairs (available on request). Registered assistance dogs are always welcome!
In 2008, just one year after opening, The Lightbox won the prestigious Art Fund Prize Museum of the Year award – as we were the 'new kids on the block' we weren't even expecting to be shortlisted, let alone win so the publicity and achievement for us was amazing!
Can you tell us about some of the collections/exhibitions currently on offer at The Lightbox?
The Lightbox gallery and museum is home to three stunning galleries, hosting a huge range of exhibitions, changing regularly. A diverse cultural programme ensures that art can be enjoyed by all in an environment that encompasses the philosophy that art has the power to make you feel good.
Our current exhibitions include David Hockney: Ways of Working, Great Minds by Anne-Katrin Purkiss and Coming to Light: Paintings, Drawings and Prints by Roy Ralph. All of these are on display throughout March and April 2020.
General entry is free to visit. To see the Main and Upper Gallery shows requires the purchase of a £7.50 Day Pass, or you can become a Lightbox Member from £30 to gain access to all our shows for a whole year. Under 21s go free to all exhibitions.
What are some of the charitable and community programmes you run or support?
Our charity's initiative, the Art and Wellbeing programme, provides free community workshops for those living with dementia and their carers, those affected by mental health issues, those in local care homes and hospices and clients of the nearby York Road Project homeless shelter, amongst others. We offer several sessions including: Art in Mind, Art without Walls, Open Mind, Art and Crafts 4 Wellbeing, drop-in arts and craft workshops for families and children, Drawing for Adults and Storytelling for Under 5s.
How can people in Woking support The Lightbox?
Whether you choose to become a Lightbox Member, attend a fundraising event, visit an exhibition or buy something from our Shop, all proceeds feed back into the charity, which means our Art and Wellbeing programme can thrive.
How can visitors make the most of a day visit?
With a host of regularly changing exhibitions, there's always something new to see when you visit The Lightbox. You can also enjoy refreshments in the canal-side Seasons Café and browse for a special gift or memento of your visit in our arts and craft Shop which is stocked with unique wares from local designer-makers.
For families, Woking's Story, our interactive local history museum, is free to enter and explores the town's fascinating history, covering themes such as the 'mad, the bad, and the dead', the railway, and local heroes of the past. On the top floor of the building is a cosy 'Make and Play' area, where children can build sculptures out of stacking blocks, or create a mosaic masterpiece on the magnetic wall. Families can sit comfortably on the beanbags and settle down for a story out of one of the book bags. This is all free to enjoy, making The Lightbox a great destination for a fun family afternoon."
We also have a range of creative workshops throughout the school holidays and for adults, on selected weekends. Please visit thelightbox.org.uk for a full schedule of talks, tours, events and workshops.
---
If you are looking to start your next chapter in an area with local community hubs such as The Lightbox then Moor's Nook has a collection of 34 one and two bedroom apartments just a short walk from the historic town of Woking: 01483 431071 / [email protected]
*to be reinstated summer 2020
Images © The Lightbox