28 February 2022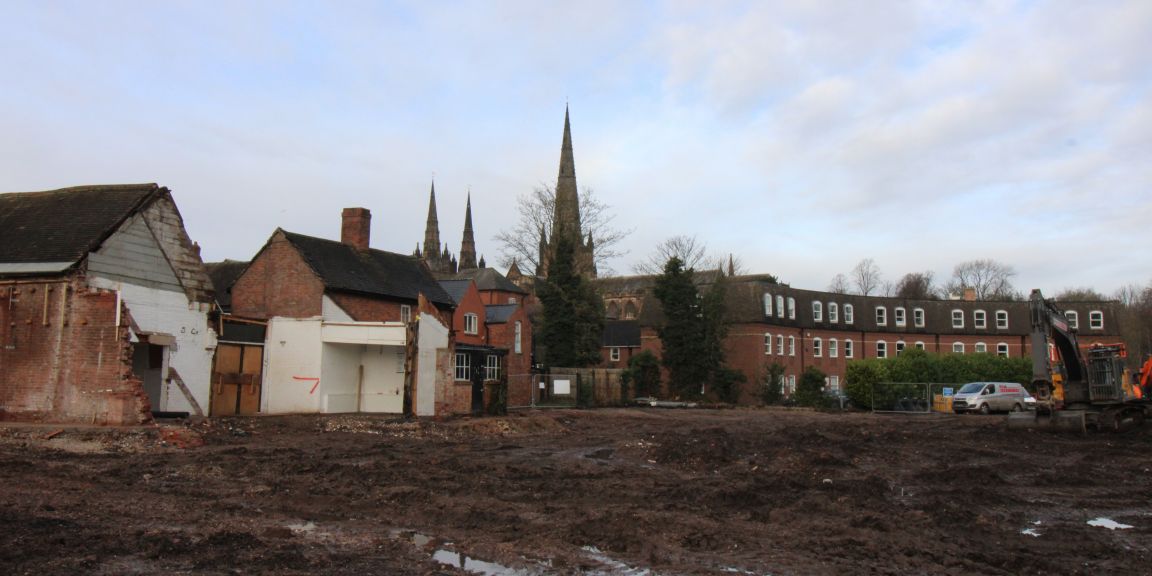 Whenever we create a new community, we always enjoy learning about the history of the site and hear the stories from people who used to live or work there. Our new community, Pegasus Lichfield Bonds, which is currently under construction, is no different.
The reasoning behind the name Lichfield Bonds is because the stone which extends through the full thickness of any wall to bind it together is called a bondstone. In addition to this at Lichfield we hope our community will be a place where people create strong bonds.
From combining the history of the site and the community we created - Pegasus Lichfield Bonds.
At the start of the month, we got to speak with Matt Davis to hear his stories of how he began his career as an apprentice at Linford Bridgeman, a stonemasonry and restoration company.
Today, Matt is a Company Director at Croft Building & Conservation Ltd. It was very interesting getting to understand the history of this site, his favourite thing about Lichfield, plus much more.
Please tell me a bit about yourself, your company and how you got into stonemasonry?
The land Pegasus has taken over at Quonians yard, in Lichfield was where I started out as an apprentice plumber for 4 years as a lead worker. My colleague and I originated from Linford Bridge which was the company that previously occupied the land. Now we part own Croft Building & Conservation Ltd in Cannock.
I started as an apprentice in Linfords, where I did 4 years at college as a lead worker and then several years on-site training with experienced tradesmen. I left in 2003 to pursue my career with Croft Building and Conservation.
Could you please tell me a bit about the history of the site?
The history I know about the site is based on conversations with the original colleagues that I was trained by who told me the site was originally owned by a company called J R Deakin's - who were a restoration building company.
Then in the 1950s or 60s it was taken over by R Bridgeman and Sons Ltd which then became Linford Bridgeman, and then the Linford Group.
How have you been involved in Lichfield Bonds?
Firstly, we worked with Lifestory on Chapter House, Monks Walk in Lichfield. This is a later living community located in a central location within Lichfield. We worked with Lifestory through the restoration and refurbishment of Monks Walk Wall (in the gardens of Chapter House), and one day I had a conversation with Jack Shields, Development Graduate at Lifestory.
He told us about the new community Lifestory was creating in Lichfield, Quonians Lane and my ears pricked up as I used to work there as a 16 year old apprentice until 2003. Jack asked me if I would like to take a look at the site. My colleague and I had a little walk around and reminisced. All the surrounding buildings haven't really changed.
What projects have you been involved in during your career, have you had any big clients?
When I worked at Linfords the most prestigious place I worked on was the Tower of London - we got to see all the specifications of the Tower of London inside-out, including the Dungeons. I must have been about 22 when I worked there.
Since leaving Linfords and working for Crofts we have worked on lots of prestigious buildings like Lichfield Cathedral, Attingham Park and Hardwick Hall, to name a few.
What does your day to day role look like at Croft Building & Conservation Ltd?
I am the company director so I predominantly manage contracts that we procure after the tender stage which fills up 80% of my week. The other 20% I undertake quantity surveying and estimating.
What is the process of stonemasonry?
It varies, we would tender or price a job that is handed to us in a document by somebody like Lifestory; a architect; or a representative at the English Heritage. That document would outline the project, we would then price that and once we have gone through the procurement stage and we've successfully won the bid, then we would get the scaffolding and identify what stones are needing replacing.
We would measure and template the stones and put them into a data sheet, Charlie (our stonemason manager) would template if there are any carvings or mouldings that need to be replicated as original. Then we would order the stone from the quarry chosen by the architect. The stone will be brought back to our premise where we have a workshop facility. We carve our stone by hand traditionally as it would have been done back in the day.
We have four masons in their own banker area in our workshops who carry this out 5 to 7 days a week. Years ago there used to be a bit of artistic licence with how stonemasons could carve a gargoyle for instance but in the period that I've worked you are copying from like to like in most cases. It can take around 30 to 40 hours to carve from the block of stone and there is no room for error.
Where does the stone come from?
Lots of different quarries up and down the country. An architect would have an understanding of what type of stone they are looking for. We would ask to get samples of those stones from the architects who will know about 4 or 5 quarries within that area. The architect would then review the samples on site, look at colour to see if it's a suitable match, look at the consistency of it, texture, and the makeup of it when you look at it.
Once you have got to that stage they would decide what one they would like to go for and then we place an order. After this we will carve it to whatever profile it needs to be. It will then get taken on site and the masons will fix it. It's quite a procedure we have to go through to get there. The stone will last for about 120 years until someone needs to touch it again so that's very satisfying.
What's your favourite thing about Lichfield?
Well I am from Lichfield but it's the fact I started in this area as a 16 year old and I had the best apprenticeship. I met some amazing people and the amount of skills and knowledge I have learnt from those people in that environment you can't get that experience and knowledge anywhere else.
It's people that have done it all through their working life and they were prepared to have that patience to engage with a school leaver and bring them on to eventually one day feel comfortable to do their own little jobs to then go on and do bigger projects. Nothing but good memories from that period in my life in Lichfield.

To find out more about Pegasus Lichfield Bonds, visit our website: https://lifestory.group/pegasus/our-developments/pegasus-lichfield-bonds/