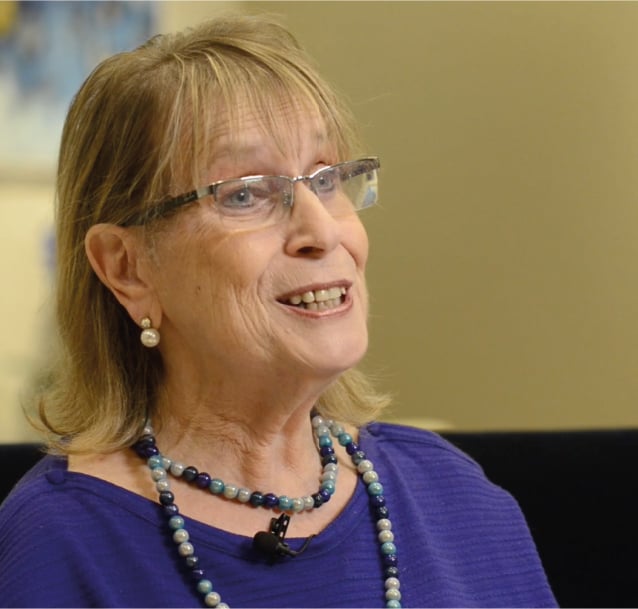 Bette Braka moved to Chapelwood in 2017, two years after her husband died and she realised that their house in Cheadle, where they had spent many happy years, was too big and isolated.
As it was time to find somewhere more suitable, she picked up a newspaper and happened to read about PegausLife's developments for the over 60's. She had driven past the site in Wilmslow that was to become Chapelwood, still surrounded by hoardings, and got in touch to find out more.
What made you choose a retirement development?
At the time, I was 76, I'm coming up to 81 now so I knew I should start thinking about moving somewhere more suitable. I found that I didn't want the worry of looking after a house on my own especially as it was at the end of a cul de sac so I felt a bit isolated. I also didn't want my daughter worrying about me. We've never lived in each other's pockets and I've always been self-sufficient, so I didn't want to find myself in a position where I was relying on her or others.
So, a retirement development like Chapelwood made perfect sense. I still have my independence with my own apartment plus all the marvellous facilities to hand with Wilmslow on my doorstep, and Alderley Edge just down the road. It's also given me the opportunity to make new friends within the development community. My daughter only lives 4.5 miles away so it's very easy for us to see each other.
I put down my deposit before the first brick had been laid. The sales lady had shown me the plans and I liked what I saw. I spoke to my family about my decision and they persuaded me to get a three-bedroom apartment, but I had made up my mind to buy here already, I like to make up my own mind.
Where did you live and work previously?
We have lived in the area for 50 years and had been in Cheadle just before coming here. My husband was in the textile business and I used to work for British Overseas Airways Corporation (BOAC), firstly on the Check-In desk and then I looked after VIPs. I met quite a lot of famous people; I checked in Paul Newman and had to ask him to remove his sunglasses so that I could check his passport and be sure it was him! I met James Mason and a lot of pop stars as they used to film Top of The Pops in Manchester, in a converted church. The Rolling Stones were also one of the bands I remember dealing with. We had to also bring Lulu down on one of our planes as an unaccompanied minor, from Glasgow. It was wonderful working there. In fact, we went to Hawaii for our honeymoon on BOAC.
Did you have lots of plans for when you retired?
I've always kept busy so it was more about moving somewhere less isolated and safe so that I could maintain my independence but also knowing that there were people around me when I wanted. I didn't want to become a worry to my daughter so that was part of my thinking. I also wanted to make sure that I didn't leave my daughter with a lot of hassle and things to declutter and organise after I pass away, so part of that plan was to move here, do all that decluttering and organising things myself. I've always been practical, and I don't want to burden others.
What have you had more time to do since moving to Chapelwood?
I've been able to continue playing bridge with the people I went to school with but we're strictly social bridge players! It keeps us all in touch, which is amazing and I'm very lucky to have that especially as none of them live at Chapelwood.
Clare, the General Manager also arranges all sorts of things at Chapewood like the coffee morning every other Wednesday when we all get together. There are special evenings like fish and chip night once a month and pre-covid 19, we would have other events like talks or demonstrations. It's things like that I've been able to do since moving here but also keep up my other long-term arrangements. I love musicals and can't go and see them live these days like I used to, however Clare sometimes makes arrangements for us to go to the theatres in Manchester. I have also been enjoying more reading, I love biographies, so I can make the most of that.
What is it about Chapelwood that makes it a home for you?
Chapelwood just feels like a home and when I'm in my apartment, I don't feel I miss my previous house at all and I just think I'm really lucky to be here. I can socialise as much as I want and when friends come to visit, I am able to take them to the on-site restaurant as I prefer to eat out these days in company rather than cook myself! We are lucky to have Lee and Kate our chefs and they both make beautiful cakes and chocolate and desserts, which are my downfall and are very hard to pass without having a slice! The development is like a five-star hotel; as well as the deli, we've got a fully equipped gym, a sauna and a pool - it's great fun living here!
During the pandemic Clare has been absolutely amazing. Everything has obviously had to close, including the deli, however she kindly made arrangements for Lee and Kate to come in and make meals to ensure we were all kept well and fed. Matt, the concierge and Anne Marie the deli manager were given two apartments to stay in so they could be on site to help with all the things that the off-site people could no longer do. They have also been on hand to collect outside shopping for us so we don't have to worry about fending for ourselves at all. We could just order over the phone and the food was brought up and left outside the door. I never expected that, I thought I would have to live on what my daughter would bring me. The team have been truly marvellous.
---
Set in the heart of Wilmslow, Chapelwood offers 57 one, two and three bedroom apartments with open-plan layouts and private balconies and terraces. The on-site gym, spa, restaurant and communal spaces offer owners a sense of luxury, helping you to make the most of living at Chapelwood.
The sales suite is remains closed however those interested in finding out more information can call 01625 569492 or email [email protected]