01 September 2020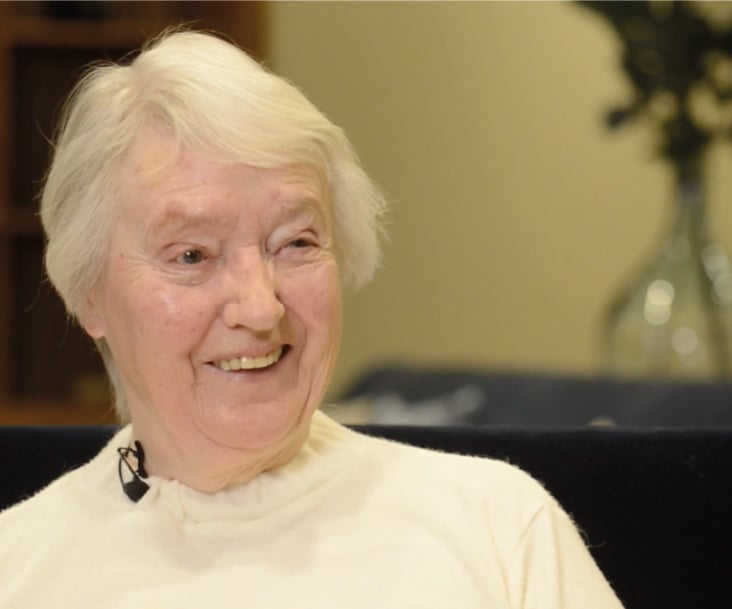 We've been speaking to some of the owners at Chapelwood, PegasusLife's Wilmslow development. Here, owner Christine Berrisford, who was the first owner to move into Chapelwood, tells us a bit about her life, the appeal of retirement living and why it was the right choice for her.
What made you choose a retirement development?
Following a stroke which paralysed me down the left side of my body resulting in the need to use a mobility scooter so whilst I am independent, I cannot get around as easily as I once could. I knew I did not want to go into a care home and that if I opted for a retirement development, I thought I would be able to stay in a home of my own much longer and still manage everything myself. Like so many of us, I like my independence and have been used to living on my own in the flat my husband and I lived in before he died so moving to Chapelwood provided the perfect balance.
Where did you live and work previously?
I had been teaching English to foreign students however I stopped working very suddenly when I was still in my fifties, when one of my sons had to undergo major heart surgery when he was about 18 so I stayed at home to look after him. I am 86 now so almost thirty years ago so I've not worked for a long time. He is recovered now with children of his own and he married the trainee nurse whom he met while he was recovering from his first operation.
After I had my stroke and was paralysed down my left side we downsized to a flat in Bramhall. My husband died a year or two later, so I was on my own there for a bit. Then when the opportunity to buy a home here came up, I was delighted, which was marvellous.
Did you have lots of plans for when you moved to Chapelwood?
My main aim moving here was to maintain my independence which I can do as it is ideal for the shops. I can go out on my own in my scooter and manage everything myself. I wanted to stay reasonably close to my three sons who live nearby and although my daughter is in Suffolk, we regularly facetime.
It was also essential for me to be somewhere with the right facilities to help me continue my recuperation after my stroke. I used to swim forty lengths a day so having the hydrotherapy pool at Chapelwood is fantastic for me to be able to keep up my daily routine. I have my own Thai Chi routine which I can do in the hydrotherapy pool.
What have you had more time to do since moving to Chapelwood?
I've been able to keep up my Thai Chi which is very important which is hosted by Hannah, the Physiotherapist at Chapelwood. I also love doing crosswords and can spend a lot of time on those. I read anything I can get my hands on and still much prefer books to a kindle; I am a bit of a bibliophile. At the moment I'm reading a murder mystery although I usually prefer something a bit jollier.
We used to travel a lot as a family and used to visit France as we had a time share property on the South coast. We had also visited other places Costa Rica, Sri Lanka, Malaysia and even toured around towing a caravan for six of us. My husband went under duress as he didn't much like travelling like I did. I can't really travel now, so one thing I really enjoy is reading a lot of travel books instead, like A Year in Provence, or I watch programmes on TV like Escape to the Chateau, which I love. I've been able to go on one cruise, around the Caribbean, since moving here but we ended up getting caught up in the coronavirus crisis. We were lucky to find somewhere to dock so we could be flown home!
What is it about Chapelwood that makes it a home for you?
Being the first owner to move in, I was on my own for a few days when I first moved, until more people begun to move in. That was three years ago now and it feels much the same as it was when I moved in. Of course, I have got to know people since then and everyone is very friendly so there is always company if I want to socialise.
For me, the things that make Chapelwood a home in many ways are the facilities especially the pool as it gives me a way of exercising. Also, the independence I can maintain is great thanks to being so near to the shops including Sainsbury's for bits and bobs; I then get other food delivered from Wiltshire Farm Foods, who are very reliable. Three years on and I'm still as independent as I want to be, and I feel very at home being here – I've never looked back!
---
Set in the heart of Wilmslow, Chapelwood offers 57 one, two and three bedroom apartments with open-plan layouts and private balconies and terraces. The on-site gym, spa, restaurant, and communal spaces offer owners a sense of luxury, helping you to make the most of living at Chapelwood.
The sales suite is remains closed however those interested in finding out more information can call 01625 569492 or email [email protected]