03 August 2022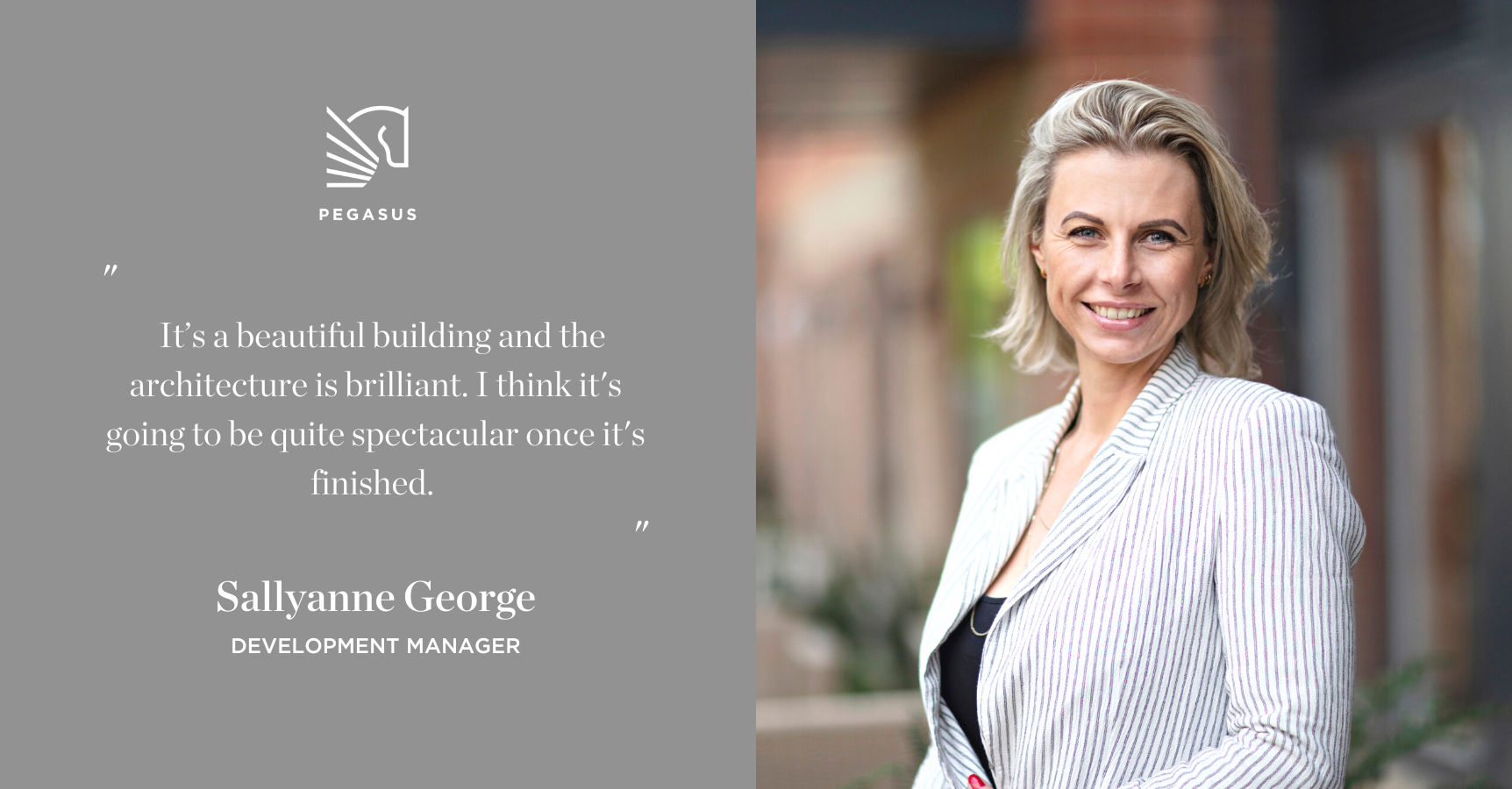 Our 'Meet the Team' series features some of our fantastic employees across the different Pegasus teams to showcase their role in the business and journey with us so far.
In this instalment, we speak to Sallyanne George, Development Manager at Pegasus Wooburn Bales, in Wooburn Green to learn more about her experience and the project so far.
What's your role within Pegasus Wooburn Bales?
I'm the development manager. I oversee the project and will see the project through the whole build process and any changes we make along the way, to optimise the project and ensure we're on track in building to the quality we aspire to for the finished product. I also ensure all the teams are working together as a unit so that we can work efficiently.
What stage does development become involved in the project?
Now as a company we've adapted so that the development team becomes involved in the process a lot earlier. Whilst our land team will buy the site they'll still have involvement from development. So, we work through the land stages too, the appraisals and making sure that any land we buy is going to achieve what we want to in terms of our aspirations for the quality of what we build. The handover where land is no longer as involved and the development really kicks in is when we have bought the land. We then take it on and work with planning.
What does a typical week look like for you?
So I have to structure my week as you can imagine, they're quite busy. At the start of the week, I'll be in the office liaising with internal stakeholders, so the sales, land and marketing teams and really working through the paperwork side of things such as the reports and appraisals. I'm then out on site generally the rest of the week and that can be to do anything from meeting with health and safety to ensure the contractor is doing everything they can to keep the site safe and secure to meeting with the contractors to run through progress and resources on site and local neighbours about things that are going on around the area.
I'm continuously monitoring the project, as we visit regularly we're very exposed to the site and what's going on. It's 44 homes so it's quite a long trip around but seeing the progress is great. It's amazing how at different stages it changes so quickly. At the moment we've got a lot of the internal partitioning going up so from the top of the building down you can see the form of apartments taking shape which is exciting. It's a great stage of the project now to be able to see the different apartments coming to fruition.
What are your favourite aspects of Pegasus Wooburn Bales?
By far it's the apartments, in particular that there is one suited for everyone. I have so many favourite apartments. Up on the top of the building where you have quite a complex roof, it's made these fantastic rooms which have huge dormer windows almost in the eaves so they've created a cottage feel. Apartment 39 is a three bedroom and it's got amazing views, big open windows, a massive terrace out the back but then you come down the building and you have more traditional style apartments that will suit other people. It really feels like every apartment has its own special vibe about it and I really like that, where there's something a bit different about each one. It's a beautiful building and the architecture is brilliant. I think it's going to be quite spectacular once it's finished.
Any highlights so far and what are you most looking forward to?
For me, the highlight is always seeing the first people move in and how happy they are once the build is complete. With any construction project you can face challenges throughout and a real highlight so far has been how the team has all come together to overcome those. I have a really strong team on the project and everyone is working really hard. So from a build point of view that's a highlight but the ultimate one is definitely having our first move-ins and I'm hopeful that we can build another very happy community here. At our local Renaissance Wharf Lane community, in Bourne End it was lovely to see people moving in, being really happy with their new homes and building that strong sense of a really lovely place to live.
What's the next exciting milestone for Pegasus Wooburn Bales?
The next really exciting one will be practical completion. For Wooburn Bales, it gets very exciting now as we'll start painting the ground floor apartments, rooms are taking shape on the upper floors and landscaping is starting. We'll also be creating the sales suite and getting the dressed apartments ready to launch so customers can come and take a tour of an example apartment. It's a busy stage but it's also the time where the building really starts blooming and becoming the end product that it should be.
Finally, what do you like most about the area of Wooburn Green?
It's nice that it's a suburb. It's close enough to easily get into the London amenities and local to bustling towns but at the same time you've got a very village feel here. It's got a beautiful village green which hosts events and has the charm of a smaller community without being in the middle of nowhere. The location is amazing really and there's lots of boutique shops and bakeries.
Pegasus Wooburn Bales
Located close to the heart of the village, Wooburn Bales will become a spacious collection of one, two and three bedroom age-exclusive apartments, just a short walk from the village green and close to the local shops, making it easy to enjoy all that village life has to offer.

With wellbeing at its heart, shared spaces to relax in including a lounge and beautifully landscaped gardens and a dedicated Lifehost on hand - life at Wooburn Bales is all about helping you to enjoy a sociable and independent lifestyle.