05 March 2021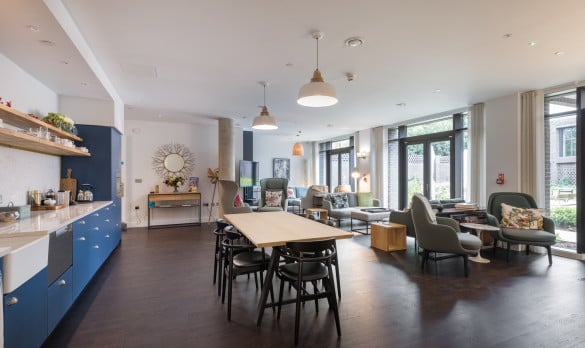 We've been meeting all the wonderful Lifehosts who bring our communities to life across the UK, finding out from them what they most enjoy about their job and what they would recommend doing in the local area.
In this instalment, we caught up with Donna Watson, our friendly Lifehost at our 23a Leyton Road community in Harpenden.
Hi Donna, can you tell us a bit about yourself and life at 23a Leyton Road?
I started my role as Lifehost at 23a Leyton Road about four months ago after many years in a client facing role in insurance and banking. Due to the pandemic, my previous role ended, so I was looking for a new people orientated role and came across Lifestory and the rest is history.
Life at 23a is somewhat different at the moment but it has been such a pleasure to get to know our homeowners, discovering their life stories and helping them in their daily lives with the support of my General Manager Jenny.
What is your priority as a Lifehost?
My role first and foremost is to support our homeowners to make their life as stress free as possible and be a friendly face to support them while their families are not able to visit.
At the moment, we have 17 homeowners who are aged between their mid-70s to 90s, most of them are very active and fit and enjoy a good walk or a shopping trip, so my priority is to help them get on with their normal lives as much as possible despite the current restrictions.
We are not able to do the community activities which I had planned when I started during more relaxed restrictions, so I am helping the community connect in other ways like helping them with their online bridge set up and bringing in cakes once a week.
What do you like most about Harpenden?
Harpenden is such a lovely area with a low crime rate. It has a real quaint village feel with plenty of green spaces, convenience shops, boutiques, and coffee shops, which makes it such a nice place to live or work and it is also just a 30 minutes' drive from my home in Hertford.
What does a typical day at 23a Leyton Road look like?
No two days are the same at 23a which keeps me on my toes and busy.
A typical day will include management meeting to discuss any issues at the community followed by different processes to make sure the building and homes are being maintained to our high standards.
I'll also spend a good portion of my time chatting to the homeowners to ensure they do not have any problems with their hot water or heating and also arranging quizzes and posting them online for the community members.
What are some of your future plans for 23a Leyton Road?
I have some exciting plans for our community when communal activities are allowed to resume.
We will be planning activities like film afternoons for our community get together and also arranging fish and chips to be delivered as a treat on those special days.
I'm also looking forward to arranging days out to stately homes and heritage sites alongside walking trips to nearby parks and fun activities like coffee morning, weekly quizzes and race nights to keep the community spirit alive and thriving at 23a Leyton Road.
----
23a Leyton Road is our collection of stylish later living homes located in the centre of Harpenden. To find out more about the incredible lifestyle that awaits, call our team on 01582 643 721 or email [email protected].