15 December 2020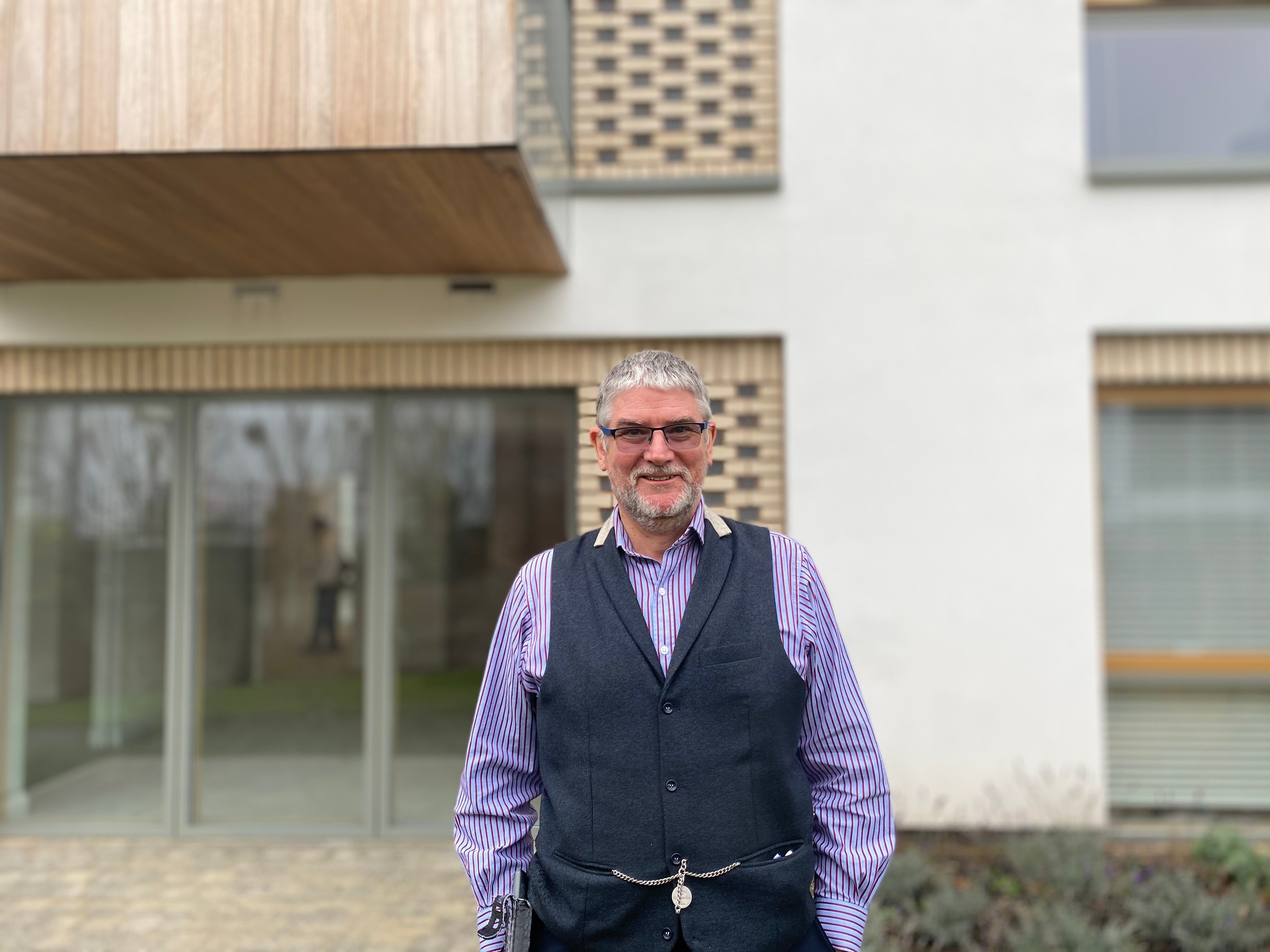 We hope you have enjoyed our new series so far chatting to the Lifehosts at each of our Pegasus communities.
Today we're introducing Steve Meldrum who is the latest Lifehost at our Latheram House community in Cheltenham. Set in the heart of Cheltenham, our Latheram House provides easy access to the delights of this Regency spa town, while being a tranquil haven to retreat to at the end of a busy day. As you will learn from Steve, he has also fallen for Cheltenham's charm and certainly will not be leaving any time soon.
Hi Steve, can you tell us a bit about yourself and life at Latheram?
After spending a total of 40 years in the hospitality business, I decided I didn't fancy anymore late nights, so I've been enjoying being this side of hospitality instead and have been with Lifestory for two years now. Talking to people is what I enjoy the most, and that's what is most important as a Lifehost here at Lifestory, helping our owners with a smile and making people feel welcome and at home.
I first started out working with the catering team at One Bayshill Road, our other Cheltenham community before becoming a Lifehost at The Vincent in Bristol. I was with that community looking after the homeowners for a year before I was introduced to Latheram House which is ideal for me as I only live 10 minutes away!
We currently have six owners at Latheram House and I have really enjoyed starting from scratch in this community with such a small number of owners. It means I get to watch the community grow as I welcome each new homeowner to their home. They are here to live and enjoy themselves and I oil the machinery, I see myself as a friend if they need it and I am always here for a chat. I also always try to introduce owners to each other quickly to build up that sense of community.
Have you seen an increase in people looking for a home within a strong community?
I think that Latheram House is a hidden gem in Cheltenham and we will slowly build up momentum as we grow our community here. There are 67 apartments at Latheram House so we can't wait to welcome the new residents to start creating a bustling new community.
I love hearing the reasons people have chosen a Lifestory home with one couple in their early 60's living here at Latheram sharing that they know that they are here to stay. They have told me that they love the community feel and know it's exactly where they want to be – what more could I wish to hear!
Is there anything in particular you like about the area of Cheltenham?
I have never regretted setting my roots in Cheltenham, it just felt right, and I can't see myself being anywhere else.
It's a busy town being close to Bristol and Birmingham making larger cities easily accessible. Best of all thought is that you can be in the beautiful countryside within five minutes!
I also have an interesting hobby that I am able to practice in Cheltenham. I've been a Morris Dancer for 10 years now and I love that I am able to go out and enjoy it with likeminded people. It has been hard not to have that over lockdown.
What does a typical day at Latheram look like?
No two days are the same. I come in to check my emails and start on the paperwork but most importantly I check on our homeowners to see if they have any problems. I normally ask them to pop in and see me when I know they are out and about.
I also take care to keep the site clean. This is not actually my job, but I don't want anything to feel unloved. I am proud to work here and I want that to come across any visitors we have.
How was it for you working throughout lockdown?
All six of our owners are extremely independent but in the past, I have picked up prescriptions and groceries when they have not been able to get out and about due to lockdown regulations. With our location being so close to town, it is very easy for owners to stroll to the shops and make sure they get some fresh air.
What do you enjoy most about your role as a Lifehost?
The people, without a doubt! I'm a people person and I find them fascinating, especially hearing their stories, which is why I was attracted to the hospitality industry in the first place.
---
If you are looking for a home within a fantastic community and countryside on your doorstep, then get in touch with the team to find out about the later-living apartments available at Latheram House on 01242 312198 or e-mail [email protected].