29 April 2021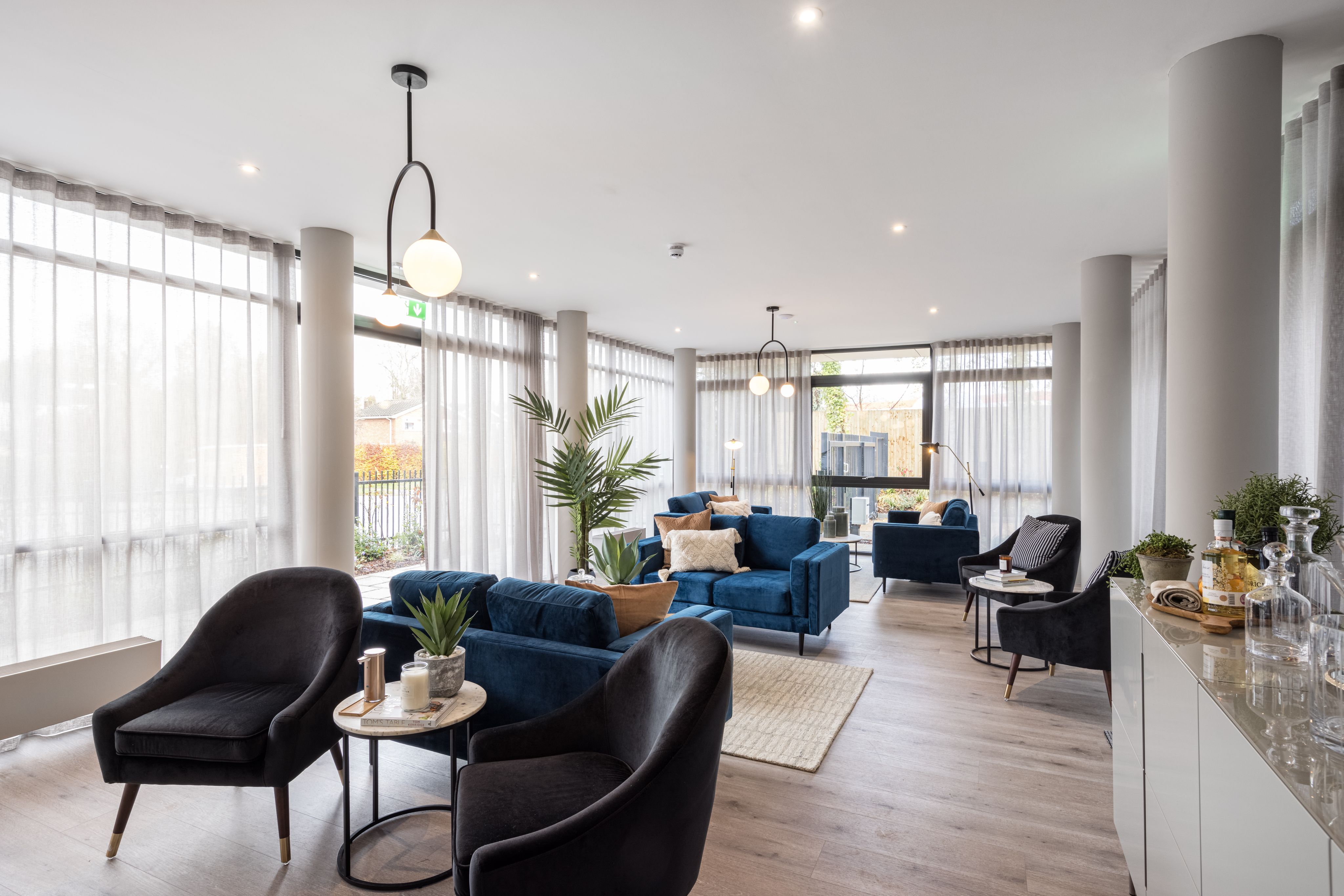 We've been getting to know all the wonderful Lifehosts who bring our communities to life finding out from them what they enjoy most about their job and what they would recommend doing in the local area.
We caught up with Christine Owen and Rita Wheeler, our friendly Lifehosts at our Taylor Place community in Dorking.
Hi Christine and Rita, can you tell us a bit about yourself and life at Taylor Place?
Rita: My background has been in aviation training and safety for the most part of my life but over three years ago, I decided to change careers and found a sales role at Pegasus One Bayshill Road which I very much enjoyed. Due to the pandemic, I decided to move back to Surrey and found a role as a Lifehost at Taylor Place which I have absolutely loved since then.
Christine: During my early years, I was a stewardess for British Airways up until I got married and had children. I was then heavily involved in various voluntary roles including President of my local women institute and PTA. Similarly, like Rita, over three years ago I was introduced to Lifestory and began the role of a roving Lifehost working at different Pegasus communities in Purley, Seaford and Horsell. At the beginning of the pandemic, I then became a permanent part time Lifehost at Taylor Place.
Both: As we share the role of Lifehost where Christine works Monday – Wednesday and Rita works Thursday and Friday, we have a comprehensive handover which we both fill out before our days off to keep each other informed about the activities at the community.
What are your priorities as Lifehosts?
The contentment of our homeowners and maintaining the safety of the building are our top two priorities.
At the moment, we have six homeowners who have moved into the community, consisting of four couples and two single ladies and we have been busy trying to help them settle into their new home and ensure that any issues are resolved which can sometimes be tricky with the constraints of the pandemic.
As restrictions slowly start to ease, we have also been able to host our first 'socially distanced' coffee morning for the homeowners outdoors where we enjoyed getting to know them all a bit better. This will now help us organise some plans together for when we'll be able to do more community activities.
What does a typical day at Taylor Place look like?
Our days consist of a mix of technical processes such as making sure all the appliances including the fire alarms and dry risers are working properly and logging those back into the system. The rest of our day is spent speaking to the homeowners to see if they have any issues that they need help with and preparing the communal activities that we have at Taylor Place like the lending library and our monthly Taylor Place newsletter sent to each homeowner.
What do you enjoy the most about working in Dorking?
Neither of us live in Dorking but we really enjoy the scenic location where we work which was unsurprisingly voted as one of the best places to live in The Sunday Times. The High Street is bustling with local independent shops and nearby West Street has a selection of beautiful antique shops which attracts visitors from all over the world. Dorking Halls Theatre is a unique local attraction which we cannot wait to be reopened once again as hopefully we'll be able to organise a nice theatre evening for the homeowners there in the future.
What other plans do you have for Taylor Place in the future?
We have lots of exciting plans for Taylor Place now that the world is slowly returning to normality. We will be continuing our socially distanced coffee mornings, which is a great way for everyone to get together and share their daily lives within the community. We are planning various activities like a behind the scenes tour of the community, which the homeowners are very excited about, and introducing events like play evenings, Strictly Come Dancing judging nights and Pimm's & Strawberry afternoons. One of our homeowners is a member of the local Bowls' Club so he is arranging a taster session for interested parties in the Summer and we'll also be looking to start various clubs like reading and gardening, depending on the level of interest from our homeowners.
----
Taylor Place is Pegasus' collection of stylish 22 one and two bedroom later living homes located in the heart of Dorking. To find out more about the incredible lifestyle that awaits, call our team on 01306 230 010 or email [email protected].