25 February 2022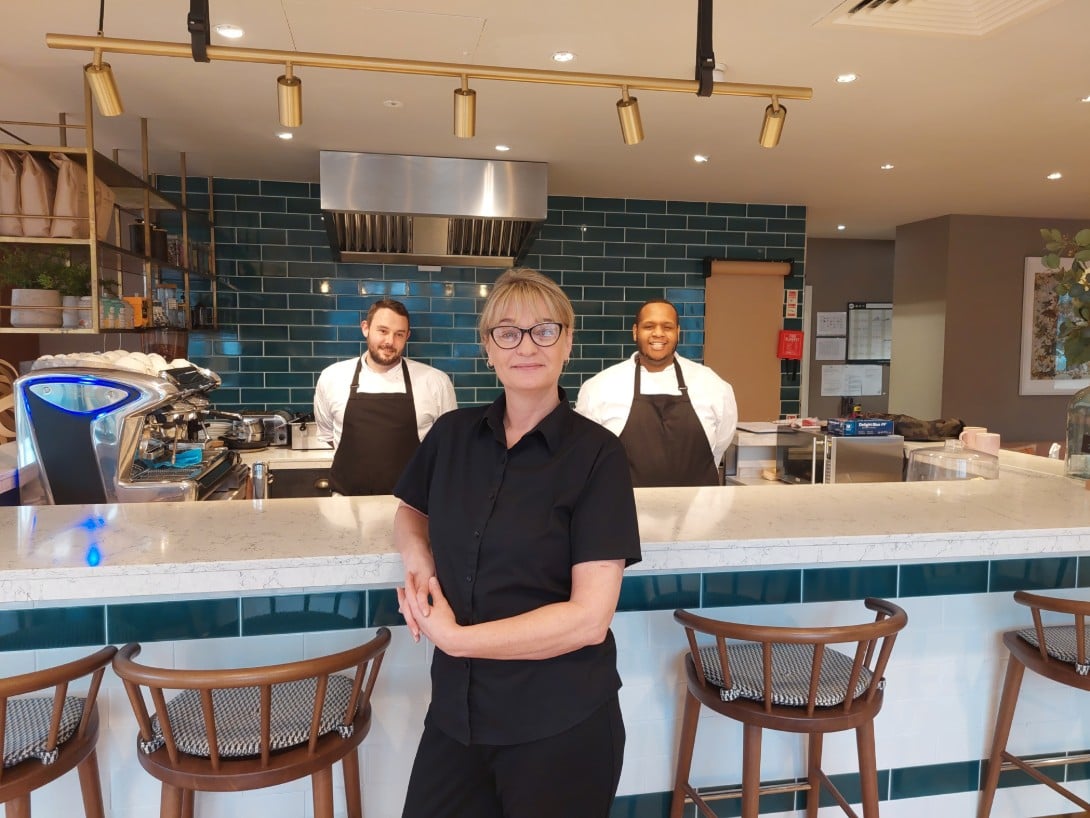 Meet the new team in The Chapelwood Kitchen, Wilmslow. It was lovely getting to sit down and chat with Gerry, Rachel and Alex who recently joined the Chapelwood community to find out more about them, The Chapelwood Kitchen, their favourite dishes on the menu and more.
Tell us a bit about yourself and your role in The Chapelwood Kitchen?
I'm Gerry, the Kitchen Manager here at Chapelwood and started back in December 2021. My background has been restaurants before Lifestory. My passion is food so I feel right at home.
I am Rachel, the Supervisor for Front of House and have years of hospitality experience. I wanted something that I could get my teeth into. Becoming a part of the Chapelwood community is fantastic.
I am Alex, the Senior Chef and I am really enjoying it here - it's great to have the freedom to create what we want which is something I've never had before. I love to receive feedback from customers to hear what their thoughts are on the food we are making and welcome any ideas.
Rachel tells us: We recently met with the Chapelwood community to ask for feedback on the restaurant and we are delighted to have received so many positive comments. I very much enjoy working front of house and liaising with the customers and getting to know them.

What does a typical day look like in each of your roles and what do you enjoy most?
Gerry and Alex: We start off by prepping in the morning. Mainly, we need to get ready for lunch because this is our first big service. This is from half 12 until 2 and then we start to prepare for dinner. It's full speed ahead really.
Rachel: Although we are all relatively new staff to The Chapelwood Kitchen, we have settled in very quickly, working well as a team and are very supportive of each other. Being front of house it is my job to ensure the restaurant is ready to receive diners and that their requests are met and service is efficient and runs smoothly. The restaurant is notably getting busier and it is nice to see an increase in regular diners. I enjoy building on my relationships with the customers and getting to know their preferences.
Can you please tell me a bit about The Chapelwood Kitchen?
Gerry: Our core values are pretty much about providing a wide variety of high quality fresh foods and having the finest team to exceed our customers expectations - we work hard to relay those values. Our menu's change every week however we always have a special menu and a general menu. Alex and I have free range to make whatever fresh dish we would like. They enjoy a bit of fish here at Chapelwood, so there are always two fish options on the menu. Our customers enjoy the classics, but most are adventurous and enjoy Alex and I's creative and modern flare.
Rachel: The food is very nicely cooked and presented. The chefs are very obliging and try to be as flexible as possible. If people request something in particular they do their best to accommodate their wishes. The desserts are a favourite here and there are several choices including the favourite Pavlova, Lemon Meringue and Panna Cotta.
What are your favourite dishes on the menu?
Rachel: I am quite a `foodie' so enjoy practically everything that is cooked here. The chefs often use me as a `taster' which is not good for my waistline! The fresh bread that Alex makes daily is one of my favourites.
What exciting additions do you have on the menu?
Gerry tells us: As we have a new menu every week this really gives Alex and I the chance to use our skills. One homeowner is a vegetarian who regularly visits The Chapelwood Kitchen, and we like to create bespoke dishes that we know they will like.
Rachel: We hold events throughout the week Friday being fish & chips night. We have a Saturday morning breakfast club and the Sunday lunches are delicious. We hold a gentlemen's evening and are in the process of organising an afternoon tea for the ladies to take place on Women's International Day. We also celebrate Chinese New Year and continually work on ideas for theme nights. We hope to have something for everyone, accommodating all tastes.
What do you love most about Chapelwood?
Rachel: I really love the working environment with both the staff and customers and am very appreciative of the compliments we receive from the diners. Our customers show an interest in us and ask how our days are and when I have time I am invited to join them for a coffee which is an opportunity to get to know each other personally and build on relationships. I also enjoy the atmosphere when homeowners bring family members/guests to dine in our restaurant. It feels like we are one big family.
Gerry: We are really happy we have a settled team, we all work really well together and we just want to deliver the best. We want to make the customers feel at home in their home.
Are you looking to downsize and like the idea of having an exclusive on-site restaurant? More information on our Chapelwood community located in Wilmslow, Cheshire is available here