Go back to all news
Lifestory hosts topping out ceremony at Pegasus Bath Leat development to celebrate construction milestone
27 January 2022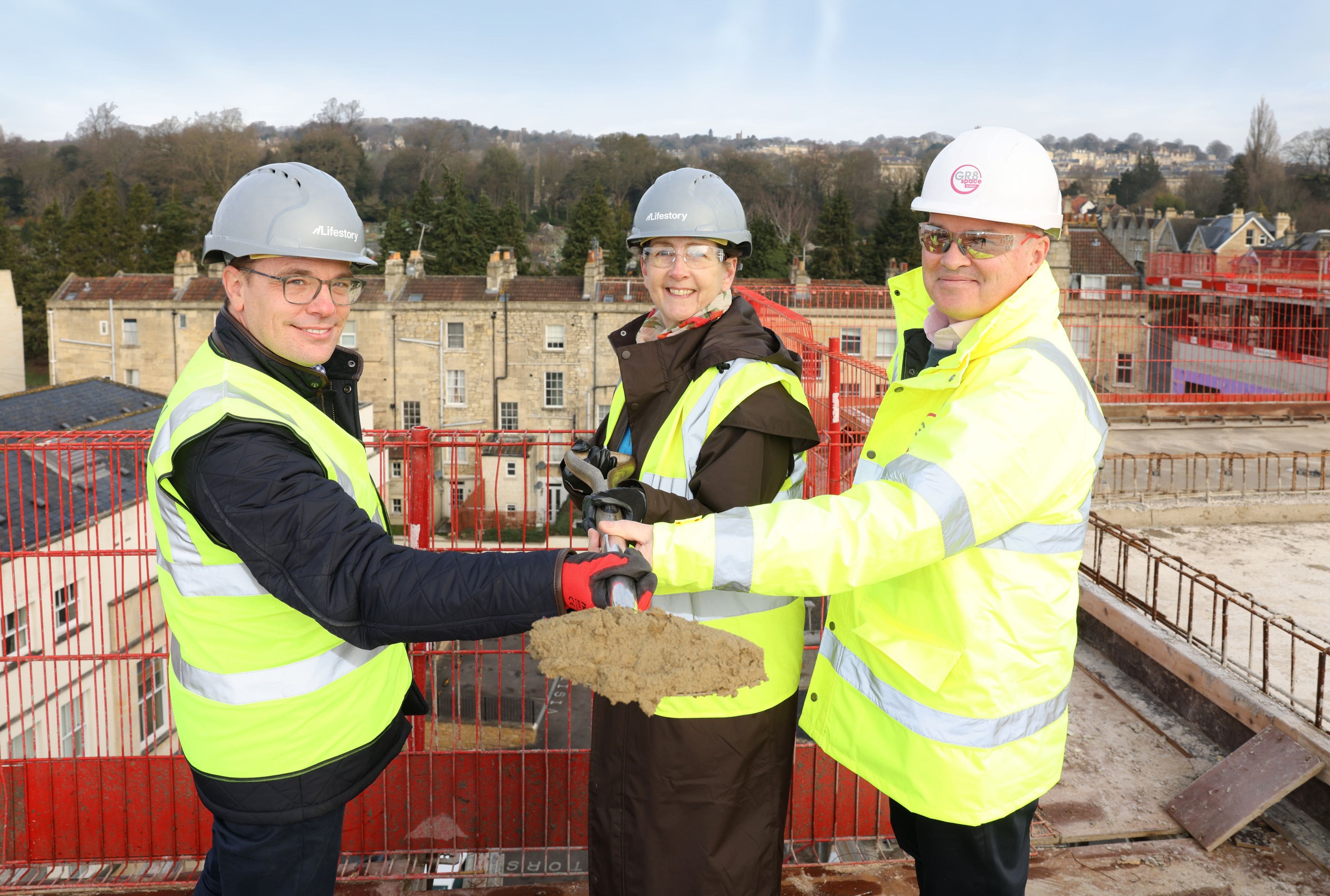 Last week, Lifestory hosted a topping out ceremony at our new development, Pegasus Bath Leat to celebrate our latest venture in Bath, which is set to deliver a unique collection of later living one- and two-bedroom homes.
The ceremony was attended by Ian Harrison, Managing Director for Lifestory's South & South West region; and Spencer Lindsay, Development Director at Lifestory. The team from Lifestory were joined at the ceremony by Councillor Sue Craig, in her capacity as Councillor for Kingsmead, alongside Nick Liddell, Managing Director of Gr8 Space construction company.
Councillor Sue Craig, comments: "Pegasus Bath Leat provides much needed, high quality later living homes in the community, and I am delighted to have been invited to attend this important milestone in its development.
"I'm also pleased to see this development move forward as I'm aware of the positive role that specialist later living developments can play in terms of local housing markets, given they help free up existing homes as people downsize to more suitable accommodation. I look forward to seeing further progress made on this exciting development."
Ian Harrison, Managing Director for Lifestory's South & South West region, comments: "Today's milestone forms part of our wider ambition to create more high quality homes for independent later living across the UK. Our passion is creating communities which enable and empower our customers to live their fullest lives, regardless of their age or life stage.
"Set on the banks of the River Avon, Pegasus Bath Leat is positioned to provide not only access to the vibrant city of Bath, but to provide a sociable community with wellbeing at its heart. From the range of facilities available onsite, to the wider activities Bath is known for, including the best-preserved Roman Baths and various mineral-rich spa pools, we're confident that it is the perfect space for those seeking their next chapter."
On completion, Pegasus Bath Leat will comprise 68 one and two bedroom apartments in a crescent-shaped terrace in keeping with the historical architecture in Bath, and a south-facing building that will overlook River Avon. In line with Lifestory's commitment to create spaces that promote wellbeing, the community will include a series of tranquil gardens and social spaces inspired by Bath's thriving cultural scene.