Go back to all news
One Bayshill Road offers independence,security & companionship
"The Homemoves service was fantastic, the team packed everything up for me and put everything in its rightful place in my new home -they even made the bed for me! I instantly felt settled in my new home."
05 July 2021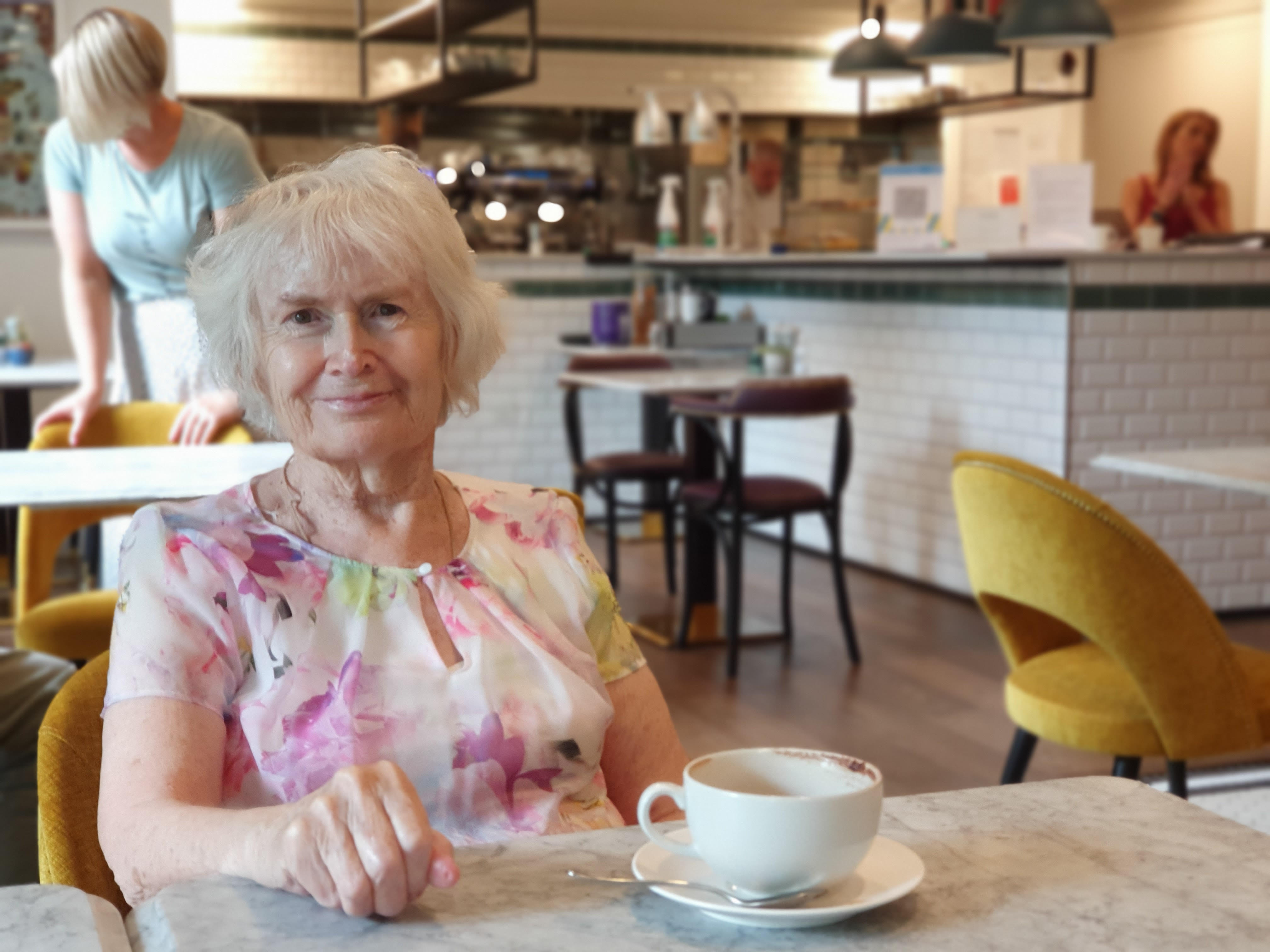 In May 2020 Margaret Riggs set her eyes on Pegasus' One Bayshill Road community in Cheltenham whilst searching for a new home in later life as she sought to remain independent whilst becoming part of a community. She immediately knew it was the perfect home for her and set her heart on buying a one-bedroom apartment. After living in various locations across England, and overseas for over 30 years, Margaret has now found the perfect location to enjoy the next chapter of her life.
Margaret explains: "I used to cruise quite a lot and that's where I met my husband. We began our life together in Market Harborough before moving overseas and then, due to my husband's health we chose to move to Spain where I then lived for 30 years. My husband sadly passed away and with my daughter in England I felt it was the right time for me to move back, so I had the support of friends and family. As my daughter lived in the Cotswolds, I settled on a two-bedroom cottage in nearby Stow-on-the-Wold and enjoyed living there.
"Unfortunately, I suffered an health problems whilst home alone and whilst I was recovering, I had time to think about my current situation and came to the decision that it would be a sensible idea to move to a community so I had other people around me. My daughter was thinking the exact same thought so we set about looking for somewhere suitable for me to move to. I considered Cirencester but my daughter suggested Cheltenham would suit me better as there is so much going on in the town yet it's still close by. I'm also familiar with the area as I used to go to Cheltenham Ladies College which is directly opposite One Bayshill Road."
Margaret knew Pegasus' One Bayshill Road was the perfect home before she even set foot in the door. With an eye for detail and dimensions she was able to measure up and visualise the space available from viewing the brochure online.
Margaret continues: "The purchase of my home was very straight forward and smooth. Visiting the community just confirmed that it was the perfect place for me. I really wanted to be part of a community but still have my independence and One Bayshill Road offers exactly that. The wellness facilities and onsite restaurant are an added bonus!"
Margaret moved into her apartment in August 2020 and made the most of the Lifestory Homemoves service as she adds: "The Homemoves service was fantastic, the team packed everything up for me and put everything in its rightful place in my new home -they even made the bed for me! I instantly felt settled in my new home."
The central location of One Bayshill Road was key to Margaret making her decision to move to the community and she has been making the most of the local area amenities. She has also enjoyed travelling further afield thanks to the support of the local Helping Hands team who provide care to enable people to remain in their own homes and pursue their chosen lifestyle of independence.
She said: "I can easily visit the on-site, ground floor restaurant, the Larder for a coffee or Sunday lunch which is most enjoyable. I no longer drive so the central location is key as it means I can walk to the local shops and into Montpellier for a browse, I have to admit I can't pass a shop window without going in! I also go out once a week with Mary from Helping Hands, sometimes we go shopping or we simply go for an ice cream together at the Pittville Pump Room."
Being surrounded by a supportive team from Pegasus and like-minded neighbours has been exactly what Margaret was looking for when deciding she needed to make a move as she continues: "Community was very important to me when choosing where to start my next chapter. If I had stayed in my cottage in Stow-on-the-Wold, I would have been stuck in those four walls, often alone, and it would have been difficult. Being at One Bayshill Road has been wonderful, there are many like-minded neighbours, we're a friendly bunch always saying hello to each other in the restaurant, and we enjoy a glass of wine together every Friday either in the owners lounge and library or on the rooftop terrace when the weather is nice.
"My daughter and her family have also recently moved to Cheltenham, luckily for my daughter it means I can babysit when she needs me to! Moving to a community was the best thing I could have done and I'm very happy at One Bayshill Road, I'm looking forward to meeting new neighbours as more people continue to join the community."
One Bayshill Road is a beautiful collection of later-living apartments in Montpellier, Cheltenham's most sought-after address. Prices start from £375,000 to buy with rental options available from £2,280pcm. To find out more call 01242 292 930 or email [email protected]