Go back to all news
For Renter Stephen, Pegasus Carriages Was 'The Place To Be' for Later Living.
14 March 2022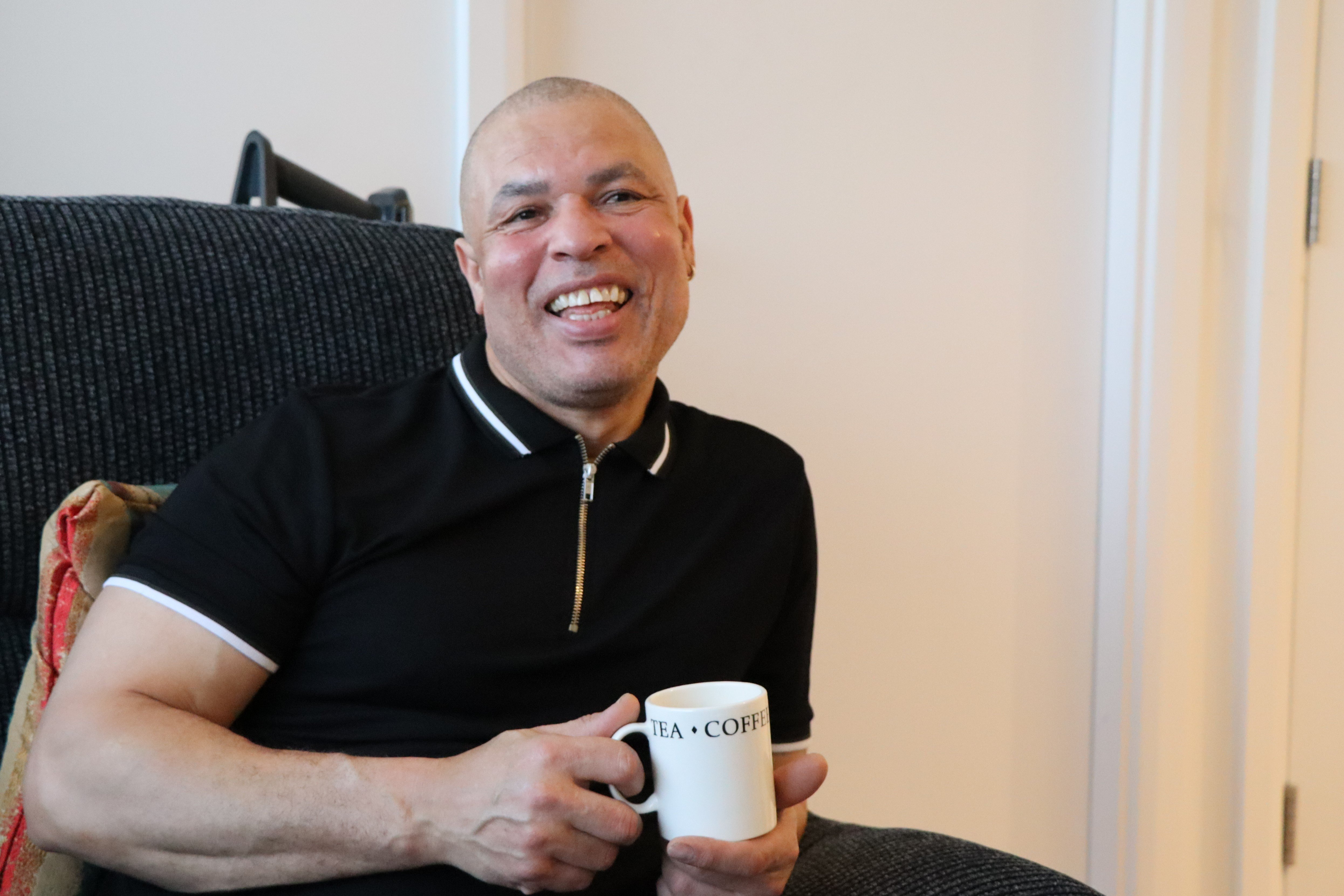 Renter Stephen (60) had lived in Wallington for 5 years, until he found his new home at Carriages in Purley, only a 10 minute drive down the road. Having lived most of his life in London, Stephen had been considering Purley as he had enjoyed the location. With his tenancy coming to an end and after a few visits to different apartments in Carriages, he decided on the home he loved and made the move in September.
"I liked Purley. When I was looking at some other flats, Caren rang me and showed me all of the apartments at Carriages and for some reason there was something about my particular home which I thought, I want this one."
The affordability that renting provided Stephen was a large factor in his choice to rent, rather than purchase. Plus, his home at Carriages was only a short commute away from his job, and family and friends living 20 minutes away on the other side of Croydon.
Stephen is already enjoying the community aspect of Carriages and the peace and quiet of his new home. Stephen explained, "When you reach a certain age you just want to settle down, you don't want to keep moving around. I love it here. It's comfortable.
The people are really nice and friendly here, you need that. You can sit down and have a chat upstairs and just generally talk about anything, which is good."
With a stylish home to come back and relax in, Stephen has an active lifestyle in the day, enjoying his work and sport, playing cricket during the summer and regularly going to the gym at the top of the road. Additionally, the convenience of all the shops and amenities on his doorstep made Carriages an attractive destination. "It's so close to the shops, you can just come out and you've got Tescos, Sainsburys and everything you need around you, you don't have to travel too far. The station is just across the road as well.
There's a couple of restaurants I sometimes go to and there's a pub, which I can go to for a little drink and to watch the football. I also love walking and I'm always on my feet, so I'll go for walks around the area. I enjoy being around here, it's nice."
Stephen remarked, he would recommend this development to anyone. "My favourite part, I think, is that it's peaceful. You can't hear any noise, you can just about hear the traffic but the double glazing is really very good, it's so quiet. I love it here, I honestly wouldn't change it for anything. It's a brilliant place to be."
"If you're thinking about retirement, then this is the place to be. Anywhere you want to go you can do it and Croydon is 5 minutes away on the bus. It's a great place to be."
—
Winner of the Evening Standard Best New Development Award in retirement living, Carriages is a collection of one- and two-bedroom apartments in the heart of Purley. The homes are light, spacious and welcoming with selected homes enjoying private balconies. With a stylish shared lounge and roof terrace to return to for a drink after a busy day, Carriages is a sociable and relaxing place to call home. Prices start from £350,000 and rental prices from £1,680 pcm. For further information call: 020 3308 2550, email: [email protected] or visit: lifestory.group/pegasus