09 October 2020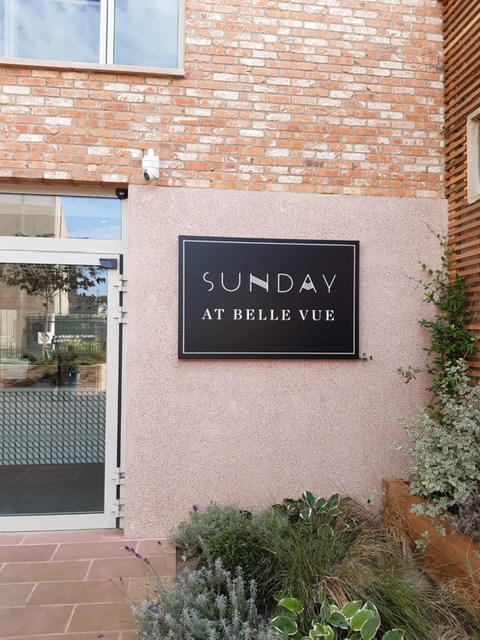 The doors to the stunning new café Sunday @ Belle Vue are now open, with our Pegasus homeowners and village locals enjoying Brunch the Sunday way and feasting on chef Alan Turner's Instagram-worthy pancakes.
We managed to catch a few minutes with Alan amid the buzz and excitement of this latest addition to the Hampstead brunch scene.
Hi Alan, let's start with a bit about your background and how the first Sunday came to be
I started out as a kitchen porter working at various establishments around London before heading off to college to study for an NVQ in Catering one day week, whilst working in a busy restaurant – getting the best of both worlds on the knowledge and theory and on-the-job learning. After that, I was privately catering for a friend who ended up introducing me to my business partner Terence Williamson. He was head chef at The Engineer in Primrose Hill, so initially I started out working there with him. We just clicked and then over the years we put our money together to open our first Sunday branch in Barnsbury, Islington.
So, why 'Sunday'? And can you tell us a bit more about how Sunday @ Belle Vue came to life?
Sunday is all about Sunday brunch; it's a day of food, family and getting together to have a good time. We wanted our eatery to be everything we associate with a traditional Sunday.
When we first opened Sunday, it was just the two of us, so it was incredibly busy but also amazing. It just went from strength to strength thanks to word of mouth and the power of Instagram. Then we started getting reviews, including one with The Guardian and it just took off. We had always hoped to be in a position to open a second site, managing one each, so when the opportunity to open at Belle Vue came up, we jumped at it. We've never wanted to be any larger than two sites; we like being involved in the day to day running, creating that family atmosphere. What we have now is incredible.
What are your aspirations for Sunday @ Belle Vue?
For it to be as successful as the first Sunday! First and foremost, it's about cooking lovely fresh food and creating a nice, welcoming, positive environment where people want to come and eat.
What's on the menu?
We're open 8am – 5pm, so we have a diverse breakfast, brunch and afternoon menu. Our most popular dishes by far are the pancakes, closely followed by the courgette fritters. We use ingredients from around the world but try to only use London and UK suppliers so we're giving a bit back to the community. Our fish, for example, comes from a fishmonger in Dartford, whilst our cheese comes from Devon. Anything I can source here, I will. It's also a very seasonal menu, so you won't see asparagus in October!
The coffee is also locally – and ethically – sourced. We use Caravan Coffee Roasters; their ethos for sourcing coffee is incredible. Plus, it's delicious!
And lastly, you've also got a cookbook 'Brunch the Sunday Way'? Will there be a sequel?
Being approached to do a cookbook has been a highlight of my career, that's when Terence and I realised how much of a buzz we'd created. It just made everything worthwhile. We're selling the cookbook in both cafés – of course – but I can't say much more about a sequel just yet…
---
Sunday @ Belle Vue is now open at Pegasus' Belle Vue community in Hampstead, 8am – 5pm. To find out more about the homes on offer, please contact our team on 020 7980 8721 or [email protected]. Prices start from £792,500 with rental opportunities available through Lifestory Choices.