Go back to all news
Renting to Buy in Harpenden was the perfect next option for spontaneous opportunity takers, Christine and Ray.
16 June 2022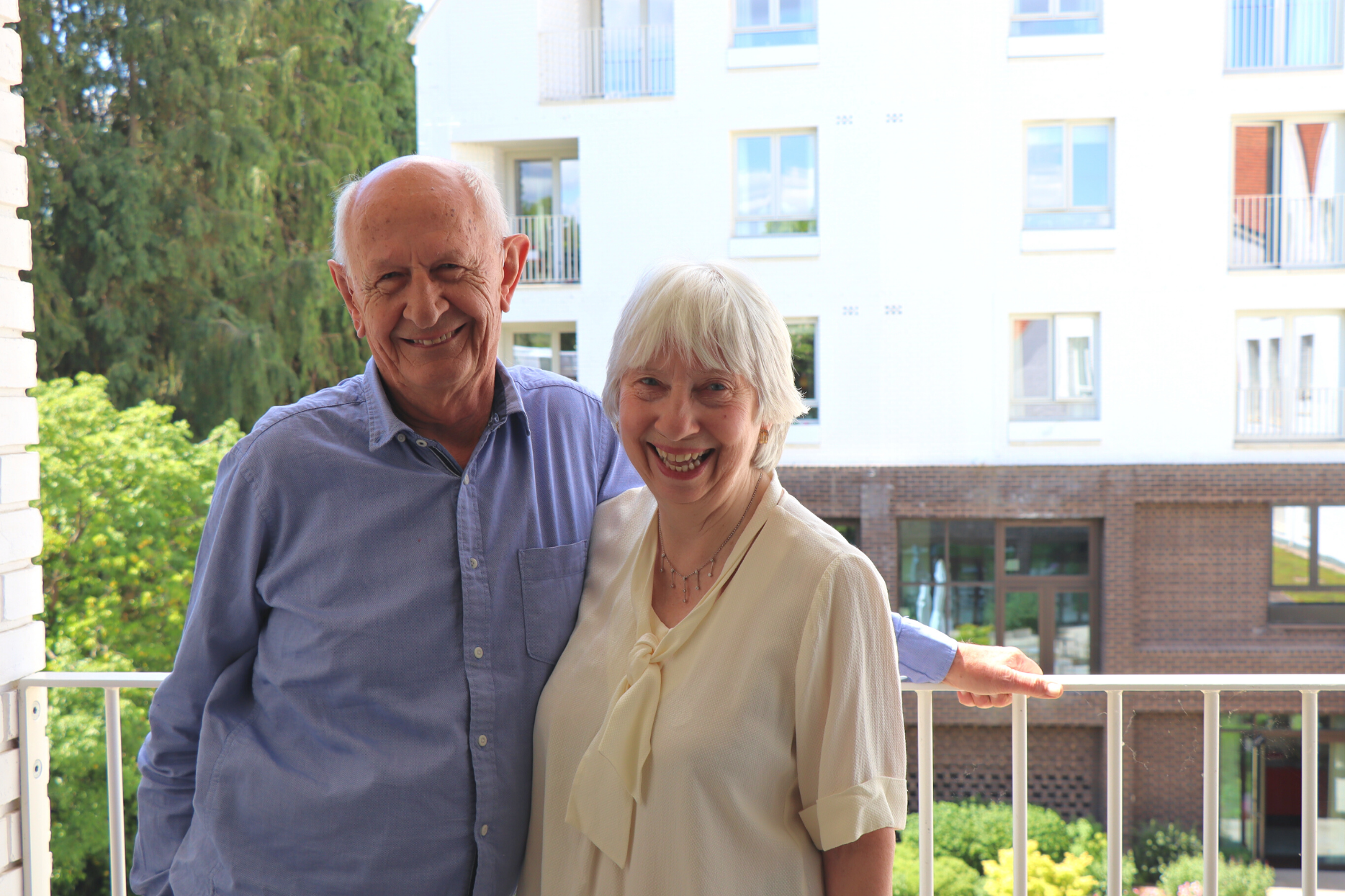 Christine (81) and Ray (76), had been living in their large 1920's home in Teddington, when an opportune visit from an estate agent, who was selling their next-door neighbour's home, spurred them into making a quick decision about their next chapter. The couple had previously considered moving, as Ray explained, to make the 'positive' choice of settling in a home more suitable for later years to come, rather than potentially facing challenges with moving in the future.
They first viewed the homes at Leyton Road in 2019, but with the disruptions of the pandemic, the search was put on hold. The pair were primarily interested in finding a home in a great location, with shops, restaurants and life on their doorstep. Ray had heard about the quality of build from Pegasus, through a relative who is involved in town planning. Christine then set to work searching through the Pegasus properties on the internet to see which location they thought would be best.
After officially moving into their home in March 2022, they opted to Rent To Buy, to speed up their moving process. "Our choice to rent was because it's much quicker. We had just sold our house and we also thought, well we never know, we might not like it here. But it's nice because you see life all around, there's people going to the cafe or sitting outside."
The couple are particularly happy with the spacious and light-filled design. Ray remarked, "The build quality and the thought that goes into the building is great. Even the staircase is so spacious and light - and you usually don't get that."
The excellent location is another plus, with parks and nature walks ready to be explored and Harpenden's highstreet minutes away. Ray quipped, "Waitrose and Marks and Spencer's are next door to each other, what more could you want in life!"
The friendly environment has also been a part of their positive experience. Christine explained, "When we moved to Harpenden, we didn't know a soul! I've actually become friends with the shops nearby, 'Oui' and 'Mint Velvet' and we've now met a few of the other owners. There's lots of nice people here and if I or Ray were ever left on our own, for example, I am quite happy to be here."
"In our other house it would have been very quiet, but here we have life all around us."
Although the couple had initially intended to find a home with more garden space, they still enjoy having a cup of tea and a slice of cake on their balcony in the sun, which overlooks their shared courtyard garden.
For active Ray and Christine, what may have been a daunting prospect of downsizing from a larger home, was explored simply as their next new adventure. With a swimming pool and sports complex across the road, their new home additionally overlooks the stage door of the newly opened Eric Morecambe Centre, which has received visits from comedians such as Paul Merton and Sandi Toksvig, and is set to attract more plays as it becomes more established on the circuit.
The pair are no strangers to exciting adventures. With their group of 12 close friends, Ray and Christine would often holiday and go on driving trips to the Cotswolds. One particularly spontaneous trip resulted in the couple marrying in Santa Barbara, while holidaying in America;
"We first met at a dance school in High Street Kensington, in the early 70s. In 1984 we flew off to America, travelling along a route down Highway 1, we liked the feel of Santa Barbara and one day we just decided, that was the day we were going to get married. We didn't tell anybody at home!"
"I had bought an evening dress and Ray had the ring, but we didn't realise we needed a witness! They had to close the Santa Barbara County courthouse information office and I threw my flowers to the typist", explained Christine, "We rang his mum and mine, and they were so pleased."
Ray elaborated, "There was no fuss, it was just our day. My brother is still waiting to do his speech!"
After a speedy move in process, the couple are looking forward to purchasing new furniture and making their home just as they want it. They have already purchased a kitchen island, for when they are entertaining friends and family, and are looking at new sofas and lighting. "We've had a good life, and we're still having a good life! At this ripe old age I didn't think we would be sitting here, waiting to buy new furniture", remarked Ray.
When asked whether they would recommend Pegasus to a friend, Christine and Ray thoroughly agreed. It was shared that within the Leyton Road community, homeowners have coffee mornings and evening get-togethers, luncheon clubs and events organised by the lifehost, Donna.
When describing their new home in a sentence, "Homely, safe and a positive new start" sprang to mind. "We're always happy to come back here. It's lovely because you have all the countryside on one side and then all of the shops on the other", explained Ray.
—-
Our homes at Leyton Road offer a collection of one, two and three bedroom homes, well situated between Harpenden town and popular Rothamsted Park. Prices start from £910,000 with rental options also available from £4,360pcm. For more information, call 01582 643721, email [email protected] or visit lifestory.group/pegasus/