02 March 2022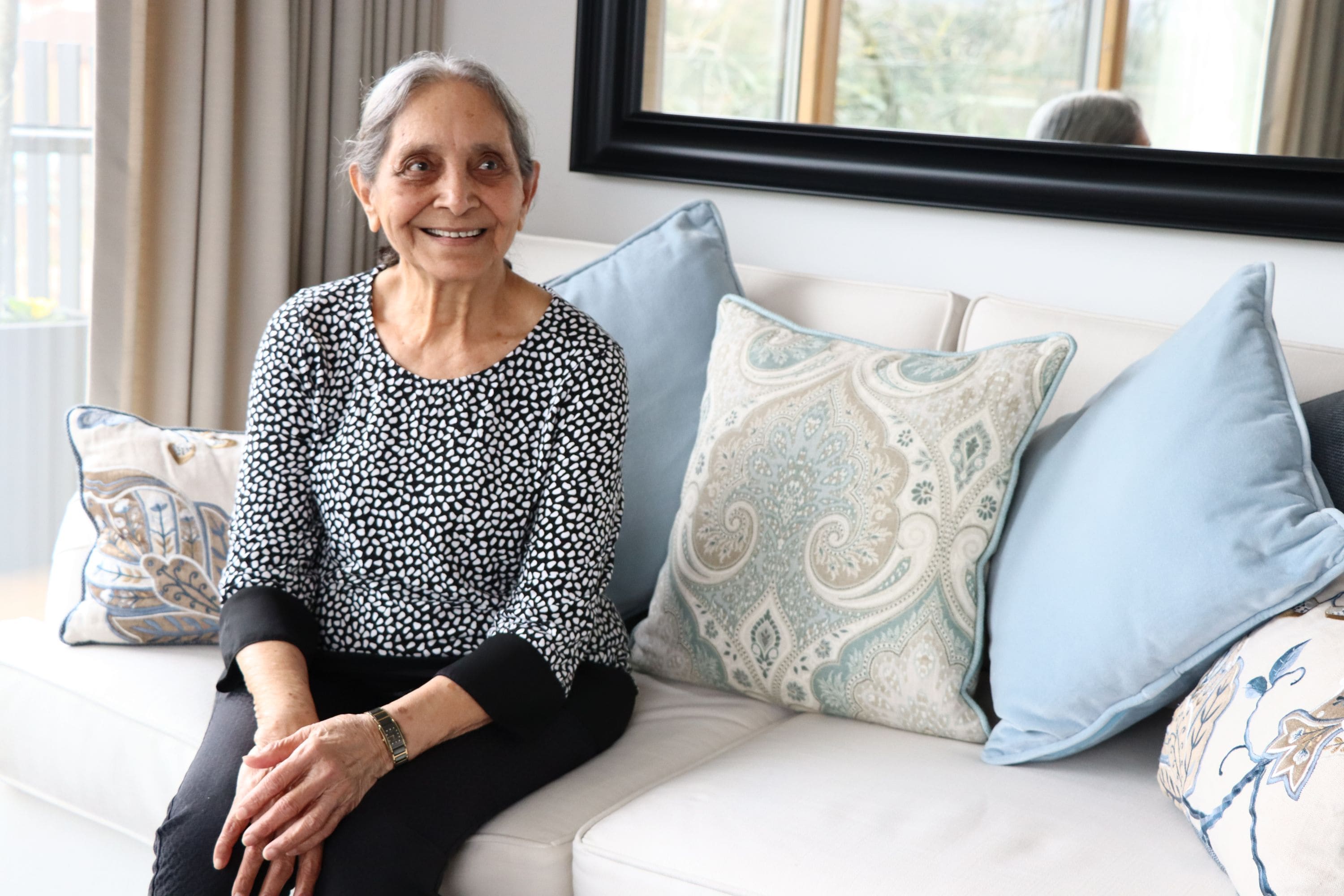 Usha (87) had been living in Purley for many years, with her son and daughter-in-law, when she decided she wanted to give her son a bit more space and live independently. At first her son was sceptical his mum was moving out, for they had lived together for many years since the passing of Usha's husband, when her son was only 4. It was Usha's daughter-in-law who spotted Carriages in Purley and after a few visits with the family, they now feel happy and at ease that Usha lives in a comfortable, stylish, safe and sociable new home.
On the top of the priority list was finding a home in close proximity to the rest of the family; with Usha's son, daughter, 4 grandchildren and 3 great-grandchildren, as well as her sister-law, all living nearby in Purley and Shirley. With her grandson working as a doctor in a nearby hospital and her sister-in-law living close too, Carriages was the perfect location for the family to drop in with shopping, or pop round for some of Usha's delicious home cooked meals. Usha explained, "They come to visit every week and say cook me this, I spoil them!".
"We're a very close family. Before I retired, my grandchildren started going to school and I wanted to help out, so at the age of 58 I started driving lessons and by 59, I had passed my driving test. After that I could drop them off and pick them up from school". Usha has lived an exciting and active life, moving from India to Tanzania in East Africa, when she was 5 years old, to moving to London in 1972 to live with her Aunt in Streatham, when she was in her 30s. Usha loves spending time with her family and enjoyed the days when she worked at her office job (where she was often commended as the best in the company!) until she retired at the age of 60.
Usha decided that renting was the best option as it was more affordable, plus it offered her the flexibility and peace of mind that her family would not have to think about reselling the home in the future. Usha explained, "renting was also better because if anything happened to me, my family will not need to think about having to sell the home. There is also less paperwork!".
The local area and surrounding neighbourhood was additionally appealing to Usha, as there was a great range of local amenities on her doorstep. With Tescos, an Indian grocery shop nearby for ingredients and a direct bus outside of her home to Purley's shopping centre, Usha can pop to the shops with ease. However, it is the fact that Usha can chat with her neighbours and friends in the building, which Usha particularly loves.
"I'm always up stairs in the communal area and I'm always mixing with people and talking, it makes you feel good!
Sometimes if it's somebody's birthday, we will make some food. They always like my samosas, potato balls and things like that. Everyone's very nice here. You'll find if you're nice to people, people are nice to you too - we chat and share stories.
The other day my granddaughter came and asked how I was getting on and I said, very good! At night we play games and we're always laughing. She said, `Grandma, I'm very happy for you!'"
Usha enjoys walking in the nearby park and catching up with her friend who lives next door, or doing a couple of rounds of the park on her own for exercise. Occasionally, when the yoga classes upstairs are not too full, Usha has joined for a couple of sessions or enjoys exercising and meditating in her home. Filling her days with reading, prayers, shopping, socialising, cooking and watching films - Usha is also looking forward to the return of the warmer weather and getting involved with gardening and tending to the plants.
"When I moved in August, we would go upstairs to the outside tables in the lounge. My family came and we had lunch there in summer.
I would recommend this development to a friend, because it's nice and comfortable here - and it's safe. It's a very nice flat and a nice area."
---
Winner of the Evening Standard Best New Development Award in retirement living, Carriages is a collection of one- and two-bedroom apartments in the heart of Purley. Sale prices start from £350,000. For further information call: 020 3308 2550, email: [email protected]