22 February 2021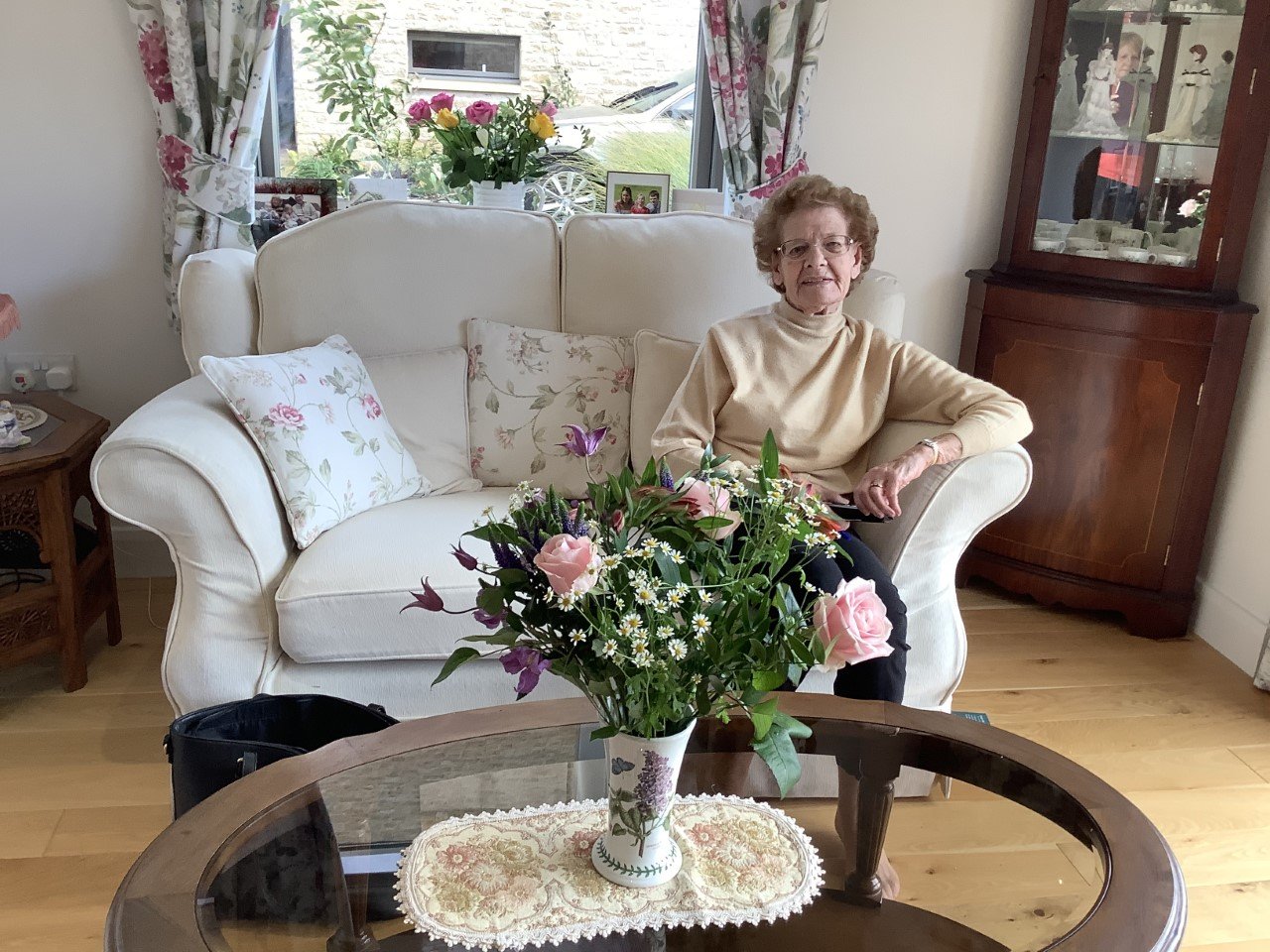 After living her whole adult life in and around Tameside near Manchester, retired teacher Sheila Mellor recently made the big decision to move to the beautiful Cotswolds to be nearer to her family. The search for a new home was made easy thanks to Sheila's daughter Gail and her husband Paul channelling their inner "Phil and Kirsty" to narrow down a selection of properties to find Sheila her perfect home at Pegasus Steepleton community in Tetbury.
Sheila explains: "My husband passed away last May so I decided to make the move to be nearer to my family. I was looking for a home where I could live my life on my own terms, somewhere with my own front door and excellent facilities with the security that would give me peace of mind. Gail and Paul scoured the internet and went to estate agents to gather brochures and whittled it down to six properties. I looked at five different properties but if I had seen Steepleton first I wouldn't have needed to look at any of the others, it was just lovely."
Sheila explored the community facilities and general area before booking an appointment for the following day to discuss her needs.
Sheila continues: "I met Lisa from the sales team and explained I had a specific requirement; I was extremely claustrophobic so would find it difficult to find a home suitable for my needs. Lisa said she had the perfect apartment with large windows and a large south facing patio door which she assured me that I'd be able to open with ease. The kitchen layout and aspects reminded me of what my husband and I designed years before for our first home. Lisa also explained how everything worked and the options of buying or renting with Lifestory Choices."
Sheila had owned her homes for most of her life, so the possibility of renting was completely new. Sheila and her husband designed and watched the build of their first home together as Sheila explains: "I met my husband when I was 17 and he was 20, we married four years later and were married for 64 years. My father-in-law gifted us some land and with the help of an architect we designed and oversaw the construction of our first family home. We lived there until our daughter married and son left to go to university and further his career in Cheltenham. At this point we purchased a three-bedroom detached home with a manageable garden which is where we lived until I made my move to Steepleton."
After a life of home ownership, the freedom of renting was appealing, giving the flexibility and equity to be able to do as Sheila wished without home ownership holding her back. Any concerns about renting were quickly eliminated as Sheila adds:
"When I asked for more detail on renting, the Pegasus team were quick to provide me with all the information I needed and assured me they want those that rent to stay as long as possible. This eliminated my concerns, as you often hear stories of landlords wanting to sell the rental home and the tenant having to look for somewhere new. Also, if for any reason I decided to move from this home, I wouldn't have to go to the trouble of selling a home, I could possibly rent another apartment at Steepleton or indeed look at another apartment in one of the other Lifestory communities."
After moving into her new home in October last year Sheila is enjoying the facilities, the community and being close to her family.
Sheila continues: "The apartment is finished to a very high specification. It is well designed with top of the range appliances and is all age appropriate. The open plan aspect is very good, especially for me. There's always something going on at Steepleton, Clare the General Manager and her dedicated team all go the extra mile to assist me in every way. During the lockdown coffee and biscuits were brought to my door, we also had a social distanced Christmas party and a visit from the Mayor!"
"My neighbours stop for a friendly word every day and Clare or one of her friendly team will walk by and wave often taking time out to keep me updated with all that's happening. I never feel lonely here."
Sheila's daughter, Gail adds: "The independent living aspect was a big plus for my mum and I. The security blanket it offers with total independence and a safety net is just fantastic. We're so pleased mum is so happy in her new home. My mother in law has also relocated from Tameside and after my husband and I went through the same property selection process; she also chose Steepleton. It was a coincidence they both wanted to move to the same community but I can see why, they both have perfect apartments. For my husband and I it makes life so much easier, it works so well to have them both close to us."
Gail's Mother in Law, Beryl also rents a home at Steepleton, despite having different needs and requirements of a new home it was still the perfect choice. Sheila adds: "The advantages of the homes here are that Beryl and I are two such different people with different personalities but our basic principles are the same and each different apartment appeals to different people for different reasons."
"Home to me means somewhere I can be happy, somewhere I can entertain my family and friends, a place of security where I can achieve my peace of mind and I have all of this in my lovely apartment at Steepleton."
With beautiful homes and a friendly community nestled in the heart of the stunning Cotswolds available to rent and buy, make your dream move to Steepleton. Call our friendly team on 01666 848219 or e mail [email protected]. Sale prices start from £299,000 and rental prices start from £1,848pcm.