28 April 2021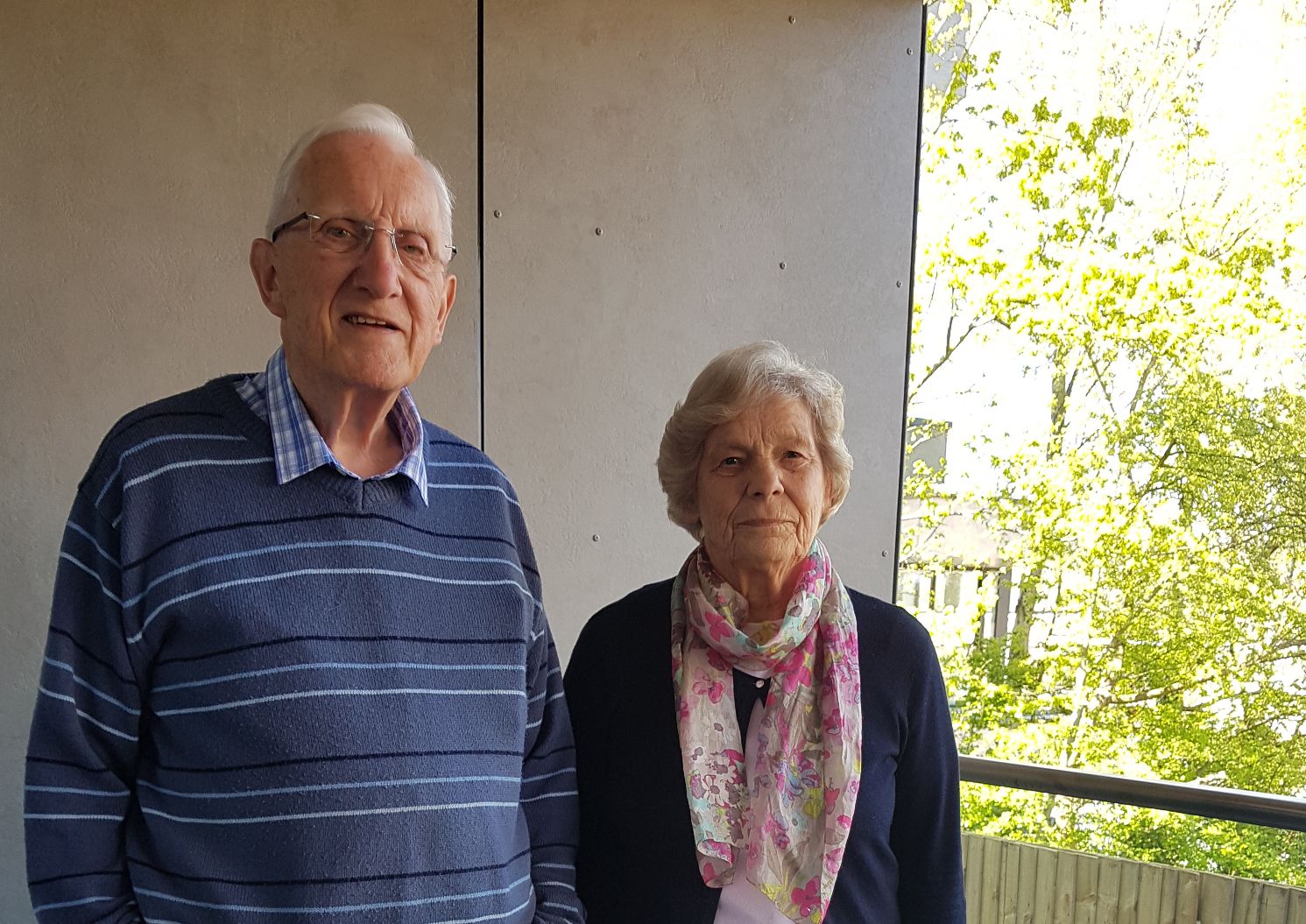 Bryan McCansh a retired building inspector and his wife Sheila, a retired deputy headteacher, both now over 80, had been living in a large four-bedroom home in Ferring near Worthing for 21 years but a visit to their daughter in Dorking in 2019 sparked a decision to downsize back to the town they love. The couple saw Pegasus Taylor Place community in construction in a central spot and thought it was perfect, fast forward to 2021 and they are now enjoying life back where their life stories first began.
As Bryan explains: "We're Surrey born and bred but retired to Ferring for 21 years where we had a big house with a large garden and double garage. We had been thinking for a couple of years that we ought to perhaps downsize and we decided if we didn't do it now then we'd be too old!
"Our daughters live in Dorking and Godalming and we have many friends and family in the area so Dorking felt like the perfect location. When we visited our daughter, we spotted the cranes on what was then a building site but the location was ideal, with the convenience of the high street and ease of access to Guildford, Reigate and Leatherhead so we decided to go for it."
The couple had looked at other homes including bungalows but decided they didn't want the upkeep of another garden and found other options were expensive and not to their taste. So, they contacted the Pegasus team to find out more about Taylor Place as Bryan continues:
"Our initial contact was with Joanna from Pegasus who was extremely helpful and informative. We met up with her and looked at the plans and a month later we put down our deposit. We are very happy with our apartment which has views from three aspects, one of beautiful Box Hill, another of Ranmore and then the adjoining Bowling Green. We also have three balconies to enjoy and love the internal layout of the home."
Reserving their new home off plan meant Bryan and Sheila had time to sell their current home and arrange the sale and disposal of unwanted furniture and items. They made the most of the Lifestory Homemoves service:
"It wasn't too difficult for us to downsize as we decided to start afresh and re furnish to fit out our new place. The Lifestory Homemoves service was fantastic, the team were great, they took items away for us and arranged for what could be donated to charity, which took a load off our shoulders, meaning we could focus on what we wanted to kit out our new home with rather than dealing with the old items. When we settled into our new home, we found there were a few more items we didn't need so the team arranged for these to be taken away for us too."
Bryan and Sheila moved into Taylor Place just before Christmas 2020 and have been enjoying life in their new home as Bryan adds:
"The apartment is very well constructed, the quality of everything is great. I was really impressed with the actual construction and the way things had been completed. Any minor issues are dealt with quickly and efficiently.
"We do miss little things about our previous home, but the positives outweigh the negatives. For example, I used our previous garage as my workshop and moving to an apartment means I do not now have that facility. However, I use half of one of the balconies at the back, where nobody passes and it can't be seen, as a working space with a small plastic greenhouse and a storage box for my tools. We can still enjoy a glass of wine in the lunchtime sunshine on the other half!
"We both like the fact that there is outdoor space which we do not have to maintain. We can still enjoy a spot of gardening at my daughter's allotment which is nearby. For us, home is somewhere you can do as you like and made by the people who live in it. We really like it here, it's home."
Moving in during the pandemic means the couple haven't been able to meet their neighbours but the Lifehost team are looking to get everyone together in the near future when it is safe. In the meantime Bryan and Sheila are enjoying life in their brand-new home and looking forward to re-exploring some of their favourite haunts around Dorking as the country begins to re-open.
Taylor Place is a stylish collection of 22 one- and two- bedroom apartments located in the heart of Dorking. All the carefully designed homes benefit from a high standard finish along with individual outdoor spaces including balconies and patios.
Prices start from £430,000 for a one-bedroom apartment which are also available to rent from £2,060 pcm. For more information, call on 01306 230 010 or visit [email protected].