20 October 2020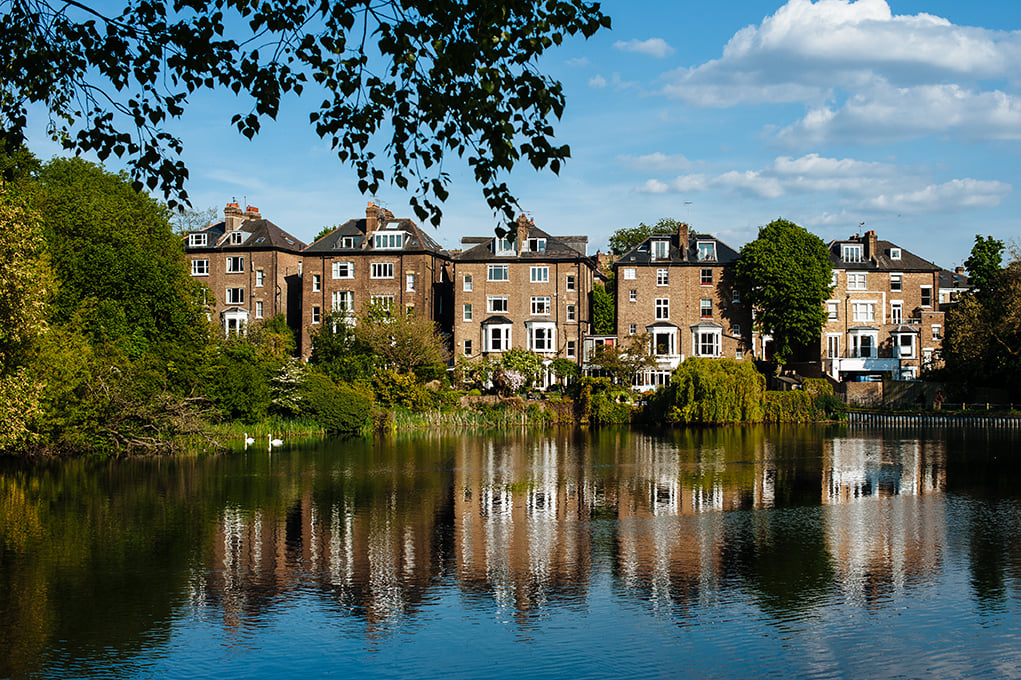 Hampstead is a maze of charming and historic back streets that lead you from the shops and bustle of Heath Street, the High Street and Rosslyn Hill to the peaceful wilderness of The Heath.
Both our Belle Vue and No. 79 Fitzjohn's Avenue communities are perfectly located to make the most of exploring on foot to discover cobbled streets, painted houses, stunning gardens, local pubs and squares.
Flask Walk
Come of the high street at Flask Walk and the charm of Hampstead's back streets is revealed. Wandering around the narrow residential streets, crammed full of pretty houses from all architectural eras, it feels a bit like finding yourself on a film set. Walk to the end of Flask Walk to find a crossroads of New End Square, Well Walk and Willow Road. As you walk along Flask Walk, make sure to pop up Back Lane and see all the picture perfect colourfully painted houses.
New End Square
Turning left off Flask Walk you are on New End Square, a street more than it is a square and full of stunning houses that make Hampstead what it is known and loved for. Get lost around all the interconnecting lanes and alleys like Streatley Place, Elm Row, Hampstead Square and Upper Hampstead Walk. Look out for the cobblestones, angled so horses could walk up the hill without slipping and make sure to go down the steps at Streatley Place to peek into the overgrown gardens along Mansfield Place. Then retrace your steps back down New End Square to the Flask Walk crossroads.
Well Walk
Once you have found yourself back at the crossroads, you can stroll along Well Walk, a lovely tree lined residential street leading to Hampstead Heath. Pass the grand and historic Burgh House, which is open to the public and The Wells Tavern, where you could stop for a drink. Carry on, and you walk by the Chalybeate Well, on one side and after which Well Walk is named. Across the road is number 40, where John Constable lived (look out for the blue plaque). Then take a detour around circular Gainsborough Gardens, onto Heathside and continue until you reach East Heath Road and Hampstead Heath where you could continue your walk or follow the route below.
Willow Road
Turn right and walk along East Heath Road or if you want you can walk on the section of Hampstead Heath between East Heath Road and Willow Road. Make your way along to the junction of Pilgrim's Lane where you can either walk up Pilgrims Lane, another pretty leafy historic street to Rosslyn Hill, keeping your eyes peeled for the mermaid fronted house, or wander back up Willow Road to Flask Walk. Either way you can end your walk with a rewarding drink at one of the many pubs and cafes along Flask Walk or Hampstead High Street and do not worry if you get lost, it is what Hampstead was made for.
--
To enjoy all that Hampstead has to offer contact No 79 Fitzjohn's Avenue on 020 7980 8741, or email [email protected] and Belle Vue on 020 3936 9963 or email [email protected]. Prices at No 79 Fitzjohn's Avenue start from £2,500,000 for a one-bedroom apartment and at Belle Vue from £792,500. Rental options are also available, please speak to a member of the sales team for more information.