26 January 2022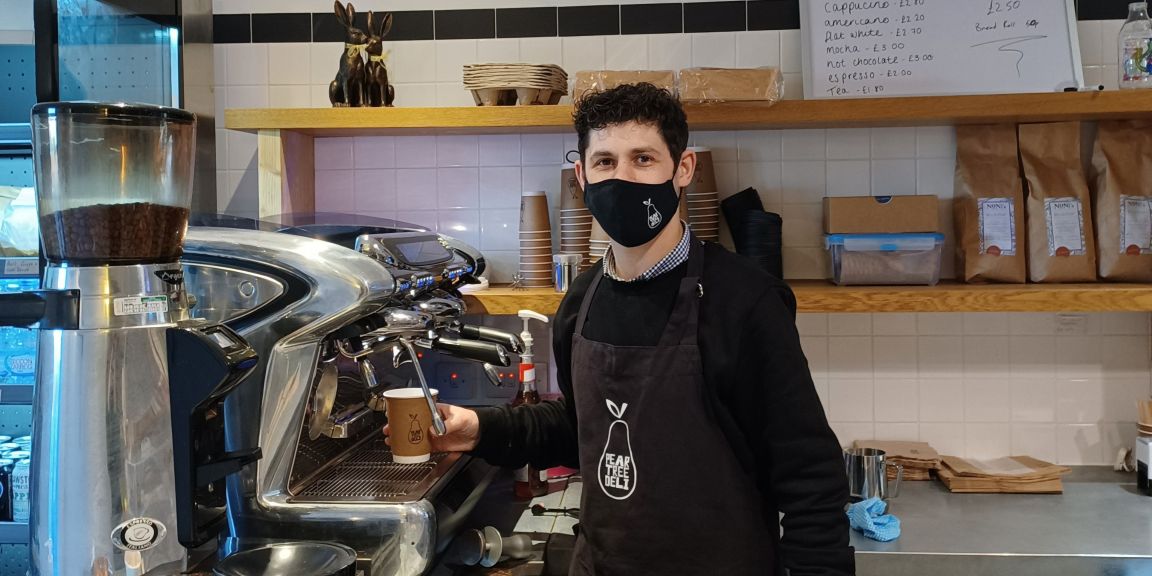 Recently, our Pegasus community in Tetbury, Steepleton, welcomed the new owners of the deli. Pear Tree Deli has been set up by local husband and wife, Chris and Lucy. We recently sat down with them to say hello and hear about their plans for their new deli.
Tell us a bit about yourself and the Pear Tree Deli?
It's myself and my wife, Chris and Lucy. Lucy has been part of the hospitality industry for the last 10 years, working in restaurants and it has been her dream to create something that she could make her own. This is where it all has stemmed from. I was the postman at Steepleton, Tetbury and realised the place was empty after speaking to Harriet - the General Manager. After a couple of months we knew this was the perfect place for Lucy to pursue her dreams and we began to start the process of getting the Pear Tree Deli up and running. It has been a bit of a whirlwind but it's an exciting opportunity for us as we have a family. We have three little ones, so we are hoping to create something that makes them proud.
Who makes up your great team?
It's just going to be myself and Lucy working here, we want to get to know the residents personally as well as the local wider community who we hope will visit Pear Tree Deli. My sister runs a cafe locally, so we are fortunate to have another experienced family member who lives locally, who we can lean on if needed.
Between the three of us that will be the main people here. We wanted to keep it mainly just me and Lucy so people can get to know us and it can be more personal.
What was the inspiration behind the name?
Steepleton's logo is a pear tree and all of the apartment buildings are named after the variety of pears. When we were thinking of a name, we knew we wanted to become a part of Steepleton and be in keeping with what is already here. This is what led us to 'Pear Tree Deli'.
Tell us a bit about the opening of the Pear Tree Deli?
We opened fully on Monday 17th January 2022, prior to this we hosted two little afternoon sessions for the residents to pop in and give some feedback. It has been really fun organising everything behind the scenes as a lot goes into it. It's more than just turning on the coffee machine and making coffee. We have sourced local suppliers so all of the rolls, cakes, pots of porridge are made in Stroud and the coffee is locally roasted just outside of Stroud.
We have discovered a great selection of suppliers - it's going to be a great range. We have taken a note of what people are after and we are going to work around that really. In a couple of weeks we are going to have a good idea of what people want. It's just listening, reacting and taking it all on board.
What are you most excited about this new opening?
We are excited to see how we can grow it, we've started quite small. I think it's really got the potential to grow and evolve and at the moment we are planning to have some breakfast options and continue to grow our offering for our customers.
What are your plans for the upcoming months?
We hope to serve breakfast like croissants, bacon rolls, and soups. When it comes to the warmer months we are going to offer salad bowls. Our menu options will be seasonal, as we will always work with local suppliers and source local, fresh produce.
What do you love about Tetbury?
I have been the postman for Tetbury for a while, and I have always enjoyed talking to the local people and building relationships. I haven't met anyone in Tetbury who hasn't been friendly, nice and generous with their time. It's a really nice town.
People from my round have given me lots of good luck cards and a guy actually cross stitched a pear for us so that's just the sort of people you will find, if you give them a bit of time, they will give something back.
You can find out more at Pear Tree Deli at their website here.