05 July 2021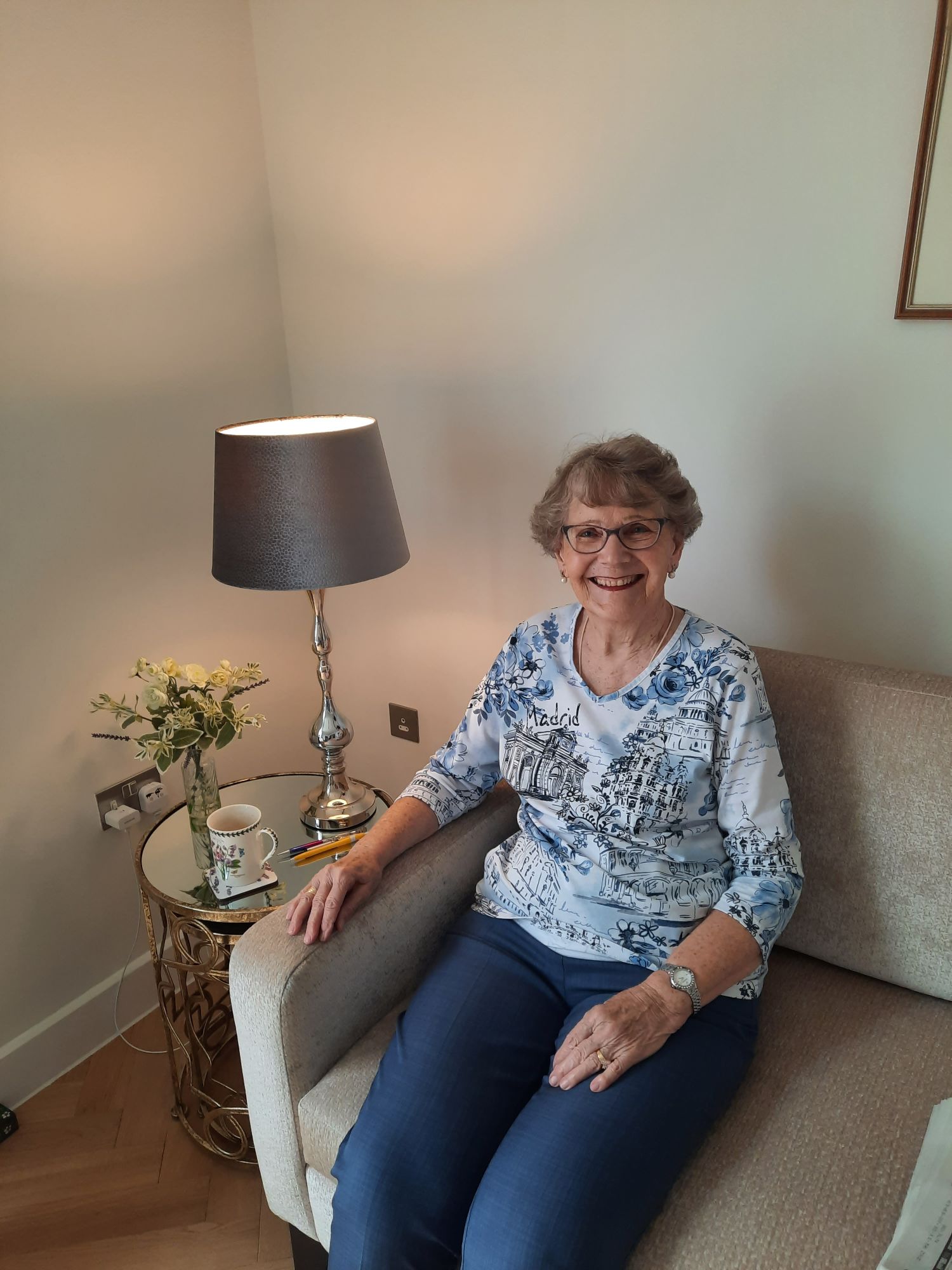 Pegasus' 23a Leyton Road community is the perfect home for retired Secretary, Pauline Rawlinson (81). After experiencing other later living communities both in the UK and across the pond in Canada, Pauline has recently settled in her one-bedroom rental apartment at 23a Leyton Road, following an 18 month search to find the perfect home in her former hometown of Harpenden.
Pauline explains: "I had lived in Canada for 21 years and it got to the point in my life where I had no relations in the country as they'd all moved. So, with my brother and sister-in-law living in the UK, I made the decision to move back to be nearer to them.. Prior to my move to Canada, I lived in Harpenden with my now-late husband so I was keen to return to the area. Unfortunately, when I moved back 18 months ago I didn't come across 23a Leyton Road and ended up venturing out to St Albans to find a suitable home.
"After further research I discovered that Pegasus was offering a rental package at its 23a Leyton Road community which instantly appealed to me so I eagerly got in touch with the team. Luckily I did as there was only one of the one bedroom apartments remaining. I was living in a rental property and was tied into a rental contract until January 2021; I was also unsure about moving during the pandemic. However, I was worried I might lose the apartment if I didn't act quickly so I took the plunge and spoke with the Pegasus team again and within two weeks it was mine!"
After speaking with her daughters who live in South Africa and Australia, Pauline decided that renting was the best option as she explains: "I'm the first renter at 23a Leyton Road! My daughters and I decided it would be best to rent rather than buy a home at this stage of my life. It gives all of us peace of mind not having to think about possibly struggling to sell the home again in the future."
Pauline moved into her apartment in May and despite pandemic restrictions it has been a positive experience as she continues: "I've experienced later living homes elsewhere in the UK and in Canada and I can honestly say 23a Leyton Road is the most desirable one I have lived in. It has a lovely warm and friendly atmosphere, and the apartment is fitted out to a very high standard. The Pegasus team are also fantastic, I can't speak highly enough of them really!
"My moving in day was great, I hired a local removal company and they were extremely helpful. I wasn't able to be in my apartment whilst they were moving my belongings so the lovely Pegasus team went and got lunch for me which they also wouldn't let me pay for. I also received a lovely welcome hamper with a bottle of wine, a plant, a room diffuser, and some very yummy chocolates!
"I really feel as though they want me to live here, to be part of the community and I feel very appreciated which is lovely."
Now settled into her home Pauline has been able to get a feel of community life at 23a Leyton Road and is looking forward to the further easing of restrictions to enjoy more activities and time to get to know her new neighbours. Pauline adds: "There aren't many of us here, but we're a growing community with more people moving in soon. We've had a few socially distanced outings on to the outdoor terrace for tea and doughnuts.
"The restaurant is also reopening soon which I'm looking forward to and slowly activities are being introduced, for example, we recently had someone host a talk about nails and reflexology. The Pegasus team will arrange anything we ask for or need. I'm looking forward to getting to know everyone in the community and spending time enjoying my new home and the facilities."
23a Leyton Road is nestled in the heart of Harpenden with a selection of two-bedroom apartments remaining to buy or rent. Prices start from £860,000 to buy and £4,120pcm to rent. To find out more call 01582 643721 or visit lifestory.group/pegasus/our-developments/harpenden/.