25 August 2022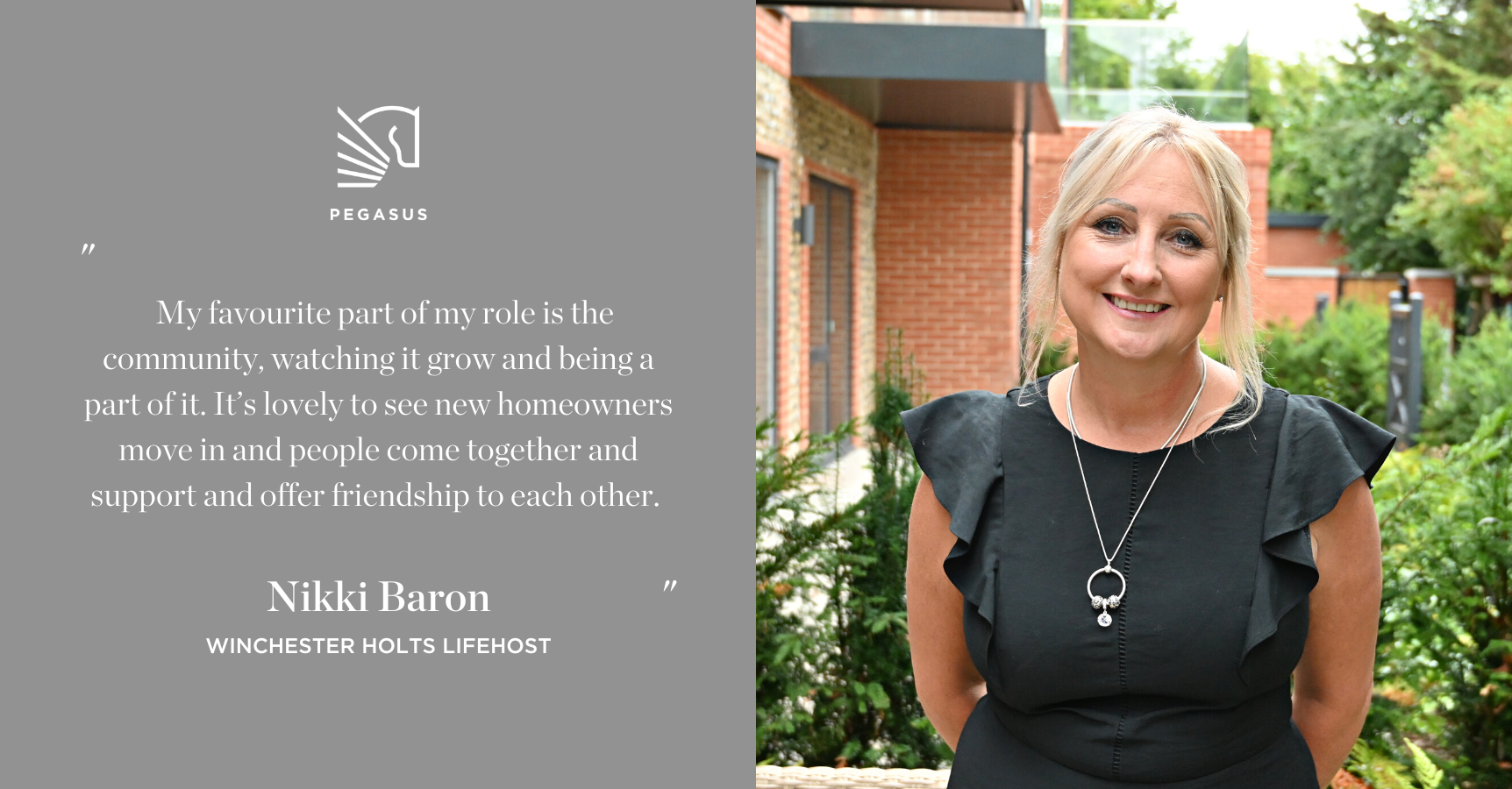 Lifehosts are an integral part of our communities, bringing our homeowners and tenants together to make the most of independent later living.
For this instalment in our 'Meet the Lifehost' series, we speak to Nikki Baron, Lifehost at our recently launched Pegasus Winchester Holts community.
Can you tell us a bit about yourself and how you came to be a Lifehost?
I worked in mental health for a long time but when covid hit it became a challenging industry to work in. My friend initially showed me the job for a Lifehost position at our Pegasus Holmwood community which I went for and got down to the final stage. I then was fortunate to get the position of Lifehost at Winchester whilst it was still under construction. I spent 3 months as a temporary Lifehost at Holmwood before roving and then starting my position at Winchester Holts in February this year once the community had launched.
What is the community like at Winchester Holts?
The community is very friendly and welcoming. We have 20 homeowners here now, a mix of couples and people alone and everyone really looks out for one another. Everyone has really gelled as a community and enjoys spending time together; going round each other's apartments for a coffee or joining in the weekly events. We're lucky to have the beautiful communal spaces, the communal lounge and the club room especially. The spaces are amazing and we host regular events each week including: coffee mornings, fitness classes, yoga, gin afternoons & afternoon teas.
As the community is growing, people are also starting to organise their own events. Next week is homeowners' Mr & Mrs Rees Golden Wedding anniversary and they're hosting an event in the communal lounge to celebrate. Already, every single homeowner has said they'll be attending which shows how strong the community is here in such a small space of time!
What does a typical day look like for you?
There is no such thing as a typical day as a Lifehost. I would say the only thing that stays the same day to day is my morning walk of site. Apart from that it varies so much but my favourite part of my role is the community, watching it grow and being a part of it. It's lovely to see new homeowners move in and people come together and support and offer friendship to each other.
I started a monthly community lunch in the Royal Winchester Golf Club which is very popular so now each month we visit there. It's on the same road as the community so is very easy to get to and we've booked the space all the way up to Christmas now so have already planned to have our Christmas lunch there on the 15th December.
Do you have any recommendations for things to do in Winchester?
Lots of the homeowners visit the local library regularly as they host exhibitions and events. Most have also become friends of the Winchester Cathedral too which gives you free access to the exhibitions and a programme of monthly talks, lectures and day trips. There's lots to see and do in Winchester so there's no shortage of things to be involved in. Our yoga and fitness classes are run by local businesses in Winchester who visit the community weekly to hold sessions so that's a lovely aspect too.
Pegasus Winchester Holts
This new collection of 33 two and three bedroom apartments is set in a green and leafy neighbourhood on the western edge of this thriving cathedral city, Winchester Holts offers peaceful, semi-rural living within easy reach of the city's cultural and culinary delights.